Samsung Electronics was founded in 1969 and remains a large name in the world of smart devices today offering features unique to their devices, thus setting them apart from other competitors.  Their take on accessibility is no exception.  In March, they began launching a trio of new accessories for the Galaxy Core Advance mid-range device to jazz up its existing ability to cater to visually and otherwise impaired users.
The first accessory is the Ultrasonic Cover that fits atop the smartphone like a case and is able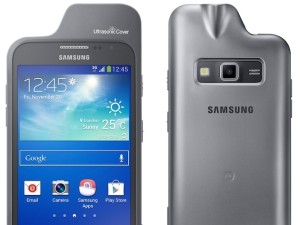 to detect obstacles in the environment using ultrasound.  By doing so, it helps users navigate around an area or unfamiliar places.  When heading towards an obstacle, the case vibrates or the phone will send a text-to-speech alert to the user.  The cover can target objects up to two meters away and has the potential to be exceptionally useful for the visually impaired.
A second accessory is the Optical Scan Stand, which is essentially a stand that positions the Galaxy Core Advance to point directly at printed material, that then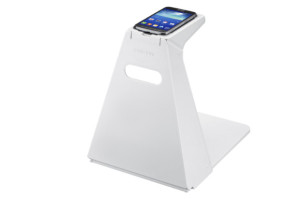 activates the device's own Optical Scan Software, which then reads the text aloud.
A third accessory has been coined "The Voice Label," which allows users to identify objects and either take notes or place voice labels to differentiate them.  The accessory uses the Galaxy's NFC feature (Near Field Communication) which allows users record notes and affix them to specific objects for automatic playback when the phone comes near them.  For individuals unfamiliar with the NFC feature, it is exactly as its name suggests: communication among near devices, thus data is transferrable from one device to another via radio waves; it is comparable to Wi-Fi or Bluetooth but is seemingly faster, thus increasing productivity and efficiency.
These accessories are currently only available for the Galaxy Core Advance, but Samsung said they are planning on making these accessories available across all Galaxy platforms.