The act of gardening offers many benefits to our planet as well as its vast population.  It is an activity that connects us to Mother Earth, provides us with both prismatic environments and nutritious goods, and is often a source of relaxation for most.  In sum, gardening positively affects our overall well-being, both inside and out.  However, the pastime, though very beneficial, requires a lot of bending over, pulling and other very physical movements, thus making it difficult for people with disabilities.  So, I "dug around" (haha!) searching for some resources that may be helpful for people with disabilities.
Here are 8 gardening tools to help simplify gardening:
1.  Deluxe Tractor Scoot:
This is ideal for individuals who have back problems or struggle getting low.  The Scoot by The Gardener's Supply allows individuals to work from a seated position thus easing their back and knees.  The newer deluxe version is made more comfortable and easier to use featuring a longer handle allowing users to pull it like a wagon.  Once the handle is retracted, it locks in an upright position to serve as a sturdy handhold.  The heavy-duty Scoot includes pneumatic tires and a swiveling, height-adjustable seat.  It also features a basket to hold plants in, and beneath the seat is a tray where tools can be stored conveniently.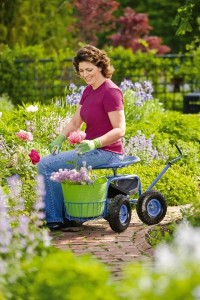 2. Ergonomic Trowel:
Gardening often strains an individual's' wrists and hands, ultimately causing fatigue and stress.  The Radius Hand Trowel features a comfortable, ergonomic hand grip to offer more leverage; it also includes an aluminum blade that is both strong and very light.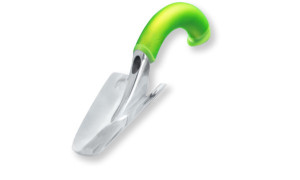 3. Ergonomic Cultivator:
The ergonomic cultivator is similar to the trowel above with similar ergonomic handle to reduce the strain on one's wrists.  It is a precision tool that helps work in tight areas.  It is also very light and incredibly strong making it easier to pull and push as needed.
4.  Collapsible Garden Bucket:
Garden buckets are used for holding clippings while walking around the garden; they may also be used to hold pulled weeds, soil, fertilizers, plants, or tools.  In order to make gardening easier, garden buckets should be light and durable.  If you are an avid gardener, a collapsible bucket may be ideal.  It is light, durable, and can be collapsed for easier storage.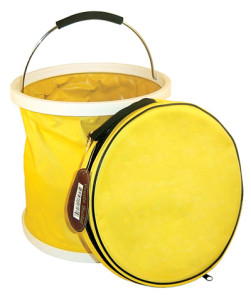 5.  Long Weed Grabber:
Pulling weeds is tedious and straining for individuals both with or without disabilities.  Fortunately, there are several handy tools such as the Fiskars Uproot Weed Remover to simplify this task.  Its 40″ long handle makes weeding easier for anyone who has trouble bending over or kneeling.  It features a lightweight, aluminum shaft and an easy-eject mechanism on the handle, eliminating any need for bending over.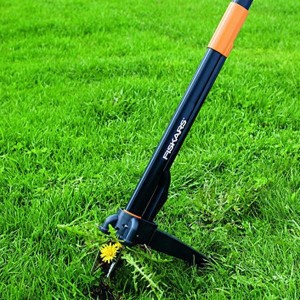 6.  Rake with adjustable tines:
Rakes come in handy for all sorts of things like grading soil for seed beds and planting, or lifting and clearing debris from lawns and more.  The standard leaf rake has a wide head perfect for clearing leaves from the lawn, but its large fan of tines doesn't help in smaller areas.  A rake with adjustable tines can accomplish several lawn tasks, from raking leaves to leveling smaller plant beds.
7.  Extendable Lopper:
Yet another tedious task includes cutting down branches.  Oftentimes the branches are too high making them unattainable without the use of a ladder (which is obviously a bad idea for someone with a disability.)  Extendable loppers, such as the Fiskars Extendable Handles Bypass Lopper, offer an extension between 24.5 to 37 inches, making those unreachable places, reachable.  This particular lopper offers a twist-lock mechanism making it easy to lock the blades while reaching.  It also features cushioned grips making it easier to hold, and a shock-absorbing bumper for a more comfortable grip.

8.  Bright Duct Tape:
Duct tape is an affordable tool with a myriad of possibilities.  Further, bright duct tape is especially useful for individuals with low-vision who love to garden.  Oftentimes gardening tools can blend in on the ground making them hard to find, becoming a potential hazard for stepping and more.  A simple solution for this problem involves wrapping the handle of a tool with fluorescent duct tape.