Many companies offer several augmentative and alternative communication (AAC) devices to help individuals with autism spectrum and developmental disorders.  However, with the increased use and versatility of tablets, the demand for downloadable AAC applications has elevated.  Individuals at Purdue University have created an app called SPEAKall!® which can be downloaded from the App Store to one's iPad.
This app was specifically designed to help children with autism spectrum and developmental disorders learn to both express themselves and produce audible speech.  The SPEAKall!® app is coined a powerful tablet app with picture exchange, as it incorporates the Picture Exchange Communication System into an iPad app.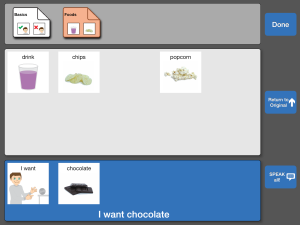 Develop spoken sentences:
The SPEAKall!® app highlights two sections: a top row and a bottom row.  The top row features symbols and pictures, and the bottom is a storyboarding strip where users can drag and drop the pictures to create sentences.  The images can include objects, feelings or anything relevant to the child.
Increase vocabulary:
The app has different collections of media based on specific activities (i.e. foods, colors, etc.), but the images may be moved around if desired to further expand one's vocabulary.
Easy transition from Picture Exchange to iPad:
Because SPEAKall!® has a basic interface comparable to picture communication books, it can easily be used within the format of exchange-based instruction.
Easily customized:
The SPEAKall!® app offers effective editing tools for administrators, making the app more unique and beneficial to each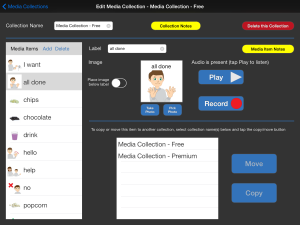 user.  For instance, pictures can be taken and added to the media library to teach the child.  After taking a picture, the administrator can then record accompanying audio using familiar voices.
This application offers a free trial with limited premium features so individuals can sample the full package which varies from $24.99 to $39.99.
For more specifics on the SPEAKall!® app, check out the details on the App Store.