Smart watches, smart wristbands, smart glasses… oh my!  Wearable technology is a booming industry linking users to technology like never before.  And now there is a device that connects its users in a whole new way.  At the Intel Developer Forum last Tuesday, Intel introduced a new, cutting-edge connected device: the first smart wheelchair.
Most smart, wearable devices are busy tracking how many steps the user takes, or even how many miles the wearer jogged in a day–but what about those of us who don't travel on foot?  For those with mobility impairments, the benefits of these smart gadgets tend to fall short.
This smart wheelchair proof of concept "enables the collection of biometrical information from the user, as well as mechanical information from the machine, that can be analyzed.  The team also built an application that allows wheelchair users to map and rate the accessibility of locations, further enhancing the user experience."
In other words, this wheelchair collects biometrical details, tracks location, and sends vitals to doctors if things go wrong.  The device monitors vitals of the person sitting in the chair, including blood pressure, body temperature and heart rate, and can notify 911 in event of an emergency.  It even informs the users of the wheelchair's status, keeping them even more safe and comfortable wherever they may go.  The general idea is to connect the wheelchair and its user to the Internet of Things, which has the potential to change and save lives.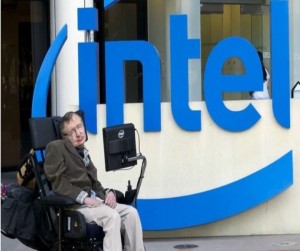 Perhaps one of the most interesting facts on this chair is not necessarily what it can do, but rather who developed this exciting piece of connected technology.  His name is Tim Balz, a 20-year-old mechanical engineering student at the Rose-Hulman Institute of Technology.  He is an intern at Intel and also the founder of Freedom Chairs, a nonprofit that provides refurbished electric wheelchairs.
Further, this device is endorsed by none other than Stephen Hawking.  If anyone has an idea or invention in the field of science and technology, and it is endorsed by Hawking–that's huge.  Hawking is a world-renowned author and physicist who was diagnosed with ALS at the age of 21 and has been using a wheelchair for more than 30 years.  He firmly believes that science and technology highly influence the quality of life for individuals with disabilities.  "Medicine can't cure me so I rely on technology.  It lets me interface with the world.  It propels me, it is how I'm speaking to you now.  It is necessary for me to live."