I grew up with the Baby-Sitters Club; I loved the books, the films, everything about the series.  (I can't believe it's already been fifteen years since the "Baby-Sitters Club" held their last meeting!)  I haven't heard about the series for a while, but yesterday I read a headline titled: "'Baby-Sitters Club' author Ann M. Martin's new book takes on autism."  I was drawn to the article because it states "Baby-Sitters Club author" and "autism."  I was instantly intrigued with the idea of the famous author tackling the subject of autism and wanted to further research her new book titled, Rain Reign.  I soon found out the book does not only feature Rose, a fifth-grader with autism, but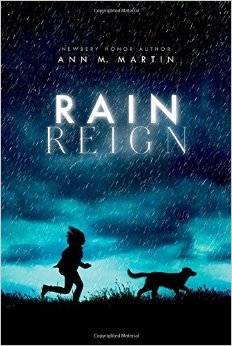 also tells the story from Rose's perspective!
In general, our blog content covers assistive technology, so you may be asking, "What does this book have to do with assistive technology?"  First, did you know autism is a disability affecting 1 in 68 children and 1 in 42 boys, and is the fastest-growing serious developmental disability in the U.S.?  So in response to your probable inquiry the answer lies beyond the pages of this book.  While reading this novel, I asked myself how I could connect the world of assistive technology to the story of Rose.  Does she use any technology in the book?  What form of technology might benefit her?
Throughout the book, Rose's love for prime numbers, homonyms and rules are stated; she keeps a list of them and writes them on paper but always loses them and has to begin again.  Near the beginning of the novel it is suggested that Rose keeps her list in a computer so she doesn't lose them.  However, Rose has an acute sense of hearing so the "humming" of a laptop and the tapping of the keyboard bothers Rose–ultimately inferring that a laptop may be a bad idea for Rose.  Here is an excerpt from chapter three of Rain Reign:
"I hear lots of things I'm not supposed to hear, and lots of things nobody else is able to hear, because my hearing is very acute, which is a part of my diagnosis of high-functioning autism.  The clicks our refrigerator makes bother me, and so does the humming sound that comes from Mrs. Kushel's laptop computer.  One day in school I put my hands over my ears and said, 'I can't concentrate!  Please turn that thing off!'" (39).  
Several individuals with autism face similar challenges related to acute hearing.  Perhaps the use of smart devices, such as tablets, would therefore be beneficial for individuals with autism since there are no loud noises involved. So what apps are available for the iPad to benefit individuals with autism?
Since the introduction of the iPad a few years ago, there has been an explosion of apps geared to benefit individuals with autism.  So below is a list of apps that may benefit individuals like Rose.
7 apps that may help individuals with autism:
1. Futaba Classroom Games for Kids — $6.99
This is a customizable app that can be used with 2-4 students at the same time.  It comes with many preprogrammed games such as math games, learning letters, counting, language, science and social studies.
2. Inspiration Maps VPP — $9.99
This is an app ideal for visual learners.  This app is preloaded with 26 templates to build diagrams, brainstorm ideas, write, take notes, etc.  It's perfect for students who need to see what they're studying or need help sequencing events.  In general it's a great app to organize ideas.
3. Smart Oral Motor — $5.99
This app is used primarily by speech language pathologists during therapy.  In this app, the child is guided by a little duck who provides auditory and visual cues to guide the child through the exercises.
4. Toca Store — $2.99
This app is a virtual store game that triggers your child's imagination and inspires role-play.  It helps children learn basic math skills, negotiation, cooperation and more.
5. Futaba Word Games for Kids — FREE
This is a 4-player word game used in classrooms and homes to build language skills.  This is ideal for ages 4-8 and allows your child to learn new words, a second language, and can even be used in history class.  This app also gives you the option to upload your own photos and text for practice. Each player is seated around the iPad and the first to select the correct word wins. The first to win three rounds is awarded a giant "futaba" (which is Japanese for seedling.)
6. Abilipad — $19.99
This is a customizable keyboard and adaptive notepad with word prediction and text-to-speech.  This is often used in the classroom as a word processor, especially for individuals with autism and other special needs.
7.  Flashcards by Me — $2.99
This app allows individuals to design their own flashcards from photos taken on the device.  This app was created by a parent of a child with Down syndrome with the intent to learn vocabulary, sight words, and receptive language by using familiar objects.  For example, a picture of your own dog instead of a random dog.  The app also allows you to record your own familiar voice for the child.  The main motive of this app is to support parents in teaching their children about vocabulary and speech.