For some students, especially those with dysgraphia, handwriting can be rather challenging.  For example, Steven is a fifth grade student who was diagnosed with dysgraphia; his mind is sharp but his handwriting is so illegible he can't even read it.  When completing worksheets in class, he gets so frustrated with his jumbled letters and often falls behind in class.  Steven's occupational therapist worked very hard with him to improve his penmanship but nothing seemed to help.  His occupational therapist then began to scan his worksheets into a computer so he could type the correct answers, but this didn't help him keep up with his peers in class.  Amberlynn Gifford, an occupational therapy student, created an ideal solution for Steven: SnapType.
Gifford met Steven during her occupational therapy fieldwork last spring and felt that there had to be a better way for Steven to keep up with his peers.  Gifford stated, "What if Steven could take a picture of his worksheet using an iPad and then type his answers directly on the screen?  I searched all over the app store, but there was nothing that did what I wanted.  Well, there were a few apps but they were designed for business people and were far too complex for a child to use."
Gifford ended up developing SnapType, a free iPad app that anyone can use.  Here's how to use the app:
Use on-screen shutter button to take a picture.

I decided to try this app out and here is an example from a 4th grade workbook: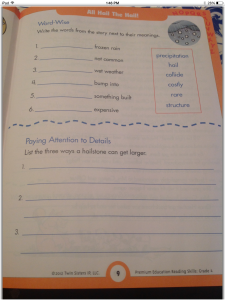 Tap where you want to add text.
Start typing using the iPad keyboard.

Here is a second example once I entered text:
Tap and drag to move the text boxes.
Resize image by using two fingers to pinch the screen.
Resize text by using the slider at the top of the screen (SEE EXAMPLE 2: Slider to the right of word "Hail").
Save your work by pressing the iPad home button and power button simultaneously to save as a screen capture (will save to your camera roll).
Once saved, simply flip the iPad face-down for 2 seconds to start over.
Visit iTunes to learn more about the SnapType for Occupational Therapy App.