Home automation is becoming quite common.  After all, with this technology we can turn our lights on or off, lock the door, adjust the thermostat, and so much more–all through applications on our smartphones.  With it already so convenient, is there anyway home automation could get any easier?  Yes!  With a new product called Flic, you can easily control all of your smart home units with a simple button, accessible anywhere you need it.  In short, Flic is a wireless shortcut button that allows you to perform any action with a simple click–and without the hassle of trying to find your phone.
With just one click of a button, you can:
send a text message
play music
take pictures
snooze alarms
make calls
find phone
control lights
track time
navigate
unlock doors
and so much more!
Each Flic works right from the start with easy setup:
Click button
Open Flic App on smartphone
Choose which function you want the button to serve
Stick the button to any surface
Now you're ready to go!
Each Flic button can be programmed to do three tasks.  To initiate, for example, simply hold the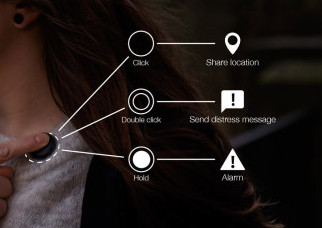 button down to turn everything off, double-click to lock door, or click once to turn lights on.  It can also be used for safety purposes.  According to its website, "Flic will alert your friends and family with your exact GPS-location if you're ever in trouble.  Flic integrates with your phone's GPS functionality to keep you safe."
To learn more about this shortcut button, visit the Flic website!