For individuals with mobility impairments, there are several assistive technologies available to help them control their computers and other devices.  A company behind some of these technologies, called Compusult, has a slogan stating that they are "delivering innovative solutions to the world."  Staying true to their slogan, they've recently released their newest addition to the Jouse family, the Jouse3.  Jouse3 is an advanced joystick-operated plug-and-play mouse that requires minimal action.
To control your computer or other device with the Jouse3, just move the precision joystick with your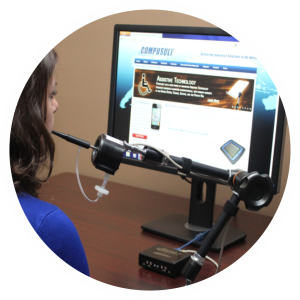 mouth, cheek, chin or tongue.  The cursor movement is fast, smooth and accurate, making it ideal for drawing or playing games.  The further you move the joystick, the faster the cursor travels.  With the sip and puff switches built into the Jouse3, you can perform right-click, left-click and double-click actions.
The Jouse3 will mount to almost any desktop, wheelchair or bedframe.  There are mounting options for secondary equipment such as switches, webcams and microphones.  According to the brochure, "With the Jouse you have unlimited access to all your computers and devices, giving you complete freedom and control to do everything you want to do!"
More Jouse3 Features:
USB 2.0 plug-and-play
Nothing is attached to the user, providing greater independence
Extremely smooth with excellent tracking.  Jouse3 can be used for drawing or any application requiring fine cursor control
Supports Macintosh, Windows, Linux and Unix based computers and Android
Lets users control switch-enabled devices
Includes an advanced articulated arm
CE Certified