Several children who have emotional and cognitive disabilities often release the seat belt while the vehicle is in motion.  This is dangerous for everyone involved, as the child is not secured and oftentimes the driver will get distracted trying to get the child secured.  The Seat Belt Buckle Guard is designed to eliminate these dangers.
The Seat Belt Buckle Guard is a slotted cover designed to work with seat belts with an upright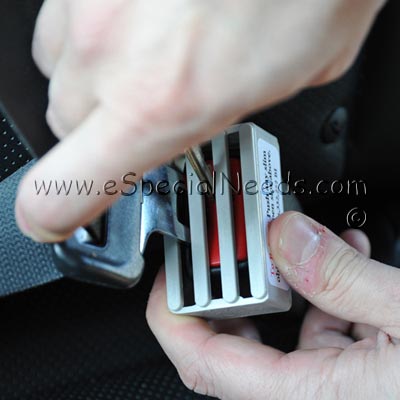 configuration and a red push-button release.  The cover fits over the button and belt receiver slot.  The seat belt is inserted into the side slot of the Guard over the seat belt receptacle and locked in as it normally would be.
Seat Belt Buckle Guard Features:
Works on a majority of cars, min-vans and SUVs.
Simple, yet effective design keeps children from unbuckling seat belt while in car.
Parent or guardian can release easily by using car key.
"Most effective buckle guard model on market," according to eSpecialNeeds.
Specifications:
Dimensions: 2 1/4″L x 1 5/16″W
Note: The Seat Belt Buckle Guard has been noted to not work with the Honda Odyssey, Toyota Rav4 or sports cars (i.e. Ferrari, Porsche, BMW, etc.)  However, modifications may be performed to make it fit your vehicle.  (IMPORTANT:  Any modifications void any returns.)
To perform these modifications:
To thin the profile of the bar, file or sand the top of the bars.  This should allow the seat belt to connect to the connector.
To help with the tongues that have a wider profile, use a file to remove the edges of the plastic.
To learn more on the Seat Belt Buckle Guard or to purchase this product, click here.