For many individuals with Alzheimer's or other diseases affecting one's mental state, it is a challenge to live independently and safely.  However, many technologies are being developed to help these individuals live more independently, while also giving their loved ones peace of mind.  One of these technologies is Lively, which allows the user to, "Be connected. Be well. Be lively."
Lively includes smart technology that is simple enough for anyone to use.  Wanna know an exciting fact about Lively?  It comes with its own in-home hub for connectivity–no internet connection or extra phone line is required!
Each Lively box includes:
Stylish safety watch (available in black and white)
In-Home Hub
Activity Sensors for refrigerator, pillboxes, and more.
Set up is simple:
Plug the Lively hub into a power outlet and it starts working immediately.
Place activity sensors around the home.
Activate the account online and start wearing the watch.
Once service is activated, using it is easy.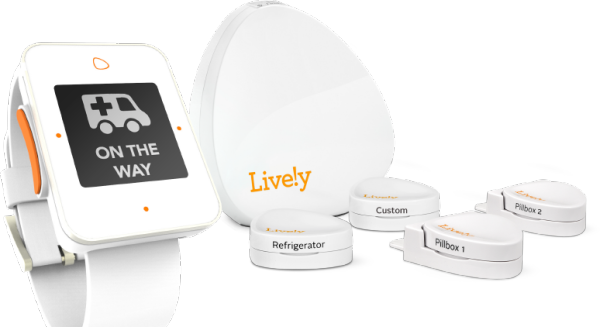 Safety watch features:
Help button: press and hold the orange button to initiate a call from the Lively Care Team.  Help is available 24/7 and the trained live operators step in to reach the user by phone before calling their emergency contacts–and if needed, dispatching emergency services.
Day & night display: large, crisp display with back lighting allows for easy viewing.
Waterproof: you can use the safety watch while showering or in the bath.
Medication reminders: with the activity sensors attached to pillboxes, the sensors will monitor daily medication activity and create an alert whenever anything is missed.  This will result in a reminder being displayed on the safety watch.  If medication regime does not resume, family members can be notified to check in.
Easy configuration & customization: the time never has to be set because it's automatic.

Choose time display (analog or digital)
Turn on/off vibration for reminders, alerts
Turn on/off medication reminders
Low-battery warning
For more information, visit the MyLively website.