The App Store offers countless apps to get us through both our personal and professional lives.  The possibilities are virtually limitless with the many productivity, social networking, navigation, reference apps (and more!)–all readily available at our fingertips.  However, the Be My Eyes app goes beyond the daily grind, offering users the ability to help others without leaving the comfort of their couch.
Oftentimes, daily tasks like checking expiration dates on foods or getting around in a new environment is a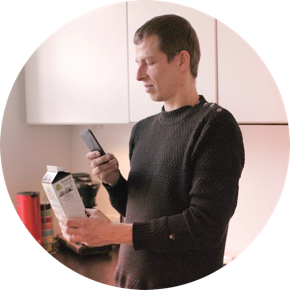 challenge for individuals with visual impairments.  The Be My Eyes app aims to help conquer such obstacles by connecting blind individuals with sighted volunteers from around the world via live video chat.
How It Works
Once a blind individual requests assistance in the Be My Eyes app, the volunteer helper receives a notification for help and a live video connection is established.  From the live video, the volunteer can help the blind person by answering the question.  This is a quick and easy way to brighten another person's day, as well as your own by feeling good about helping others.
By joining the Be My Eyes Network you:
Join a network of volunteers
Help when you have time
Earn points and level up
Be part of a real change in people's lives
Founder Hans Jørgen Wiberg, who is visually impaired himself, came up with the idea and presented it at a Startup Weekend event in Denmark April 2012.  Wiberg hopes "by helping each other as an online community, Be My Eyes will make a big difference in the everyday lives of blind people all over the world."
Be My Eyes is currently only available for iPhones, versions 4S or higher, but other operating systems are on the way.  (If you have an Android phone and are interested in getting involved with this nonprofit organization, register your email address and you will be notified as soon as an Android version is available.)
If you love helping others, download the free app now from the App Store and join the network with a mission to make a positive difference.