For some individuals with physical or developmental disabilities, arthritis, carpal tunnel syndrome, autism and more, using the standard QWERTY keyboard is not an option.  The orbiTouch Keyless Keyboard is a revolutionary solution that removes the barrier posed by the traditional keyboard/mouse combination.
The orbiTouch is an ergonomic alternative to the QWERTY keyboard.  It is a full 128 character keyboard and mouse in one that requires no wrist or finger motion to operate.  In lieu of keys, there are two domes on the orbiTouch to minimize hand and wrist strain.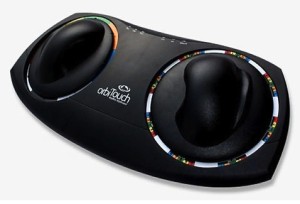 So how does this ergonomic device work?  It creates a keystroke when you slide the two domes into one of their eight respective positions.  In order to type different characters, just slide the domes to create letters and numbers.  It features an integrated mouse, giving you full mouse/keyboard capability via the domes.
Overview:
Each dome slides into 1 of 8 zones to type a character
Either dome can slide first or move both simultaneously
Domes slide toward the center of their color or character zones
Slide the right dome to the zone of the character you wish to type.
Slide the left dome to the color of that character
PC and Mac Compatible
The simple interface enables each user to type all alphanumeric and special keys found on a QWERTY keyboard, while providing an integrated 3-button mouse capability.
Every orbiTouch Keyless Keyboard includes the following:
Character guide
USB adapter
Read Me First poster
Fast Start Kit CD
To check out how this revolutionary keyboard works, check out this video.
To learn more, visit the OrbiTouch website.