If you're like me, you love the idea of enjoying a nice, home cooked meal.  But when it comes down to the prep work, you'd prefer to just order in.  Though I do enjoy cooking at home, after I battle with the jars and cans, I barely have the energy to cook.  So for today's post, I decided to share with you some handy gadgets that may simplify the food prep process for you.
3 Kitchen Gadgets
1. Ring Pull Can Opener
People with and without disabilities have often struggled opening cans for decades.  In more recent years, a heftier version of the convenient ring-pull can design (found on your favorite soda can) has been implemented on several canned goods.  Using the standard can opener for me has become close to impossible, so these ring-pull cans, in theory, are more ideal.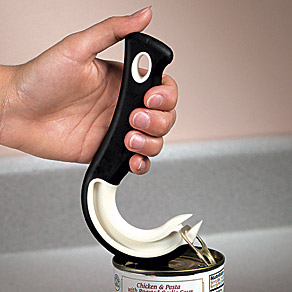 However, though they may simplify my life in one way by eliminating the use of a can opener, I still struggle lifting the tab and pulling the lid back.  Oftentimes to open these cans, I find myself juggling between forks, butter knives and even my teeth (I know what you're thinking… Teeth?! YIKES!  I'm not proud of this, and I strongly advise against you ever trying the "teeth method".)
While browsing the internet this morning, I came across the Ring Pull Can Opener.  This simple and affordable gadget is exactly what I need handy in my kitchen to open ring-pull cans.  It features a non-slip grip handle for added comfort, and will help individuals with arthritis and those without much strength.
2. Beverage Opener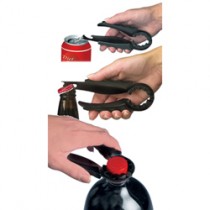 Another affordable gadget that would help open bottles and cans is this Beverage Opener.  This multi-function opener requires little torque to open twist caps, bottle caps or ring tabs.  Because it requires such little torque, this could help individuals with muscle weakness, arthritis and more.  Here is a list of its features:
Comfort soft-grip handle
Dishwasher safe
Non-slip grip teeth
3.  Automatic Jar Opener
Ahh, the opening of glass food jars…  The struggle behind opening jars is real and one that a majority of individuals can relate to.  There are several products on the market to help you get a better grip and loosen the lid, but many still require a good amount of strength.
One of my most favorite gadgets I have is the Black and Decker Lids Off Jar Opener.  There are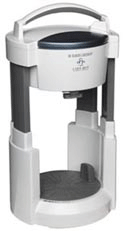 several foods that I enjoy, but unfortunately many come in glass jars with vacuum-sealed lids.  I used to deliberately avoid buying any of these foods due to the struggle of opening them, but sometimes I just can't resist a craving for some spicy salsa or spaghetti.  Yum.  I have tried many ways to loosen the seals on these, but often failed.  When I was in college, I remember knocking on doors in my dorm asking someone to open a jar for me.
With the Black and Decker Lids Off Jar Opener, whenever there's a jar needing opened, I insist on doing it myself.  This automatic Jar Opener is a simple, quick and convenient way to open the tightest of jars.
To operate:
Lift handle
Place jar on turntable
Lower upper portion of appliance to rest on top of jar
Press and hold the large on/off button until the lid is loosened
I have used this jar opener several times and each time I am just as amazed as I was the first time with how well it works.  It adjusts to fit almost any size or shape jars including jars with plastic lids, thin jars, baby food jars, and large jars.