There are several video magnifiers available on the market for individuals with low vision, but many are bulky and offer few abilities.  TOPAZ PHD is a new portable video magnifier offers many features that are designed specifically to fit your lifestyle!
TOPAZ PHD is an "intuitive and fully-featured video magnifier that provides brilliant image quality in a compact and portable design!"  This device offers the same comfort and productivity features of a desktop video magnifier, but is lightweight and folds away like a laptop.
TOPAZ PHD Features
Image quality that is easy to read at all magnification levels with magnification to 30X on a 15-inch monitor and up to 24X on a 12-inch monitor
Auto-focus camera
Five default and 27 configurable screen color modes for a total of 32 customizable high-contrast colors
Document reading and self-viewing modes
Adjustable reference lines and masks to easily keep your place and reduce glare
Over 9 inches of working space to write and work comfortably
Find function to quickly zoom out, locate next area of interest and zoom back in
SD Card slot for storing images
USB PC connectivity (when used with GEM® software)
Optional Features:
Lithium-ion battery pack
XY table for a smooth gliding motion while you read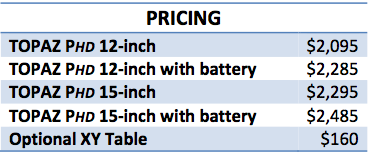 TOPAZ PHD will be available for shipping starting next month.  For more information, visit the Freedom Scientific website.