Podcast: Play in new window | Download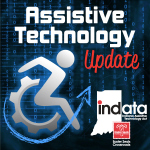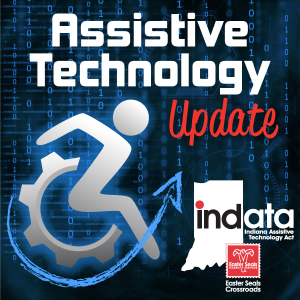 Your weekly dose of information that keeps you up to date on the latest developments in the field of technology designed to assist people with disabilities and special needs.
Show Notes:
Assistive Technology Masters Degree from CSUN| Lyndon Dunbar, Dr MaryAnn Cummins-Prager, Barbra Frye | http://tsengcollege.csun.edu/programs/ATHS | Lyndon Dunbar: Twitter: @LyndonDunbar  – http://www.linkedin.com/in/lyndondunbar – techspec07@gmail.com
Apple Said to be Creating an Electric Car http://buff.ly/1G2zMR8
The inspirational tech guru who's owning cerebral palsy like a boss http://buff.ly/1MxlegP
App: Microsoft Outlook on the App Store on iTunes http://buff.ly/1Mxlk8d
——————————
Listen 24/7 at www.AssistiveTechnologyRadio.com
If you have an AT question, leave us a voice mail at: 317-721-7124 or email tech@eastersealscrossroads.org
Check out our web site: https://www.eastersealstech.com
Follow us on Twitter: @INDATAproject
Like us on Facebook: www.Facebook.com/INDATA
——-transcript follows ——
BARBRA FRYE: Hi, this is Barbra Fry, and I'm the program manager of the Assistive Tech Studies Program at Cal State University Northridge.
Dr MaryAnn Cummins-Prager: Hi, this is MaryAnn Cummings-Prager, and I'm a faculty member in the Assistive Technology and Human Services Master's Degree program here at California State University Northridge.

LYNDON DUNBAR: Hi, this is Lyndon Dunbar, and I'm a recent graduate of the Master's Degree program at California State University Northridge, and this is your Assistive Technology Update.
WADE WINGLER: Hi, this is Wade Wingler with the INDATA Project at Easter Seals crossroads in Indiana with your Assistive Technology Update, a weekly dose of information that keeps you up-to-date on the latest developments in the field of technology designed to assist people with disabilities and special needs.
Welcome to episode number 195 of Assistive Technology Update. It's scheduled to be released on February 20 of 2014.
Today our main guests are Lyndon Dunbar, MaryAnn Cummings-Prager, and Barbara Fry who are with the Assistive Technology Master's Degree program at California State University Northridge, or CSUN.
We've got a story about Apple's possible self-driving electric car; we meet a woman from Africa who has cerebral palsy and is rocking the IT financial world; and our own Brian Norton spends some time with us talking about Microsoft outlook for iOS.
We hope you'll check out our website at www.eastersealstech.com, give us a call on our listener line at 317-721-7124, or shoot us a note on Twitter at INDATA Project.
Have you heard? We are launching a new show. In March, we are going to launch our show called Assistive Technology Frequently Asked Questions. It's a chance for you, our listeners, to call in, tweet in, email in with questions and we'll have a panel of experts enter them. Tweet with the hashtag #ATFAQ, and we'll answer your questions.
There seems to be a secret project happening over at Apple that's hit the mainstream news cycle recently. According to the Wall Street Journal and Reuters and some other reports on the Financial Times, it looks like a group of engineers have been assigned to work on an electric, maybe driverless car. I know a lot of our listeners pay attention to what Google is doing with the driverless car because that may mean all kinds of independence in transportation for people who are blind or have other disabilities that make transportation difficult.
I'm mostly inspired, not only that Apple is working on something like this, but we've got a lot of mainstream tech companies sort of paying attention to this need. It's obviously a mainstream need, but it's one of those things that I think will really, once it comes to fruition and is affordable and works, it's really going to solve a lot of problems for folks with disabilities. I hope that it has a good interface. I hope it's big enough to support a power wheelchair. There's a lot of things I hope for when I imagine a driverless car. But I'm going to pop a link in the show notes over to OS X Daily so that you can check out the story which links to some other stories and rumor mill kind of stuff about what Apple may be doing with an electric driverless car.
>> She's an innovator in computer science.
>> I have to prove to the world and prove to myself that despite my challenges, I can still be successful. Using the tap by touch to type letters, and I gradually graduated onto the computer and that is how my whole career started.
WADE WINGLER: What you're hearing there is a clip from CNN, their African Voices series. It's a story in which Farida Bedwei is a woman with cerebral palsy from Africa. She is a rock star in the computer software industry for financial computing. She is the cofounder and Chief Technical Officer for a company called Logiciel. It's an online, cloud-based, financial management system. It's a fastening story and talks about the fact that Farida is somebody who was born and diagnosed with cerebral palsy shortly thereafter. She was homeschooled for a while and then skipped some grades and got a degree in computer science and has been recently named the most influential women in business and government in Africa for the financial sector.
It's about a seven minute video on CNN. Do some text there as well. Pretty cool story about how this woman with cerebral palsy is a software rock star. I'm going to put a link in the show notes and I'm going to encourage you to check out what Farida Bedwei is doing there. It's a fascinating story about an empowered woman with cerebral policy rocking the tech sector.
Each week, one of our partners tells us what's happening in the ever-changing world of apps, so here's an app worth mentioning.
In the last couple of weeks, I've kind of gotten excited about the new Outlook for iOS. I started using it on my phone, but I thought I would ask my buddy Brian Norton to come into the studio and give us some feedback. Brian, you manage our clinical assistive technology services and you've been dealing with assistive technology for 15-plus years. How are you today?
BRIAN NORTON: I'm doing well.
WADE WINGLER: Good. Tell me what you think about this outlook for iOS.
BRIAN NORTON: I really like it. There's a lot of pros to the software. The first thing that I really like is that the calendar and the mail app are all in one. You don't have to switch apps anymore. So there's no back and forth between the different apps when you are communicating about scheduling and needing to go back to your email to check the date and the time and those kinds of things. There's no app switching. I also really like the integration of Dropbox, Box.net, and the OneDrive integration. If I have commonly used files that I attach and send out to folks regularly, I have those readily available to me.
WADE WINGLER: Just all in one app. It's kind of cool.
BRIAN NORTON: Very cool.
WADE WINGLER: That's good. I'm finding that I'm using it mostly for email, but I really like the flow of how email handles. I like the way it seems sort of natural, like the swiping back and forth so I can archive or delete things or forward and do all sorts of different things. What about from an accessibility and an AT standpoint? What do you think for our users who have disabilities and rely on things like voice over?
BRIAN NORTON: It's a pretty intuitive interface. I've used it with Voiceover and some of the other accessibility built into the iPhone and the iOS platform. It worked pretty well.
WADE WINGLER: Why don't you show me just how Voiceover works on a simple email or something?
BRIAN NORTON: I'm going to turn Voiceover on on my phone here. I'm just in the mailbox and we're going to go from the very top of the window down to a test message that I have in here. Here you go.
VOICEOVER: Search button, AT.
BRIAN NORTON: That's my assistive technology folder.
WADE WINGLER: AT is the name of your folder?
BRIAN NORTON: Absolutely.
VOICEOVER: Compose button, norton@eastersealscrossroads.org, quick filter.
BRIAN NORTON: That quick filter section is pretty neat where you can sort your messages by unread messages. It gives you some quick filter options there which is nice.
VOICEOVER: Mail from Wade Wingler, subject test message, 8:26 am, message preview sent from my iPhone and often dictated. Please forgive the typos.
BRIAN NORTON: I'm going to go ahead and open that up.
VOICEOVER: Swipe up or down to select a custom action, then double tap to activate. Overflow button.
BRIAN NORTON: So there is an overflow button, and that allows you to say I want to mark it as unread or market as read, those kinds of things.
VOICEOVER: Message trash button. Message archive button.
BRIAN NORTON: I can automatically archive that.
VOICEOVER: App back button, flag button.
BRIAN NORTON: I can flag the message.
VOICEOVER: Test message.
BRIAN NORTON: That's the subject.
VOICEOVER: At Wade Wingler, to Brian Norton, message header reply button, 8:26 am, show details button, sent from my iPhone and often dictated, please forgive the typos. Reply button. Reply all button.
WADE WINGLER: So that's just a test message that I sent to you before we turned on the recorder today. It gives people an idea that it works pretty well. What I've heard on Twitter and from others is that Voiceover access is pretty good throughout the entire application, even when you talk about the calendar and those of the features that you talked about. I've heard pretty good, not perfect, but I've heard that accessibility is pretty good. I think it's a winner. I'm using it and I'm liking it.
BRIAN NORTON: I use it exclusively now. I've kind of moved the traditional iCal and Mail app into a folder and now I use Outlook excessively for my mail in my calendar.
WADE WINGLER: Good. And if people want to get this for theirs, how much does it cost and where do they get it?
BRIAN NORTON: It's free through iTunes.
WADE WINGLER: So you go to the app store, you download it, you set it up to connect with your exchange server or your Gmail or whatever your email provider is and that's it, right?
BRIAN NORTON: That's correct.
WADE WINGLER: Score one for Microsoft, huh?
BRIAN NORTON: This is a really intuitive app. I like it a lot.
WADE WINGLER: Brian, also we're going to have your new show coming up here real soon. You want to give us two seconds about what your new show is?
BRIAN NORTON: The new show is ATFAQ. It's a question and answer show where we take all sorts of questions about assistive technology. I've got a panel of experts that are going to be gathered with me and we're going to talk about those questions and try to answer them the best we can or at least point people in the right direction to where to find those answers.
WADE WINGLER: Excellent. Brian Norton is the manager of our clinical assistive technology program here at Easter Seals crossroads and also the new host of AT FAQ, Assistive Technology Frequently Asked Questions, a show that you will be seeing coming up on our new network, theaccessibilitychannel.com. Brian, thanks for popping by and giving us your feedback on Outlook for iOS.
BRIAN NORTON: Thanks, Wade.
WADE WINGLER: We get a lot of listener feedback and email on our show. We are excited when that happens. Not that long ago, I got an email from one of our listeners named Lyndon Dunbar. In fact, I've interacted with Lyndon a couple of times over the years of being involved with the show. He said, "Hey, you know what, Wade? I just finished my Master's Degree in Assistive Technology from California State University Northridge, and I think people need to know about this." I thought, well, yeah, people do need to know about this.
A few emails later and I am on the phone and Skype with Lyndon, and also Dr. MaryAnn Cummings-Prager who is a professor in that program, and Barb Fry who is the program manager. All either faculty members or staff or recent graduates of this program at Cal State University Northridge, or in the industry we all call CSUN. So first of all, Lyndon, are you there?
LYNDON DUNBAR: Yes.
WADE WINGLER: Excellent. Thank you and welcome. We are glad you're here and glad you suggested this topic.
LYNDON DUNBAR: Definitely.
WADE WINGLER: Dr. Cummings-Prager and Barb, are you there as well?
Dr MaryAnn Cummins-Prager: Yes, I am.
BARBRA FRYE: Yes we are.
WADE WINGLER: Excellent. Thank you, ladies, so much for carving some time out of your day to talk with us about this exciting program. I'm excited to hear about this. I thought it might make sense if we get a little bit of background so the people in the audience know who you are and how you became connected to this program. Dr. Cummings-Prager, I'm going to start with you. Tell us about yourself.
Dr MaryAnn Cummins-Prager: So for many years, I was in an Administration Associate VP for student services here at Calvary State University Northridge. Prior to that, I was the director of the Center on Disabilities at Cal State Northridge, home of the CSUN conference. I've been an ADA coordinator for the campus. I've taught for a number of years in the area. I supervised or oversaw administratively the National Center on Deafness, the center on disabilities and disability resources here on our campus. I've been very involved. When they said they were going to start this online Master's Degree program, I immediately said I want to be in on the design of it.
WADE WINGLER: That's great. Barbra, I know you're heavily involved as well.
BARBRA FRYE: I'm the program manager. That basically means that I am with the student who might be a prospective student from the beginning till they graduate. This is one of the first programs I worked on when I moved into the unit I'm currently in. It was new and I had no concept of what assistive technology was. I was interested. I'm heavily involved in online learning and distance-learning, so just the idea of offering a program online was really interesting to me. I'm very interested in student services for online students. This kind of offered me a chance to learn about AT but also get deeply involved in setting up the infrastructure for student services online and working with online students all over the country. It was a great opportunity for me.
WADE WINGLER: It sounds like a perfect match. Lyndon, tells about how you became connected to the program and your background.
LYNDON DUNBAR: I became connected to the program because I have a disability myself. I was always interested in technology, especially assistive technology. When I found out that they had this program and how the coursework is set up, it can be taken by virtually anyone from education to vocational rehab. That part of it really interested me because I felt like I would get it better variety of experiences from different people in the field.
WADE WINGLER: Excellent. MaryAnn, I'm going to ask you to flesh that out a little bit. I know that Lyndon was a student and is a recent graduate. Who is a typical student for this program or is there even a typical student for this program?
Dr MaryAnn Cummins-Prager: Actually, there isn't a typical student for the program, but there is a typical orientation. That orientation is people who are very interested, first of all, in serving persons with disabilities. They may or may not have a disability themselves. We do have a very integrated program in the sense that we have many students who have disabilities and many who don't. But in addition, they have an interest in learning about applications of assistive technology in a variety of fields from higher education, K-12 education, therapeutic, occupational therapy, physical therapy. Some coming from a more business perspective or engineering perspective. Some who are interested in serving perhaps in nonprofits or in being an entrepreneur themselves.
WADE WINGLER: I'm going to guess that in my audience right now there are a lot of people who say you just kind of described me in one way or another. Barb, if people are interested in applying, what does the application process look like? What you have to do if you are interested?
BARBRA FRYE: Students apply online. Since it's an online program, of course that makes sense. It's a pretty easy process. It's five steps we have outlined on our website. Essentially we are looking for students with an undergraduate degree, 2.5 GPA or higher. They had to be pretty decent writers. A huge part of the program is location, so speaking and writing. There's a ton of online writing in terms of discussion forums and writing about something you might research. We are accepting students from a variety of backgrounds: their undergrad could be really anything. But they need to be comfortable with the online medium and with writing and other kinds of indication even if it's obviously oral like a podcast or doing some sort of webinar. Students to come from all different backgrounds. MaryAnn is correct. They learn from each other. If they get online, they look at the requirements, it's a 10-course program, 30 units. You move through it in about two years. We are accepting people from a lot of different backgrounds and you'll learn from one another in the program.
WADE WINGLER: Barb, you give us some of the details and the numbers they are about the number of credit hours or units and the amount of time. What's the cost of the program from the beginning to the end?
BARBRA FRYE: We break it up into six payments. Right now it's $23,970. That's pretty specific. It's about $799 per credit unit right now. Students pay essentially once every term. Before the term starts, we'll register you and you pay. So you don't cough up that entire $24,000 at once. It's financial aid eligible so a lot of our students apply federal financial aid and are awarded financial aid in the form of student loans. So it is completely eligible for that as well.
WADE WINGLER: That sounds comparable in terms of cost to other programs of its caliber.
BARBRA FRYE: Very reasonably priced for what the program is and what high-caliber it is. I think we are pretty competitively priced.
WADE WINGLER: Excellent. I'm a hypothetical student, and I've decided this sounds like me. I have the academics to get into the program and I have the time and financial aid is all lined up. MaryAnn, once I'm enrolled, what does the coursework involved?
Dr MaryAnn Cummins-Prager: When the program began, it started with this kernel of an idea that assistive technology folks who were engineers and computer software programmers might not know much about people with disabilities in terms of the history, disability culture. On the other side of the fence, those who were coming out of the services area, human services, might not know much about the design and ways in which software worked and other types of assistive technology. What we wanted to do was have coursework to introduce both because the whole idea of this program is to make people able to really be better practitioners. It's very much a practitioner focused program. It is not a research program. Having said that, however, it is a Masters degree program so the assumption is that people will be able to graduate with all of the skills and attributes that you would expect of somebody in the master's degree level. They will be able to engage in research. They will be able to critically review others research. They will understand the methodology and will be able to write as Barb said. Along the way, we also wanted to have a very deep understanding of disability culture and history because many people go into the field, and the kind of feel their way around but they haven't really had any coursework. They may not know the law and policy. They may not have heard of the UN convention. They've heard of ADA, but they don't know what context it came out of. They don't know about the independent living movement, haven't heard of Ed Roberts, etc. so there is a course on history, prelaw policy, and assistive technology. There's a course on medical conditions affecting quality of life. There is one on functional biology and design innovation as you can understand how design springs from an understanding of how people interact with their environment and mimicking things that come out of nature. There's a counseling course. I won't go through all of them, but at the end of it, we expect the student to be able to understand assistive technology and be able to apply it to an individual with knowledge of them holistically and the background from which they come and that they actually may have a different perspective on their own disability then you as a practitioner may have and that we start with the individual and their own history, their identity, and their needs.
WADE WINGLER: MaryAnn come as I was listening to you talk about the courses involved, I became very involved in fastener than that. I'm kind of checking them off in my mind. Yeah, you would need to know that, you need to know that. One of the things I did you talk about, and I'm assuming, is some of the more applied stuff. Applications and the nuts and bolts. I assume that those are in there as well?
Dr MaryAnn Cummins-Prager: I didn't miss and that, but there is something on assistive technology assessment and outcome measures. There is an opportunity across all of the courses to do something yourself through your own literature reviews or papers. There is a course on human characteristics and relation to usability of assistive technology. So the students can choose to focus on a particular thing that they want to as they take their coursework and become an expert in that. For example, they want to know a lot about assessment measures. They could choose to concentrate on that across the program.
WADE WINGLER: It sounds really well-rounded. Lyndon, you have a very unique perspective of somebody who's just finished the program. What's it like? What the light during the program? Always like to be involved in an online curriculum related to assistive technology? What has been like afterward? What assistant for your career?
LYNDON DUNBAR: During the program, I wasn't really new to online education. I had in my undergrad studies online. But for this program, it was different in the sense that the different people in the cohort were from different parts of the country. If you are working on a project, you have to collaborate together on a time schedule that works for everybody. This program when I started, was started at the CSUN conference. We went to CSUN. That was my first time, two years ago. I got to meet some of the people that I was going to be in the program with. Just to see the different backgrounds and how people got involved in the field. Everyone is from a different part of the country. It really adds to the variety of the expenses that you can get out of this program. Of course, like Barbara and MaryAnn said, there is a lot of writing. There were discussions and papers that you had to do. For me, I really felt like there was a good mix of the practical side of things and the theory side of things. To me, it was more well-rounded like you were saying earlier. Since graduating, I'm in the process of looking for work and stuff like that. People are starting to notice that as the CSUN conference is more of a standard, that this program is becoming, I think, more of a standard as well. People are starting to realize that. They are becoming more aware of it and how it's valuable.
WADE WINGLER: That make a ton of sense to me. As somebody who has been working in the field for over 20 years and somebody who routinely is hiring people to be professionals in the field of assistive technology, there hasn't been a ton of options in the past in terms of people who were academically prepared, especially at the Masters level. I can say that I feel like the field needs this kind of a program, because I'm hiring people, I want to know that not only have you fiddled with the technology at home because of personal interest, but I also want to know have you got some academic preparations. Lyndon come it sounds to me like you've got that at this point.
LYNDON DUNBAR: Definitely.
WADE WINGLER: That's great. MaryAnn, I'm going to ask you to look into your crystal ball a little bit and tell me what you think about the future of this program and other academic programs related to assistive technology. Where are you guys going from here?
Dr MaryAnn Cummins-Prager: I think will continue to evolve as the field evolves. We want to be a little bit ahead in terms of understanding the trends. Certainly we've been looking more at the implications of major technology and changes in healthcare, etc., in terms of where things are going. We know that there's going to be a lot more human-computer interface. We can see how that's impacting things, a variety of disabilities and chronic medical conditions. I think will be focusing on that. But at the same time, I think, more than ever — this is MaryAnn's person opinion — but more than ever, there is a need to have a robust, grounding [Inaudible]. Because so many of the choices that are going to be appearing in the future for us in terms of the interactions of humans and technology will require some clear grounding on whether this is a good approach and whether it is beneficial to the individual. I keep stressing that. When we think across the program, we talk about putting a person with a disability at the center of all that you do, understanding who they are and respecting who they are. Those are things, I think, will continue to progress in the field even as things change so rapidly around us.
WADE WINGLER: I think the program sits at the nexus of a lot of things that are changing very quickly, technology and assistive technology and disability and online education. I think the fact that you're looking forward is really important and going to help the continuity and the success of the program. Barb, before we wrap up the interview here, if folks are interested in applying or learning more about the program, what kind of contact would you like to share?
BARBRA FRYE: I definitely would love if you share our website. The link for our website where they can see what courses are required in what the student requirements are for the program. They can see who's teaching in the program. And most importantly they can see the Apply page which gives you the steps that you need to apply. Since it's an online program, frankly, I'm an email pretty much 24/7, so if anybody were to get on that page and email me, I can answer questions really quickly in terms of does this apply to me, would it be a good program, to take my background would make me qualify to apply. I would love it if folks would go to the website and/or email me so we can have a discussion and I can talk to you about whether it's a good program or would help you get where you want to go.
WADE WINGLER: And we talked about the fact that if we were to read the website address on the air come it would extend the show. I'm going to pop a link in the show notes so that people can just go there and click on the show and get right to the website.
BARBRA FRYE: Thank you.
WADE WINGLER: Lyndon Dunbar is a recent graduate of the masses program in assistive technology. Barb Fry is the program manager, and Dr. MaryAnn Cummins Prager is a professor in the program at California State University Northridge, their masters degree on assistive technology. Folks, thank you so much for taking time out of your day and being with us.
WADE WINGLER: Do you have a question about assistive technology? Do you have a suggestion for someone we should interview on Assistive Technology Update? Call our listener line at 317-721-7124. Looking for show notes from today's show? Head on over to EasterSealstech.com. Shoot us a note on Twitter @INDATAProject, or check us out on Facebook. That was your Assistance Technology Update. I'm Wade Wingler with the INDATA Project at Easter Seals Crossroads in Indiana.