"Open Sesame!"  Chances are, you've likely said or heard this phrase several times before.  It is a magical command initially stated by Ali Baba in the story Ali Baba and the Forty Thieves used to open the mouth of a cave.  Now instead of opening caves with this phrase, individuals have the ability to turn on the Sesame, a new, entirely touch-free phone.
The Sesame Phone is the world's first completely touch-free smartphone, designed by and for individuals with disabilities.  By utilizing the front-facing camera on the phone, it has the ability to track the slightest of movements.  In sum, head movements control the onscreen cursor on the Sesame Phone.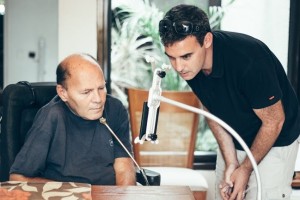 The device was founded by Giora Livne, a quadriplegic for the past nine years, and Oded Ben Dov, an app developer and computer vision expert.  According to their IndieGoGo page, "Sesame is committed to setting a new standard in assistive technologies.  Our team is driven by a deep belief in equality and universal accessibility, and in developing meaningful devices and ideas."
Sesame runs on a standard Android OS, thus granting users touch-free access to the millions of apps on Google Play!  Though many tech giants have worked toward improving accessibility, many smart devices still require physical touch.  Now individuals with limited hand and arm movements (such as those with ALS, spinal cord injuries, multiple sclerosis and more) are able to operate a smart device independently!
To learn more on this revolutionary device, visit the Sesame Enable website!