Nadia Guevara and Pedro Bori are both educational psychologists with years of experience of working with children with visual impairments.  Play is an essential part to a child's development, especially his or her cognitive development.  Guevara and Bori realized there aren't many options available for children with visual impairments so they came up with a solution: Smash-a-Ball.  Smash-a-Ball is a company that creates toys for children who are blind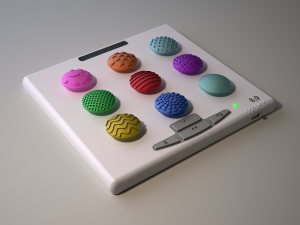 or visually impaired.
Smash-a-Ball is currently doing a crowd-funding campaign on Kickstarter with the goal of shipping the game this fall.  The company is also simultaneously developing a range of non-electronic toys, all designed from scratch to be fun, entertaining and engaging to enhance the most important aspects of cognitive development.
"Our mission is to create the best toys and apps for visually impaired and blind children, allowing them to have fun as well as improving their cognitive development, with our range of safe and engaging options.  So, let's Smash-a-Ball!"
According to their Kickstarter page, Smash-a-Ball consists of a backpack and a main board.  If the company meets their fundraising goal, the company will have the opportunity to manufacture an armband with the same functionality as the backpack, giving users the option to choose between the two.  Either one of these options gives the child a tactile stimulus, paired with the main board which provides auditory stimuli.
The game has been designed to enhance cognitive development in specific skills that are essential in visually impaired individuals such as: body and spatial awareness, memory, reaction rates and building self-esteem.
Smash-a-Ball Features:
Lightweight
Battery-operated
Adjustable
Ergonomic
Easy-to-clean
Hypoallergenic
Wireless
To learn more on this product, visit the Smash-a-Ball website.