Writer: Tiffany Whisner, Coles Marketing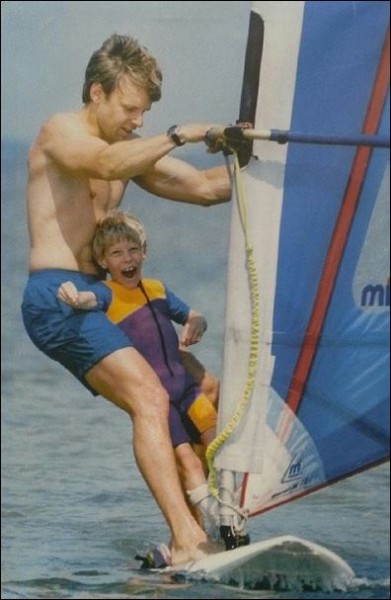 Back in the 70s, Ross Lilley was a bigtime windsurfer. A tough sport to break into, this surface water sport combines elements of surfing and sailing, and it requires technique, balance, strength and determination.
An ordained minister, Lilley made "radical inclusion" a life mission, believing it wasn't worth taking the ride if everyone couldn't go along for it. He began adapting and teaching high-challenge sports in 1983, starting with his favorite — windsurfing. Then he began to create and develop equipment to accommodate all disabilities for a number of different high-challenge sports.
When his son Josh was born in 1986 with cerebral palsy and quadriplegia, Lilley's interest in creating high-functioning opportunities for people living with disabilities became even more focused.
Josh became the inspiration for a unique organization promoting the physical and athletic potential of children and adults with disabilities through high-challenge sports and training founded in 1995 by Lilley and his wife Jean — AccesSportAmerica. And today, AccesSport is considered a pioneer in adaptive equipment and training techniques, recognized for its innovative programs and leadership.
Exhilaration and reward for all
"I've known Ross and his son Josh for many years now," said AccesSportAmerica Program Director Nate Berry. He went to Sunday school with Josh and worked as a volunteer with AccesSportAmerica during his college years at St. Michael's College in Vermont.
"I was studying Spanish and business, but I wasn't really sure where I was headed or what I wanted to do in the future. I did know I somehow wanted to inspire people for a living," Berry said.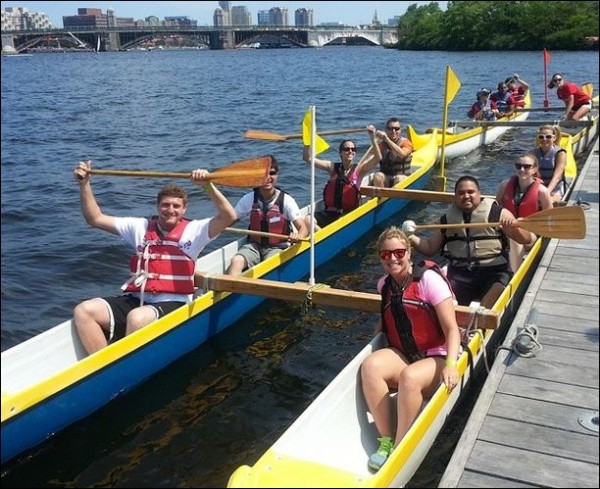 He has now been with AccesSportAmerica since 2002, serving first as a volunteer, then a team leader and has been program director for the last six years.
"We are doing more than I ever thought possible with this organization," he said. "And the individuals who are part of the program are doing more than they ever thought possible. We are able to help these athletes see fairly quickly they can not only become independent in these high-challenge sports but also in many other aspects of their lives."
More than 2,000 children and adults join the AccesSportAmerica programs each year — taking part in everything from adaptive windsurfing and canoeing to soccer, cycling and tennis.
"Everyone has a challenge coming into the program, but we have no restrictions on who can be involved," Berry said. "We have kids from age five to senior adults, and they all cover a range of disabilities. Everyone is welcome no matter what. And once they get involved in this program, they want to stay all year."
From the popularity of the summer activities program, AccesSportAmerica branched out into personal training and school conditioning and indoor sports programs during the winter months, providing opportunities for these athletes year round.
"Not only do we work with these athletes on sports and physical activities, but we take them out for social outings too," Berry said. "It's a chance to just get out in the community and have fun."
Inspiring function and fitness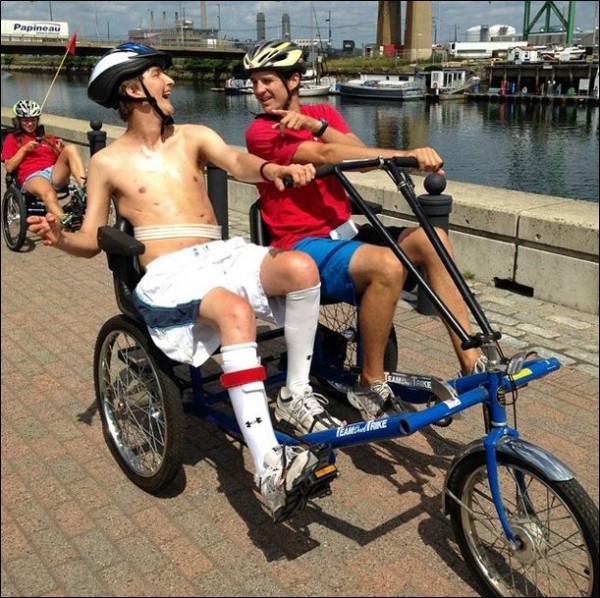 According to the Centers for Disease Control and Prevention, only 12% of adults with a disability meet the minimum physical activity recommendations of 30 minutes of moderate physical activity five or more days/week or 20 minutes of rigorous activity at least three days/week. Physical inactivity among people with disabilities has been linked to an increase in the severity of disability and decreased involvement in the community.
"AccesSportAmerica reaches out to a forgotten population who can't always advocate for themselves," Berry said. "They need to get out there and get healthy even more so than the general community because people with disabilities are often more sedentary than other individuals."
"Sport has the power to change the lives of persons living with a disability in an equally profound way, by empowering them to realize their full potential and advocate for change in society," according to the United Nations, Convention on the Rights of Persons with Disabilities. "Through sport, persons with disabilities acquire vital skills, develop independence and become empowered to act as agents of change."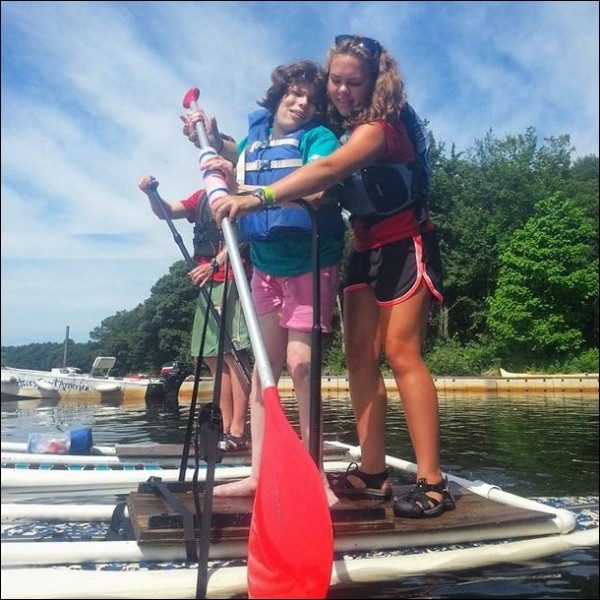 April is Youth Sports Safety Month, and AccesSport adapts sports even the most agile of athletes can find challenging. Each sport involves sustained physical exertion and promotes better conditioning.
For example, the program developed a technique of using stand-up paddle boards alongside single or tandem windsurfers. A trainer on a stand-up paddle board helps to hold up the windsurf sail and the athletes maintain balance. This innovation has led to more independent windsurfing. There are seven different styles of adaptive windsurfers in the program that can be used with standers, fixed and swivel seats and various sail configurations.
Rev. Lilley had seen the exclusivity of windsurfing and wanted to share the sport he loved with everyone. He is known as the pioneer in the field of adaptive wind surfing. Other water sports in the AccesSportAmerica program include canoeing, rowing/sculling, stand-up paddling/surfing and kayaking.
"When we do any water sports, we execute a one-to-one setup, so each athlete has a trainer assigned to him or her," Berry said. "It's a buddy system of sorts, and we take charge of their safety. Each person must wear a life jacket, and we work for it to be as natural and normal an experience on the water as possible."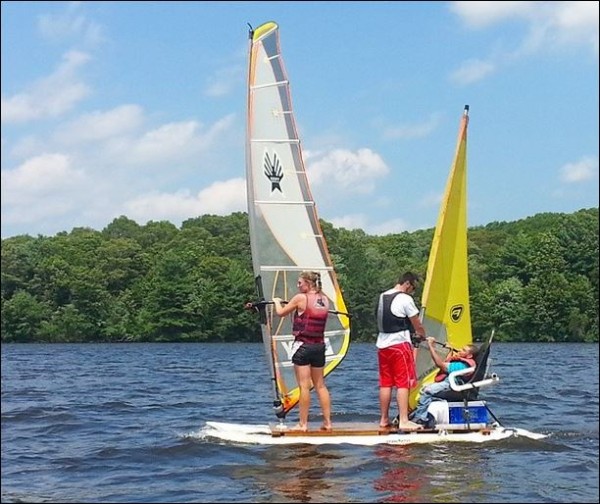 Each sport uses innovative techniques and adaptive equipment to accommodate anyone with a disability and ensure they are fully-functioning members of the crew.
"If one person has a need, we make an adaptation for that particular need and that particular person," Berry said. "So we help adapt the canoe or the windsurfer for that person, and then go from there. We began to make more adaptations as we identified more needs, and then other people started to use those adaptations. All the adaptions are done within the AccesSportAmerica program, and we work with each person on an individual basis."
And many the participants in the summer program then began to explore other ways to stay in shape the rest of the year.
Learn by doing
"We have developed a training model to help people with disabilities with physical activity," Berry said. "The summer programs often attract the athletes, but then they want to stay in shape throughout the winter. It gives them something to look forward to continue to work out when the weather gets cold."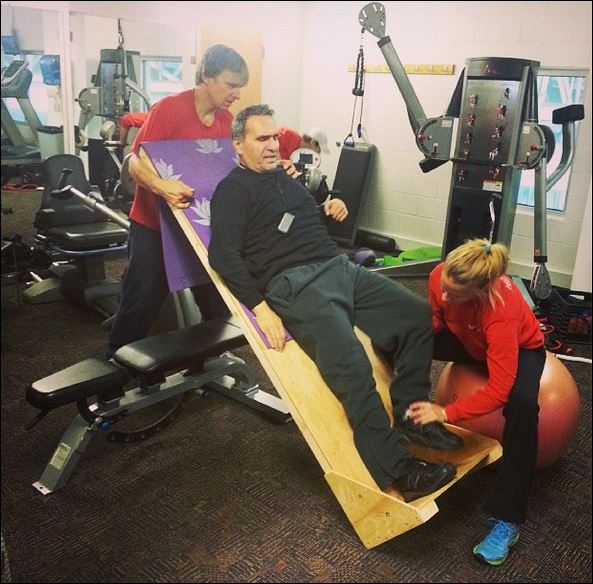 Program and funding partnerships with Spaulding Rehabilitation Hospital, the Oak Square YMCA of Greater Boston, Perkins School for the Blind, Camp Harbor View, Boston Bruins and TJX Companies have allowed the AccesSportAmerica team to work with athletes all year round. They also do specific work with individuals with autism through the Doug Flutie Jr. Foundation for Autism.
They teach team-building experiences and work on skills needed for the summer sports as well, such as paddling assistance or obstacle courses.
The teaching on land consists of exercises like oblique crunches and movement drills. They also work on sports like soccer and tennis. Drills are fun and driven by team competition, including relay races, juggling contests or even soccer bowling.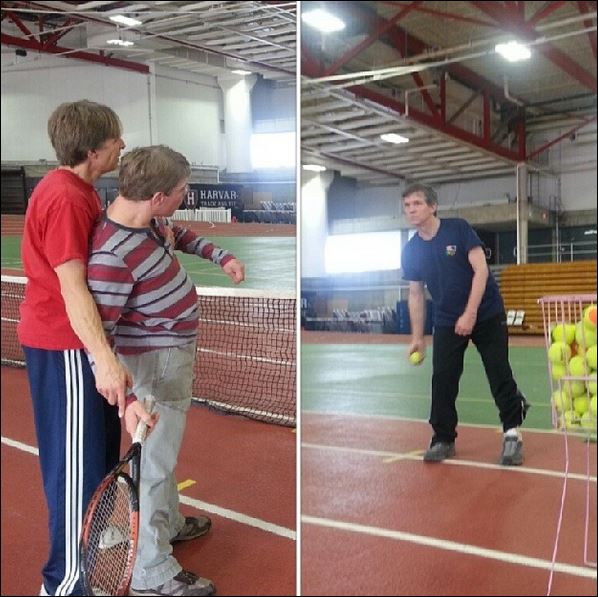 "We have a tennis program started at Harvard University and a program at the Boys and Girls Club in Boston Harbor to work with hundreds of inner-city kids on a variety of function and fitness skills," Berry said. "AccesSport is so blessed and honored to have these great partnerships with local organizations, focusing on improving overall health as well as reaching out to underserved, economically-challenged youth living with disabilities."
From autism to strokes and traumatic brain injuries (TBI), all kinds of disabilities are served by AccesSport.
"We may help people learn to walk with proper form or teach them how to do cardiovascular work," Berry said. "It may involve running in a gym or on a treadmill or focusing on core work or body resistance weight lifting. Each person and each disability is unique, and we tailor our conditioning program for each athlete we work with."
And there is also the social aspect that is just as beneficial to the participants.
"Someone may have had a stroke and be stuck in their house for a while, and this gives them the opportunity to leave home and get active," Berry said. "It gives people a social outlet. They can come to the gym for a couple hours, meet new people and make new friends. And that just adds to the experience they are getting."
High challenges, higher goals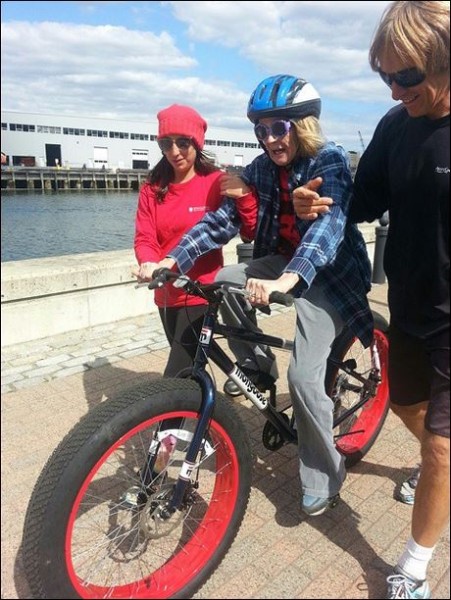 AccesSport wants to create a community where differences are diminished, blurred and many times erased. The programs are designed to build a community of long-lasting relationships.
"My favorite part of working for AccesSport is the lifelong friendships I make with the athletes," Berry said. "It's extremely rewarding to see them gain function, not only physically, but mentally and emotionally as well. There is no greater feeling than seeing the confidence our athletes gain when they realize they are able to do something, either for the first time or that they haven't accomplished in years. This feeling is contagious and is constantly spread throughout the AccesSport community, and I get just as much, if not more, out of being a part of it all as they do."
And the AccesSportAmerica team makes sure all staff are committed to the cause and properly trained. Staff members begin with apprenticeship work and must volunteer for a least a full summer or year before officially joining the team.
"We practice sports and water safety training and teach them about water rescues," Berry said. "Everyone gets hands-on experience. We don't the people working for us using stereotypes when it comes to working with people with disabilities. We enjoy working with people who don't have preconceptions about the world of disability, and then we can mold them with our specific vision and mission."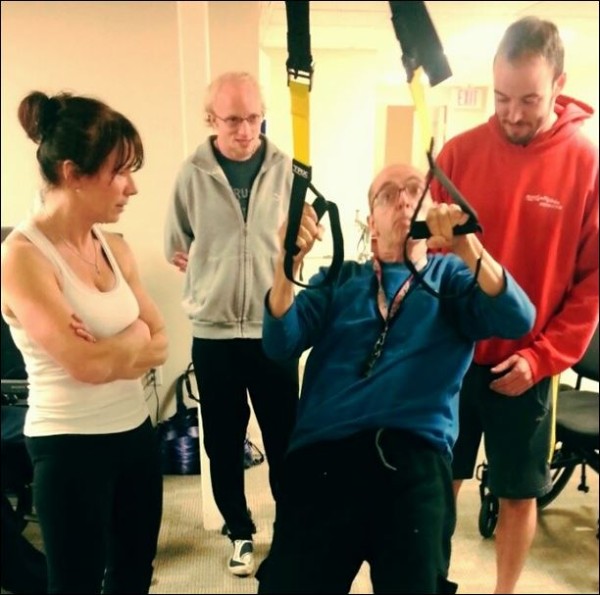 Summer and year-round trainers emphasize the need to "train for life," and help expand opportunities for the athletes by modeling the process of seeking and achieving hard-to-reach accomplishments.
Athletes come to see they can accomplish skills they never believed they could do, and after just a couple sessions at AccesSport. Then they begin to expect more from themselves and their lives.
"Not only can the athletes see a difference in themselves, but so can their families," Berry said. "They become more independent, especially after finding out what they can on the water."
And although Berry said he has begun to see a small societal shift in how people with individuals with disabilities, there is much more work to do.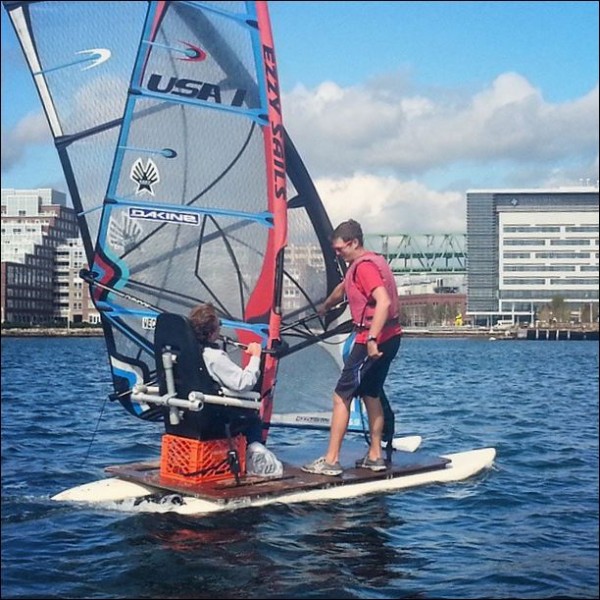 "It's about accepting individuals and learning to see the similarities and not the differences," he said. "Many people often don't know how to approach someone with a disability or deal with their particular challenge. But they need to learn to not be afraid of someone's physical or mental disability. We are starting to see that change, but there's still a long way to go."