For individuals who spend a lot of time on a computer, it is important to maintain an ergonomic posture.  Awkward typing postures can result in ulnar deviation and pronation, or the horizontal and vertical bending of the wrists.  The stressed compression of the nerves in the wrists contribute to developing disorders like carpal tunnel syndrome.  A great way to obtain and keep an ergonomic stature is by using an ergonomic keyboard.
The contoured design of ergonomic keyboards provides support and makes typing less strenuous.  The keys on an ergonomic keyboard are designed to be within reach of all of the user's fingers, reducing the amount of movement and effort of one's arms and hands while typing.  Interested in learning more about these keyboards?  To help begin your search, I've compiled a list of some of the bestsellers found on Enablemart, as well as some benefits of each keyboard.
5 Ergonomic Keyboards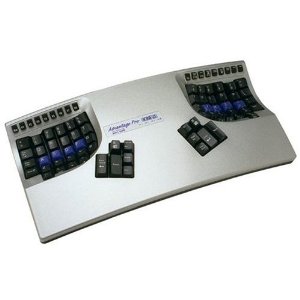 The Advantage Pro Contoured Keyboard features an ergonomic layout that positions your hands and arms for maximum typing comfort.
It is compatible with both Mac and PC operating systems and can be configured to switch between the two systems seamlessly.
The Advantage Pro is set up like a standard QWERTY keyboard.
The Maxim Keyboard is an award-winning, adjustable keyboard now available in a USB compatible package.
Narrower and more flexible than standard keyboards with a 0-30º range of motion
Adjustable lateral tilt from 0, 8, or 14 degrees (standard keyboards allow 6-9 degrees)
Quiet, tactile buttons
Full n-key rollover supports maximum typing speed and multi-key combinations
The Advantage Contoured Keyboard is a "simpler" version of the Advantage Pro Keyboard listed above.  Its contoured design provides a more comfortable platform, with the standard QWERTY layout with ergonomic features incorporated.
20º lateral tilt design places your hands so that your thumbs are position approximately 20º higher than pinky fingers.

This design helps minimize stresses associated with pronation and static muscle tension while enabling maximum keying productivity.

The overall footprint of the contoured keyboard is much smaller than the traditional one.  The smaller footprint allows closer placement of a mouse or other device, reducing extension issues.
The Goldtouch Keyboard has a progressive design that promotes a more natural typing position to reduce strain on tendons and joints.  It features a split design and tenting features which make them perfect for a wide range of users.
The Goldtouch Comfort Keyboard offers 0º-30º of adjustments on the horizontal and vertical planes.

This adjustability can help straighten your hands, wrists, shoulders, and back helping to prevent carpal tunnel syndrome or other strain injuries.

The comfortable soft-touch keys on this keyboard reduce the risk of stress while typing due to their "low activation force and full key travel distance."
The Maltron Keyboard is the most expensive keyboard on this list, but has been shown in hundreds of cases to relieve repetitive strain injury symptoms.  The Maltron Dual-Handed Keyboard is a fully ergonomic keyboard that fits the shape of hands and the different lengths of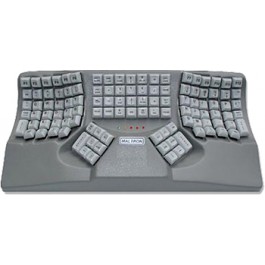 fingers to reduce movement and tension.
Its split design eliminates wrist twist and allows a central number cluster which can be used by preferred right/left hand.
Thumb keys for Cursors, Return/Enter, Space, Backspace and other frequently used keys reduce hand and arm movement.