Podcast: Play in new window | Download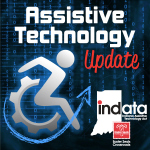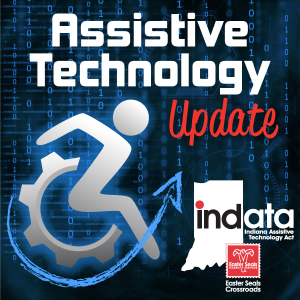 Your weekly dose of information that keeps you up to date on the latest developments in the field of technology designed to assist people with disabilities and special needs.
Show notes:
Assistive Technology and the Maker Movement – Pete Stephens – RESNA
www.resna.org | www.localmotors.com | www.firstbuild.com |
11-year-old visually challenged boy becomes news anchor of Tamil channel | Latest News & Updates at Daily News & Analysis http://buff.ly/1zKDHn7
Accessibility Survey http://buff.ly/1JoP83V
How Linux accessibility tools need improvement http://buff.ly/1PmnTsq
A Hidden Feature on the Apple Watch Changed This Deafblind Woman's Life http://buff.ly/1EVctdA
Steve Gleason Act – Tobii Dynavox http://buff.ly/1EOrMUe
Senate Passes Steve Gleason Act to Help Ensure Access to Speech Generating Devices – The ALS Association http://buff.ly/1DQUvUm
One on One: Steve Gleason opens up about accomplishments, daily battle with ALS http://buff.ly/1JOqtca
On the Hill with Audrey Busch of ATAP www.ATAPorg.org
——————————
Listen 24/7 at www.AssistiveTechnologyRadio.com
If you have an AT question, leave us a voice mail at: 317-721-7124 or email tech@eastersealscrossroads.org
Check out our web site: https://www.eastersealstech.com
Follow us on Twitter: @INDATAproject
Like us on Facebook: www.Facebook.com/INDATA
——-transcript follows ——
PETE STEPHENS: Hi, this is Pete Stevens, and I am a lifelong engineer and program manager, and I have been asked to speak at the RESNA upcoming conference, and this is your Assistance Technology Update.
WADE WINGLER: Hi, this is Wade Wingler with the INDATA Project at Easter Seals Crossroads in Indiana with your Assistive Technology Update, a weekly dose of information that keeps you up-to-date on the latest developments in the field of technology designed to assist people with disabilities and special needs.
Welcome to episode number 206 of Assistive Technology Update. It's scheduled to be released on May 8 of 2015.

Today we're going to talk with upcoming RESNA keynote speaker Pete Stephens and how assistive technology is related to the maker movement, pretty nerdy but cool stuff. We have a story about an 11-year-old boy from India who is blind and reading the new; an accessibility survey that gives you a chance to chime in about the accessibility of hotels and tourist locations; a story about accessible Linux; some hidden features on the Apple Watch that are improving the lives of people who are deaf/blind; an update on the Steve Gleason Act; and our monthly installment of On The Hill with Audrey where we find out what's going on in Washington DC.
We hope you'll check out our website at www.eastersealstech.com, shoot us a note on Twitter @INDATA Project, or call our listener line, give us some feedback. The number is 317-721-7124.
Can't get enough assistive technology? Well, did you know that we have another show where we answer listeners' questions? In fact, next week were going to answer the question where can I get a Lucy keyboard; and another one, if I can only do one thing to make my web store more accessible, what should I do? Check out our show. I think you'll like it. It's at ATFAQshow.com. Or just look on iTunes or around the web for assistive technology questions. You'll find us. Take a listen, you'll like it.
***
[Speaking Hindi]
WADE WINGLER: And, no, before you think you've tuned into the wrong show or bumped the dial — like we do that anymore — you're not the wrong place. You're hearing a clip of a boy whose name is Sriramanujam. He is 11 years old. He is blind, and with the help of braille, he read the news for 20 minutes on the Lotus News Network. He's doing a story about the earthquake in Nepal and the tragedy that happened over there, but it's a really interesting promotional thing that this new channel is doing to increase the awareness and independence of people who are blind or visually impaired. And I guess he did so well that they're talking about having him come back on a regular basis and read the news. Quote, "I was scared in the first two minutes, but then it was business, and I read it fluently," Sriramanujam said. So I'm going to pop a link in the show notes over to dnaindia.com where you can check out the story and some photographs and a great video of this little guy using braille to read the news. Check our show notes.
***
Doctors Tutuncu and Lieberman are at the Department of Kinesiology, Sport Studies, and Physical Education at the College of Brockport which is at SUNY State University of New York. They're during a research study about the accessibility of tourism facilities, so hotels and places like that. They've got an online survey that they're asking people to complete, and they ask question about whether you found these kinds of facilities to be accessible, and then they ask some quality of life questions as well. You know, I think it's always good to pitch in and help with this kind of research if you're so inclined and have the time to do it, some I'm going to pop a link in the show notes over to the survey and you can participate and chime in about the accessibility of hotels, tourism, and those sorts of things.
***
Kendall Clark writes over at opensource.com and recently did an article entitled "Six reasons people with disabilities should use Linux." And now there's a follow-up article that entitled, "Accessibility in Linux is good but could be much better." It's an interesting article because the author outlines some of the basic accessibility that's built into Linux. For example, when they talk about the proprietary — or unlike proprietary alternatives within Linux, Fedora and some other distributions, include things like a screen reader, a magnifier, high contrast mode, sticky keys, bounce keys, and on-screen keyboards and visual alerts. Those are all things we're used to seeing in the Windows and Macintosh operating system.
And they talk about the fact that because these open source distribution of Linux are open, that people can adjust and change those accessibility features and create them to work the way that they want. The author also mentions that there are some distributions of the Linux that are specifically designed for folks who have disabilities and need assistance technology. For example, Vinux, which is based on Ubuntu; Sonar, which is based on Arch Linux; and Knoppix ADRIANE, which is based on Devian; all have screen readers turned on when you fire them up. So it's a pretty cool way to have a low cost or no cost accessible operating system right away.
They talk about the fact that in Linux you can opt out of the GUI and run things from the command prompt which is textbased but incredibly accessible. They talk about the fact that in other situations you can choose your desktop environment. Now, they also mentioned that Linux could be better in terms of accessibility, and some of the challenges are related to the fact that there is a small accessibility community working on Linux. There's a small developer community. There aren't a lot of specialized or highly specialized applications. It's not common for government agencies and organizations to get behind Linux. And so they talk in detail in this article a lot about why Linux is accessible in some ways but still has some work to do. So afascinating, well-written article over at open source.com. I'm going to pop a link in the show notes right to the article and you can take a look at, what you think about accessibility in the Linux environment.
***
It seems like we can't turn around without hearing something about the Apple Watch. I found a story on Mike.com about a woman who is deaf/blind who has found a hidden feature, quote/unquote, hidden feature in her Apple Watch that changed her life. The Apple Watch deals with a haptic interface — they call it a "taptic" interface — and it has some accessibility features that allow you to increase or decrease the prominence of the vibration that the watch creates on your wrist. The woman's name is Molly Watts, and she has Usher Syndrome so she is deaf/blind. She has limited sight and limited hearing, and she has learned that if she adjusts the accessibility settings on her watch, she bumps the print up a little bit so that it matches the size of the print on your iPhone, and increases the haptic interface response a little bit, she's been very successful using the maps app on her Apple watch. She says, "I can be directed without hearing or sight but by a series of taps via the watch on my wrist." It'll tell her whether she's turning left or turning right. She says she's still experimenting with it but so far she's very impressed. She says, "Usher Syndrome accessible!" So I'm going to pop a link in the show notes over to this Mike.com article, and I think it's preliminary, but I think it is one of the ways that the Apple Watch may provide some new and different accessibility to people who use assistive technology. I'll pop a link. Check the show notes.
***
On April 22, the Internet was sort of exploding with information about the Steve Gleason Act. Steve Gleason was a football player, professional football player, who has ALS and was instrumental in working on some legislation that did a number of things that really helped with some of the limitations that Medicare placed related to speech generating devices or augmentative and alternative communication devices. I've got a clip here from Steve Gleason in an interview he did on the channel six local news affiliate there where he lives in New Orleans. Here's the clip.
STEVE GLEASON: Nothing is easy, and I need help for everything physically. I think it's hard for someone who isn't familiar with ALS to envision what I mean when I say everything. Simply put, Medicare committed a blunder when they chose to deny people like myself access to technology. I don't really look at my life in terms of legacy. I prefer to focus on what's happening now. In essence, I believe that me having ALS means that millions of people in our future will not have ALS.
WADE WINGLER: Some of the specific issues that are addressed in the Gleason Act are capped rental where you have to rent an AugCom device instead of just purchasing it, restricted access to eye gaze systems, and the issues related to unlocked speech generating devices. So the law still needs to move to the House of Representatives where it has some pretty good support in the leadership there, and we'll do an update when we have more information about the Steve Gleason Act. I'll pop some links in the show notes over to the interview with Steve Gleason as well as some of the industry leaders and their analysis of the Steve Gleason Act. Check our show notes.
***
It's time for on the Hill with Audrey. Audrey Busch is the director of policy and advocacy for the Association of Assistive Technology Act Programs. In her update, she lets us know how the power of politics is impacting people with disabilities and their use of assistive technology. Learn more about Audrey and her work at ATAPorg.org.
AUDREY BUSCH: This is Audrey Bush, policy director for the Association of Assistive Technology Act Programs, coming to you with your monthly Washington update. It has been full speed ahead on Capitol Hill with a flurry of activity swarming the halls. And one of the biggest announcements from this past month is the Senate's Health, Education, Labor, and Pensions Committee's work on reauthorizing the Elementary and Secondary Education Act.
The Senate's reauthorization of this education bill, now called the Every Child Achieves Act, will return a great deal of control back to states. It will also maintain the annual federal testing schedule, but states will have the option to have one large summative test or many smaller tests that, in the end, would demonstrate one large assessment. The bill also clearly outlines that states must establish challenging academic standards for all students, and the federal government can play no role in establishing them. Furthermore, the bill also includes a 1% cap on alternate assessments used for students with significant cognitive disabilities.
While it took months of Republican and Democrat negotiations to get a final bill to the committee, the bill did finally pass the Senate Health, Education, Labor, and Pensions Committee by a vote of 22 to 0 and will next need to be considered by the entire Senate. The bill has yet to be scheduled for consideration by the Senate, and it is the majority leader Mitch McConnell from Kentucky who makes such decisions about scheduling. The expectation, however, is that the bill will be brought to the Senate floor before Memorial Day.
Other great news to come from the Senate included the passes of S-984, the Steve Gleason Act. This legislation would allow Medicare beneficiaries to purchase and transfer ownership of speech generating devices to the patient, ultimately eliminating the Medicare capped rental requirements. The next stop for this bill is the House of Representatives where Representative Kathy McMorris Rodgers from Washington is the sponsor. All eyes will be watching and anticipation to see if the House continues the momentum spurred by the Senate's quick passage of the bill.
Finally, turning to the fiscal year 2016 federal budget, the House is moving forward to develop their 12 funding bills for fiscal year 2016. The not so good news in this funding process, is that the bills that fund the health and education programs like the Assistive Technology Act are being asked to cut 2% from the entire funding bill. Where these cuts will come from, no one knows, but disability advocates are working to ensure those cuts do not come from disability programs that benefit people that need it the most. On the bright side, there are many Republicans and Democrats alike that don't want to be forced to make such deep cuts, afraid of the political backlash and the harm such cuts would make on a variety of beneficiaries. This ultimately is pushing both parties to look at negotiating another budget bar in that would hopefully avert severe funding cuts to beloved programs and alleviate sequestration. So while there is a long road ahead before anyone will know final spending levels, there looks to be a silver lining in the distance. I look forward to next month's update and hope in the meantime you are enjoying a beautiful spring.
***
WADE WINGLER: Okay, so today may be the day that I lose my geek card or some of my geek credit, because today I'm excited to have Pete Stevens on the line. He is going to be one of the speakers at the upcoming RESNA conference that's happening in Denver in June, and everybody's getting geared up to that. He's going to do a talk called "Assistive technology and the promise of the maker movement." So my confession before we even jump into this interview is that if I were a high school student again, I would probably be all over this stuff. I would probably have a Raspberry Pi in my pocket at all times, but I honestly haven't spent a lot of time in the area of maker stuff. So we're going to get into that today. Pete, are you there?
PETE STEPHENS: Yes, I am here.
WADE WINGLER: Pete, thank you so much for taking time out of your schedule and chatting with us today. I'm excited to learn about what's going on with the maker movement and what you're going to be talking about at RESNA this summer. But my first question is you're not an assistive technology guy by trade, right?
PETE STEPHENS: No, I'm not. I'm really, I'd say, an engineer by trade. I've been doing program management for about the last 10 years or so in the automotive and aerospace and defense industries.
WADE WINGLER: So how does that land you with a keynote or a plenary speech at RESNA?
PETE STEPHENS: Well, I got the opportunity to do a lot of program management with Local Motors who's a really cutting edge company doing a lot of interesting things with the crowdsourced design and innovation and spent some really great time with those guys. We've done some really great things at Local Motors in both the military and automotive and really the appliance and cooking industries.
WADE WINGLER: I'm going to come back to the question specifically about some of the work at Local Motors, but you're talking about the maker movement at RESNA. And for my audience members who might not be familiar with that, can you take us to school little bit? What's the maker movement?
PETE STEPHENS: The maker movement is really enabled by today's industrial Internet, and just the way that people communicate nowadays has changed from the time when I started out making things. And today's youth and today's technology people are really leveraging the Internet to not only do social and share ideas that way but also exchanging files and exchanging designs and sometimes sharing tools and those kinds of things to make things via the industrial Internet.
WADE WINGLER: So give me some ideas of what they make a project might look like. If I see a maker making, what might they make?
PETE STEPHENS: One thing that jumps into my mind as you asked the question, I just think about some guys — I was at hackathon, is the term, and those guys really impressed me. They put together a lot of different technologies. There was the alcohol sniffing breathalyzer and motion sensing. And they put together a device that not only monitors your alcohol content but your head motion while you're driving down the road that you might nod off to sleep and those sorts of things, and being able to sense those things and be able to provide vehicle interlocks or honking the horn while they are dozing off. Just those kinds of ideas that are just blooming now because of all the different applications out there for technology.
WADE WINGLER: A lot of this stuff seems to be kind of homegrown. It kind of seems to be projects that are very much done by an individual or a small group. And a lot of it seems to be a little bit like high school science projects in a lot of cases, but then they go much further than that, right?
PETE STEPHENS: Yeah, they do. And along with your question I was thinking about. That seems kind of complex, but I am from Arizona, and one that really impressed me one time was a guy that made a butter softener where he can keep his butter soft in the refrigerator. In Arizona, you can't leave your butter out on the counter. It's able to keep it at a constant temperature so it's easily spreadable. But it can be the simplest things or the most complex of things, and it's just solving a problem that has been around for a long time.
WADE WINGLER: And when you talk about that kind of an approach, then obviously the connection to assistive technology might make a little bit more sense. But can you kind of connect those lines for me a little bit? How does the maker movement impact assistive technology and product development? Where does it fit?
PETE STEPHENS: Whenever I, as director of programs at Local Motors, whenever I got opportunities that came, people asking questions, one of the first things I'd ask either silently to myself or openly is, is there a passionate community around the problem that exist? If it's the butter desk or it's an army situation, people wanting to help a soldier, or in this case assistive technology, is there a passionate community of people out there that want to help? And beyond just being compensated by, you know, financially, what have you, like a 9-to-5 job sort of thing, but also they have a passion for it. And obviously there's a lot of people out there that want to help each other with assistive technology with all the problems that are out there. What this brings us to as well as you can put a lot of brains on a lot of problems, which kind of allows you to highly customize things, and that's a need for assistive technology.
WADE WINGLER: I think if you think about our industry, we're kind of a group of tinkerers anyway, so we enjoy tinkering around with those kinds of projects and we're not afraid to try things and worry about failure. I had a guest on the show not all that long ago operating a program called Robo Hands, and they're doing 3D printed prosthetics. And obviously there are situations where that isn't the answer, but do you kind of see that as one of the maker movement impacts on assistive technology?
PETE STEPHENS: Yeah, it's just one more tool in this whole — when I use this term industrial Internet, it's one more tool. It could be cutting or printing that you can easily make customized parts based on a data file. So for instance, at Local Motors being able to — we 3D printed a car. So when we did that , we put the ask out there to the world and said, hey, we would like a 3D print a car. Do you have ideas about that? Submit your designs to us and we'll 3D print one. We offered some cash. But really the main driver for people is that they could actually get the vehicle produced. So we ended up with, I think, 220 different submissions based on that ask. It's just a tool that allows you to quickly design something. It could also be — cutting tools are in the same manner.
WADE WINGLER: So wait a minute. You 3D printed a car?
PETE STEPHENS: Yeah. We did. We came across some opportunities, and we worked with some companies there to produce probably one of the largest 3D printers in the world. It's a big gantry robot. This gantry robot is like a large maker bot. You think of a maker bot as being a foot cube. This has a meter by 2 meter by 3 meter, and it's basically a large maker bot. And using an injection mold extruder head, we are able to 3D print a car. But really it's not a just car, it could be an appliance, it could be anything. And they asked the community to provide as a car design. That's what we printed. I think one of 200 designs out there. We actually have never printed everyone the same. We've printed properly five different cars, and every time we iterate and change it slightly to improve it.
WADE WINGLER: And that sounds a little bit like the assistive technology industry as well. So Pete, you've been an engineer and doing some project management for quite a while in the industry. What has kind of been the impressive technological developments you've seen over the years? What do you see as the arc of technology development? And then how do you see the impact on people with disabilities?
PETE STEPHENS: I think it's all about communication, being able to connect a bunch of great minds that can be all over the world. What I'm always impressed with is where these ideas come from. They can come from sub-Saharan Africa to Iran to Eastern Europe and just your backyard. Age groups as well. It could be very young kids that are still in high school or even before that, to old veterans that are finding a lot of free times on their hands. It's being able to connect all those people and trying to organize them in a manner and point them in a direction for some goal, be it assistive technology, helping a soldier out, or producing an appliance and trying to organize those passionate people toward a goal. The talent is pretty much endless. Whereas you normally think of a company where you try to hire the best minds to keep them within the company, this maker movement enables you to bring the best minds from all over the world and put them together. So I think that's the advantage.
WADE WINGLER: And I'm smiling here because I'm hearing the project manager in you coming out when you talk about bringing people together and communicating and moving an effort for it. I think that makes a whole lot of sense. So as you think about maker kind of things, what's been your favorite project to date?
PETE STEPHENS: that's a tough question. I really enjoyed some of the work we did with the Army. We did a project where we connected a lot of people that were interested in helping soldiers out, and we put a lot of asks out in the soldier community. And one of the items – it's kind of assistive technology related, at least it's medical in relation — I remember one of the ideas that come out was basically a hands-free tape dispenser for a medic in the field so that he can be able to pull out of his kit with one hand as opposed to pulling all of the items on having to assemble it with two hands as they have it now. And that was one little idea that was literally a very simple idea but can be life-changing for people. That was a fun project with the Army. Also what we've done with First Build at General Electric with their appliance parts division and developing different products and using crowd sourced funding to bring products to market. Check out firstbuild.com. They had come up with a cook device that was crowd funded and presold on Indiegogo. That was a pretty exciting project.
WADE WINGLER: That's cool. So what's your dream project that's on your radar but due to technology or just time and resources you haven't been able to tackle yet?
PETE STEPHENS: You know, I think it's probably — I'm from Arizona, and my mother, she's an elderly lady, and she keeps getting her — she often gets her electric scooter stuck. I've seen some electric scooters out there that are basically off-road type scooters. I know those exist. But I'm not looking for a monster truck for my 83-year-old mother. I just want something that she can drive down the driveway without getting stuck. I think that's one thing in assistive technology that brought me to this table here. That's an area that I feel passionate about, and I think it's one that would be interesting.
WADE WINGLER: So she doesn't need the monster truck, just sort of an SUV kind of scooter, right?
PETE STEPHENS: Yeah. Just something she can get down a dirt road in and get the newspaper off the end of the driveway.
WADE WINGLER: There you go. So Pete, what advice would you give to somebody who hears of interview and says, hey, I'm interested in learning more about this maker kind of stuff and wanted to know what a good entry point would be. What advice would you give somebody who wants to get started?
PETE STEPHENS: There are basically three or four resources that jump out to me immediately. That's basically localmotors.com. If you're interested in automotive or transportation — it's not necessarily automotive, but any kind of transportation thing. Local Motors is a really interesting portal for that to the world. If you're interested in things more around the home and kitchen and appliances, General Electric has a site there called firstbuild.com. It's really finding your area of passion, what you're most interested in. If you're lucky enough to be around a maker space much like Tech Shop. Tech Shop is in, I think, maybe a dozen different cities in the US and are looking to go international. But Tech Shop is another great place.
WADE WINGLER: Excellent. And if people wanted to continue the conversation with you or if they want to know more about the talk you're going to give at RESNA, what kind of information should we share with them?
PETE STEPHENS: Like I said, I'm going to get an opportunity to speak at RESNA on June 14 there in Colorado. So that would be a great opportunity just to come to the RESNA conference there. That would probably be the best way to do that.
WADE WINGLER: Great. And I'll pop a link over to RESNA.org in the show notes so that folks can find as well. Pete Stephens is going to be one of the speakers at the RESNA conference in June in Denver this summer and has talked to us today about the maker movement and how that might impact the field of assistive technology. Pete, thank you so much for being with us today.
PETE STEPHENS: Hey, thank you a lot too. So long.
WADE WINGLER: Do you have a question about assistive technology? Do you have a suggestion for someone we should interview on Assistive Technology Update? Call our listener line at 317-721-7124. Looking for show notes from today's show? Head on over to EasterSealstech.com. Shoot us a note on Twitter @INDATAProject, or check us out on Facebook. That was your Assistance Technology Update. I'm Wade Wingler with the INDATA Project at Easter Seals Crossroads in Indiana.