Play is an important part of each child's development.  During play, children learn essential skills such as communication, cognition, motor skills, social interaction, and other developmental skills.  While play is important for each child's development, it is especially vital for children who are blind or visually impaired because it's how they learn to interact with their surroundings.  What are some games and toys specifically designed for the blind or visually impaired?
While researching this topic, I came across a helpful publication from the National Federation of the Blind discussing the importance of toys for the visually impaired.  It also provides a list of questions to help choose appropriate toys for those with visual impairments.  Here are some of the questions:
Does this toy have an appeal that is not primarily visual?
Does it make any sound?
Does the child have any functional vision, and if so, does the toy feature lights or color contrasts making it more meaningful to the child?
Does the toy have different textures for tactile appeal?
Is the toy appropriate for the child's developmental age (not chronological)?
Click here to view the entire article.
7 Games and Toys for the Visually Impaired
Millions of people play Sudoku, a popular puzzle game which originated in Japan.  (Fun fact: Did you know "Su" means "number" and "doku" means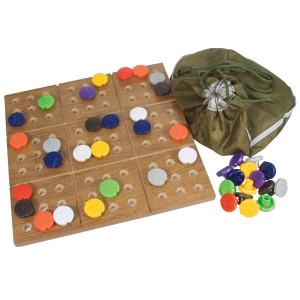 "single" in Japanese?)  Now this popular puzzle game has been made accessible for individuals who are blind or visually impaired!  The Braille Sudoku Puzzle game features a game board that consists of 81 holes (standard 9X9 Sudoku setup).  It also includes numbered, color-coded plastic pieces (for example, all ones are black, twos are red, etc.) making the game easier to play for persons with low vision.  Each piece also has the number written in Braille, making it accessible to individuals who are blind.
The Rubiks Cube is one of the best-selling brain teaser puzzle toys.  Now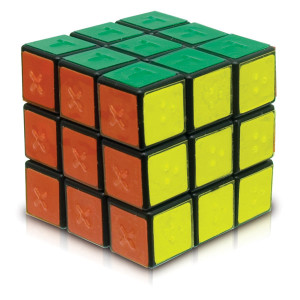 this classic toy is available with a tactile twist!  In the original Cube, the puzzle is scrambled and solve by twisting and turning it to realign the six matching colors.  This tactile version not only features the traditional colors, but also unique tactile markings (circles, triangles, dots, etc.) making it solvable by touch only!
This activity center is specifically designed for individuals who are visually impaired.  It features a blue tactile plate which vibrates when pushed, a pull-ball which activates a fan, and a textured yellow oval plate which will activate an AM/FM radio.
The Visually and Hearing Impaired Activity Center is a self-contained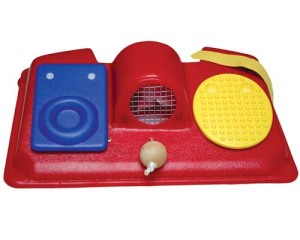 unit specifically designed to introduce individuals who cannot hear or see to the world of play.  It features contrasting colors and a variety of switches and textures.  By pressing the yellow textured oval, the user will activate a spinning soft cloth that sweeps gently across his or her hand.  The blue plate will vibrate with the lightest touch.  It also features a little wooden pull ball, which activates a fan blowing a gentle breeze when it is gently tugged.
The Texture Carousel Busy Box is a fun way to teach children cause and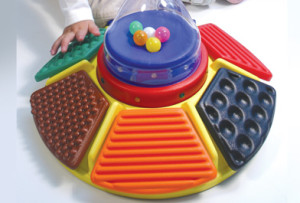 effect.  This device increases visual attention, tactile awareness, color recognition and auditory development.  It features six uniquely textured pads which respond to a light touch and reward the user with different sensory stimulation: vibration, three melodies, a popcorn ball popper, and multicolored lights.
The Multi-Sensory Center by Enabling Devices is fun for people of all ages!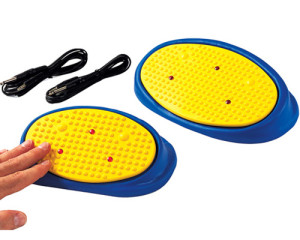 It's designed to provide auditory, tactile and visual stimulation.  Each center is equipped with ultra-bright lights, vibration and music.  Internal controls allow for several combinations of different sensory stimulation (e.g. music and vibration, music only, vibration and lights, etc.)  The Multi-Sensory Center can also be used as a capability switch for other devices.
The Touch & Tell Board from Kaplan Toys is a fun matching game for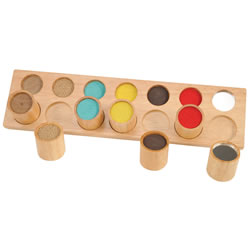 children of all ages.  It consists of a wooden board and pegs with multiple textures and colors.  Each peg has its own unique texture and is matched with a hole with the same texture.  Parents can help their child explore more by asking their child to "find the scratchy peg" or "find the soft peg."