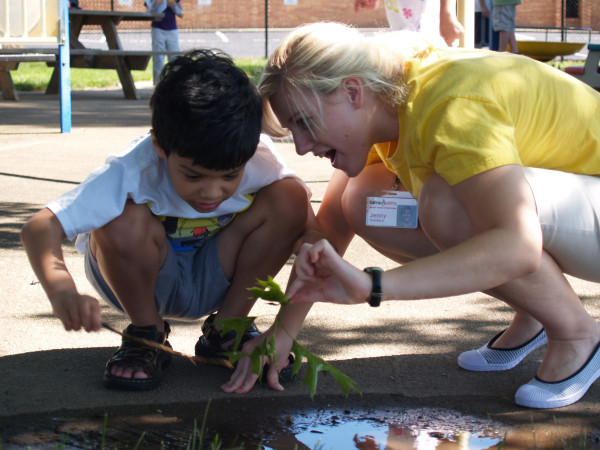 Writer: Tiffany Whisner, Coles Marketing
It's a yearly tradition — summer camp. Pack the kids up and get them ready for a week at basketball camp or martial arts camp. Or let their inner artist emerge at a youth art camp or songwriter's workshop.
Summer camp offers the opportunity for kids to excel at hobbies they enjoy or try something new they want to learn more about. It also keeps them busy with productive activities and gives them the chance to socialize and meet new friends.
But what about children and adolescents with special needs? What options are available for them?
Rest and recharge with Respite
Traditional camps aren't always an option for parents of children with special needs. So Easter Seals Crossroads has several different camps to meet their individual needs.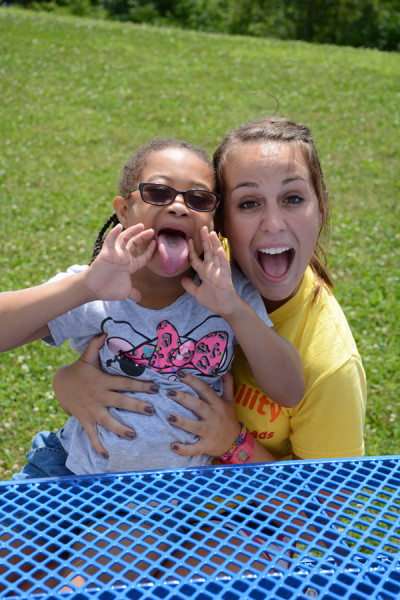 "CampAbility is our 'traditional' day camp for children with special needs and disabilities ages 4 through 10," said Respite Services Manager Joelle Samples.
Samples began her work with Easter Seals in their employment division and now manages respite services, which is a program funded by the Lilly Endowment. Respite services include not only the summer day camps but also traditional respite services that take place year round.
"We host seven parents' night out events a month, providing care for children with special needs ages six months through 12 years old as well as their typically-developing siblings," Samples said. "We also have a teen night out and special Friday night CHEER event, which stands for Creating Healthy Environments and Enjoying Recreation. This event is focused on adults with special needs and disabilities."
A graduate of Ball State University in special education, Samples originally focused on deaf education and studied for a year at the Indiana School for the Deaf. With a continued love of working with kiddos, she really loves to see them explore and grow in the Easter Seals summer camps.
"We try to cater to as many families as possible," she said. "We have kids with varying disabilities, from autism and developmental delays to spina bifida and down syndrome. We want to give them all the chance to take part in our summer camps."
Designed with ability in mind
CampAbility takes place at Hilltop Development Preschool in Indianapolis and lets the younger kids grow, learn and have fun while exploring sensorimotor experiences, expanding communication skills and enhancing social skills. And, of course, it's fun!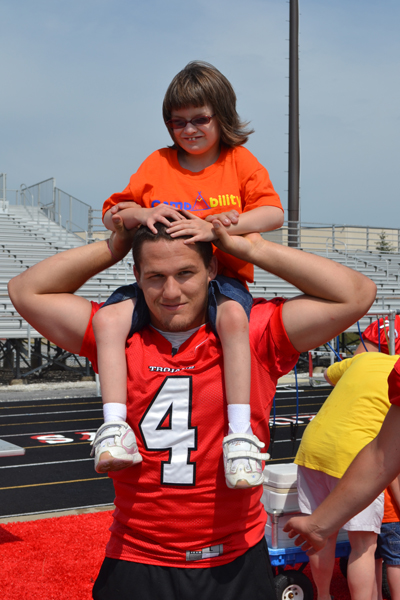 "Kids enjoy field trips to the Indianapolis Zoo and the Children's Museum, and we've had special guests that come in, like the Indianapolis Fire Department and Silly Safaris," Samples said. One of the best and most-anticipated days is always the Center Grove Field Day.
"It's the all-time coolest event for them," Samples said. "We go to Center Grove High School and get to use the football field. The football team sets up a whole day camp for the kids. They get to go in the locker rooms and try on the helmets and pads. They even get to run onto the field and have their name announced over the loud speaker. The football players and cheerleaders have lunch with the kids, and it's such a wonderful day for them."
The indoor and outdoor camp activities are designed by physical therapists, occupational therapists, speech-language pathologists and special education teachers to create meaningful activities.
There are three separate weekly sessions of camp, and each week is planned completely different — so each set of children has a different experience, especially if some kids participate in the camp for multiple sessions.
"This is a camp where kids with special needs can be successful," Samples said. "They grow in their ability to communicate and build relationships. And they get to be themselves around kids who are more like them."
New camp adds summer FUEL
In 2014, Easter Seals started a brand-new camp — centered on adolescents with special needs ages 11-17. It's called Camp FUEL for Fun and Unique Experiential Learning. Taking place at Easter Seals Crossroads, this camp fills a specific need.
"This is a much smaller camp with just 10 kiddos per session, whereas CampAbility has 24 kids per session. It gives us the chance to be more flexible with the older kids and really help them start building life skills," Samples said.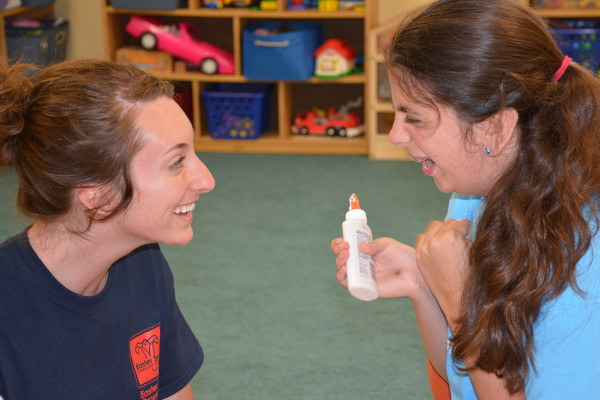 Individuals in CampFUEL need to be able to participate independently as part of a smaller group during camp activities and on field trips with minimal support from staff.
"We have four or five staff members with the group of kids, but we don't have the resources to provide one-on-one attention," Samples said. "The camp offers lots of different field trips and experiences to expand and broaden the campers' minds and abilities."
Some of these experiences are more than just fun — they involve daily living skills like grocery shopping and trying new foods.
"There are lots of returning campers in general, but especially for Camp FUEL," Samples said. "About 90 percent of kids returned after the first year. One young lady who always had her focus and attention on food went home talking about Camp FUEL and how much fun she had. Her change of focus and character was amazing."
Camp FUEL gives each camper a new learning experience and helps them build relationships with their peers.
"One of the greatest things about summer camps for kids with special needs is it allows these kiddos to maintain a structured schedule," Samples said. "Kids with disabilities and special needs thrive off a very structured schedule, so it is beneficial to keep similar structure during the summer months. This allows them to be more confident in themselves and continue to be successful all year round."
R.O.C.K. in' good time
Day camp is one thing — where kiddos leave their parents in the morning but are picked back up in the afternoon. Overnight camp is another — a step in independence by spending a week away from home and parents and the security of a familiar environment.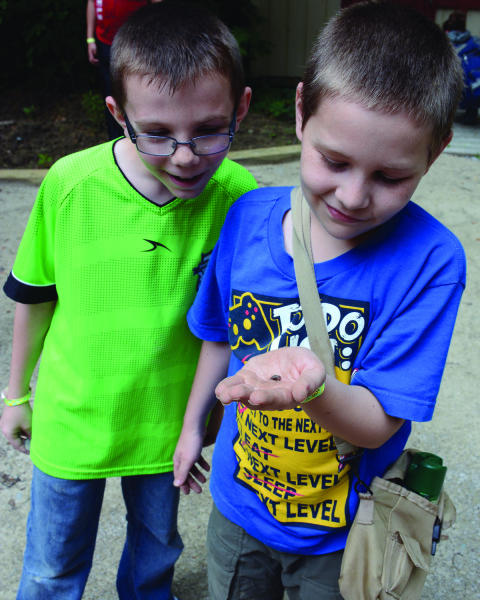 But Camp R.O.C.K.S! provides that overnight camp experience to children and adolescents on the autism spectrum. It stands for Respecting Other's Capabilities is the Key to Success. And it is.
Amy Miller is the autism resource specialist for the Easter Seals Autism Family Resource Center. She has a master's degree in Applied Behavioral Analysis (ABA) and is working on becoming a Board-Certified Behavior Analyst (BCBA).
"Camp R.O.C.K.S! is a five-night, six-day outdoor camp designed for young people with autism ages 10 through 18, and it's the perfect place for them to have a 'typical' camp experience beyond just a day camp," Miller said.
"Camp began about seven or eight years ago, and now the kids who first began in the camp are graduating," she said. "It's really cool to see campers from that many years ago still attending camp and coming to this final year. They each got to do speech, too. One camper said she felt like camp became a place where she really fit in and where people understand her and she had the freedom to grow because of that. That is profound to have that kind of understanding. We want all the kids to blossom and grow through this camp experience."
One of the goals of the camp is to get the participants to a point where they can attend a more mainstream camp with limited support and be comfortable socializing with their peers.
"For an overnight camp, sleeping in a cabin is new for them," Miller said. "It's not always a comfortable thing being at camp, following directions, walking in the rain and those kinds of experiences, especially for a child on the autism spectrum. For them to learn to hold it together during these situations is a big success."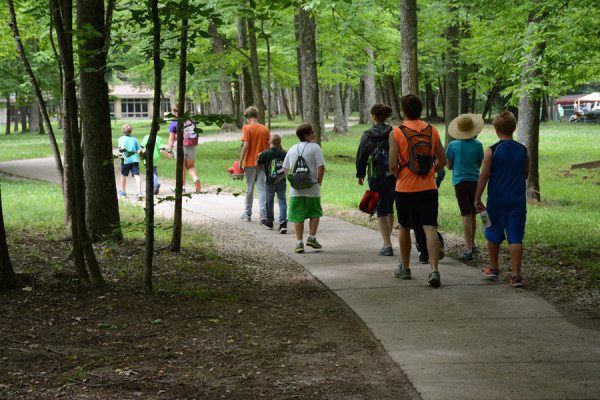 Over the years, Camp R.O.C.K.S! has evolved, and it is now held at Bradford Woods near Martinsville, Ind. Bradford Woods is an auxiliary enterprise of Indiana University and is part of the academic mission of the School of Public Health and is a unit of the Department of Recreation, Park and Tourism Studies.
For more than 50 years, Bradford Woods has been providing recreational, educational and leadership development opportunities to youth and adults locally, nationally and globally. It has been the home of Camp R.O.C.K.S! for the past few years, and Miller couldn't be happier.
"Bradford Woods conducts all the activities for the camp and has the most compassionate and accommodating counselors," she said. "We couldn't have asked for a better partner for the mission of this camp."
At the beginning of the camp, participants are asked to determine a personal goal for the camp — whether it's getting to the top of the climb tower, swimming across the lake or making a new friend. And the counselors make sure to give them all the support needed to meet those goals.
"We camp out for dinner and learn how to cook food over the fire," Miller said. "There is a climbing wall, fishing and canoeing, arts and crafts, music, hiking and archery. There is even a gardening program to teach the kids about how to properly compost."
With so much going on in the schedule, Miller said a priority is to make sure the parents know exactly what is going on every day at camp.
"With special needs kids in particular, parents are extra protective, and I can understand that," she said. "The camp counselors communicate daily with the parents to keep them informed, sending pictures of what their kids are doing so the parents have the safety and security about leaving their kids at camp."
There is also a talent show during camp, giving campers the chance to show off everything from dance and singing numbers to karate demonstrations, artwork and a variety of other talents.
"It's amazing what the kids come up with every year," Miller said. "They are super clever and put on a great show. We also have an awards ceremony and the graduation to close the week."
Go-Go-Gadget
The INDATA Project at Easter Seals Crossroads also holds a week-long day camp at Butler University, specifically for kids with disabilities — called Gadget Camp.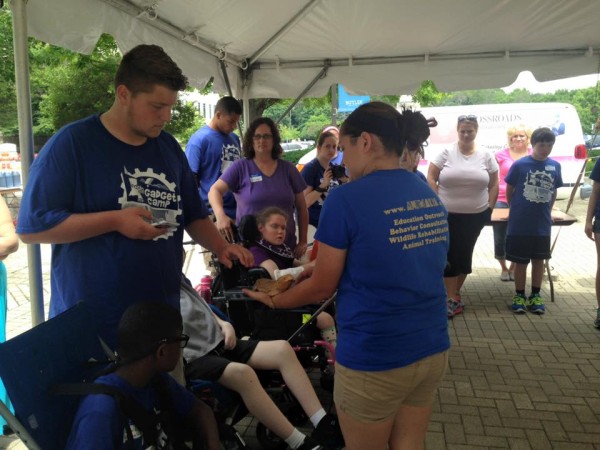 Gadget Camp aims to provide a social and educational environment for young people with disabilities who use augmentative and alternative communication (AAC) devices or other assistive technology.
People with severe speech or language problems rely on AAC to supplement existing speech or replace speech that is not functional. Special augmentative aids, such as picture and symbol communication boards and electronic devices, are available to help people express themselves.
"Many children who are nonverbal might not be able to have a traditional camp experience," said INDATA Director Wade Wingler. "At Gadget Camp, all of our campers use communication devices, and this gives them an opportunity to work on their communication skills while getting to know other kids who use AAC devices."
Gadget Camp has 15 kiddos who use AAC devices. INDATA provides at least one volunteer, if not two, per camper to assist in daily activities.
"We have a lot of fun, new friendships are made and old friendships are rekindled," Wingler said. "With a very limited number of slots each year, Gadget Camp is truly something special."
Camp activities include fishing, arts and crafts, an animal show, balloon animals, magicians, painting and camp songs.
"Gadget Camp is a genuinely unique experience for campers as well as for our INDATA staff and volunteers," Wingler said.
Specials needs require special programs
Each Easter Seals Crossroads camp program comes from a specific need.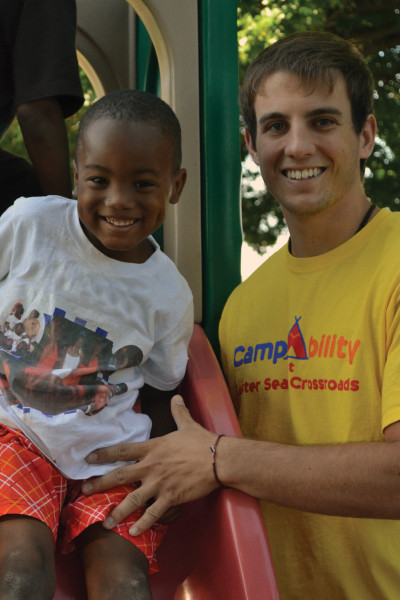 "One of our staff members has a brother on the autism spectrum, and there wasn't a camp available to him at the time," Miller said. "This was brought to our attention and it gave us the motivation to start Camp R.O.C.K.S! Easter Seals is always trying to meet the needs of the special needs community, and we were very excited to do this camp and cater to those individuals with autism."
Needs and resources are assessed, and then decisions are made as to whether a camp or another program can provide the services needed.
"We gather as much information as possible about the need and then figure out if it can be provided for and, if so, how," she said. And ever since its inception, Camp R.O.C.K.S. and the other camps fill up on their own — year after year.
"We've never had to do any advertising," Miller said. "Obviously there is a huge need for camps like this. We try to do our best to fill up all spots for the whole camp, and I have a wait list every single year. The community has really latched on to this idea."
According to Miller, there are very few overnight camps in the Midwest for kids with special needs in general, let alone autism. As far as she is aware, Camp R.O.C.K.S. is the only overnight camp specifically for adolescents with autism.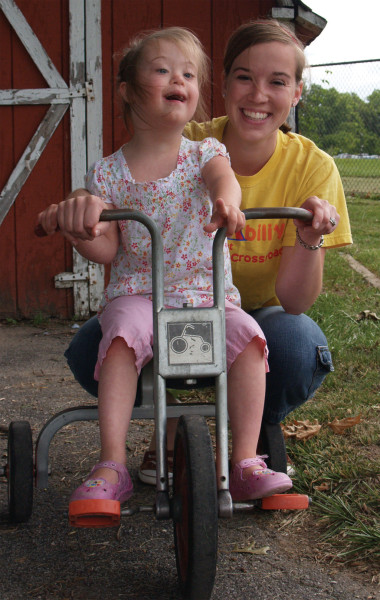 "Special needs camps are hard to come by, and this kind of an opportunity is great for the autism community," she said. "It's difficult for kids on the autism spectrum to socialize and make friends, and we've seen so many friendships form here every year. And all the kids are supporting their friends and looking for the next year at camp to reunite with them."
Camp gives children the chance to be physically active and learn social skills but also experience success and become more self-confident. They can disconnect from the daily technology overload and connect with nature and real people, real activities and real emotions.
"Kids come from all over the state for these day and overnight summer camps," Miller said. "Our camps are a place where we focus on challenging the kids to do new things and meet new people. They can get out in nature, which might be difficult for them to do on a regular basis. And it's the chance to just be themselves and enjoy their time with us."
So when are you going to have a second week of camp? When are you going to provide a camp for individuals older than 18 with autism? There are always more needs and more questions to be answered, Miller said.
"I am fortunate to be able to provide these services, but I only wish I could provide more," she said. "I would love for as many families with special needs kids as possible to be able to learn about and take advantage of the camp experience."