Are you or a loved one in the market for a powerful, yet simple picture communicator?  Perhaps the GoTalk Express 32 will work for you!  The GoTalk Express 32 is a full-featured communicator which gives users the ability to scan and link messages together to play in sequence.  According to EnableMart, "It is an ideal bridge between low-tech and dynamic display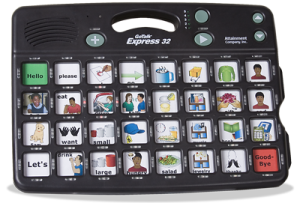 communication tools."
The GoTalk Express 32 offers two operation modes: Standard or Express, and users can easily toggle between the two modes.  Standard mode works like traditional GoTalk devices as it talks by just the press of a key.  The Express mode allows up to eight messages to be stored as users press the keys.  These eight messages can then be played in sequence by pressing the Play button.
The GoTalk Express also features a scanning operation for use in both Standard and Express modes.  Scanning allows users to scan by row or column, scan every other message, choose slow, medium, or fast scanning speed, and record additional auditory cues for rows.
More features of the GoTalk Express 32:
Records 8 seconds per message
5 recording levels
Over 28 minutes of total recording time
Record lock prevents accidental recording
Level lock prevents moving to another level
Scan levels feature allows selecting 2, 4, 8, 16, or 32 messages
Switch access: single or double switch access with a switch debounce feature
Visual cues: 4 LED lights surround the message keys
Auditory cues: users can choose between beeps or 1.5 second recorded cue
Built-in handle and overlay storage
Optional: GoTalk Express 32 Stand (additional $81.20)

The Stand holds the Express firmly in place at the ideal angle for easy use.  It features non-skid rubber feet to help prevent unwanted movement.  The stand folds flat easily for storage or transport.
Click here to view PDF of User Guide.