Podcast: Play in new window | Download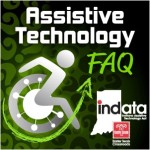 Q1. Should I buy a computer or a Braille note taker?
Q2. Where should I look for updated AT information?
Q3. What will the impact of cloud-based technology be on people with disabilities?
Q4. How should I rearrange my workspace with regard to ergonomics?
Q5. (Panelists:) What apps are in your iPhone dock?
Send your questions: 317-721-7124 | tech@eastersealscrossroads.org | Tweet using #ATFAQ
——-transcript follows ——
WADE WINGLER: Welcome to ATFAQ, Assistive Technology Frequently Asked Questions with your host Brian Norton, Manager of Clinical Assistive Technology at Easter Seals Crossroads. This is a show in which we address your questions about assistive technology, the hardware, software, tools and gadgets that help people with disabilities lead more independent and fulfilling lives. Have a question you'd like answered on our show? Send a tweet with the hashtag #ATFAQ, call our listener line at 317-721-7124, or send us an email at tech@eastersealscrossroads.org. The world of assistive technology has questions, and we have answers. And now here's your host, Brian Norton.

BRIAN NORTON: Hello, everyone. Thank you for listening to our show this week. This is episode 10 and we've got some really good stuff lined up today. I want to welcome my panel that's in the room with me today. I want to look and Belva. Belva is the team lead for our vision team here at Easter Seals Crossroads. Belva, you want to say hey?
BELVA SMITH: Hi, everybody.
BRIAN NORTON: And I've also got Mark here. He's the team lead for our mobility and cognition team here at Easter Seals Crossroads. Mark?
MARK STEWART: Hi, folks.
BRIAN NORTON: And Wade. Wade is the director of our technology division. He's also the host of the popular podcast called AT Update. Wade?
WADE WINGLER: Hey, everybody, glad you're here.
BRIAN NORTON: Great. I just want to say a few things for any new listeners. I just want to mention just kind of how the show works. The format of our show is simply a question and answer show. If you have questions, please send them in to us. We've got lots of different ways to do that. Take some time. If you do have questions, send them to us. Without your questions, we really don't have a show. Really want to take advantage of the things you guys have out there.
WADE WINGLER: Hey, Brian, I'm going to interrupt you here. We've gotten some feedback from our previous show. We're getting a lot of great audience feedback. Do you want me to drop those things in now or do you want to wait on those?
BRIAN NORTON: No, go ahead. Let's go ahead and listen to those. These are some things, two responses from some questions that we handled during our last show. We'll listen to the first one and let's hear what they have to say.
WADE WINGLER: This caller is responding to something we talked about related to accessible phones, talking caller ID, and that stuff. I'll go ahead and play this.
SPEAKER: I'm calling regarding the landline talking caller ID phone book and keypad. I have such a phone provided by California Telephone Access Program. Its model number is Panasonic KXTG2386. This one has proved to be everything for the vision impaired; however, over the years, I've dropped the phone and it needs some repair. I guess the point I'm trying to make is technology exists and I would like to see it provided for the visually impaired. If enough people would voice their need, maybe they will provide this type of phone again. Thank you.
BRIAN NORTON: So this caller, sounds like she had a phone, a Panasonic phone that had all of the features that we kind of were trying to match up in one device last week. It got broken. Now she's looking for a different one. It's kind of like what we talked about last week. We weren't aware of anything that had all of those features all in one. Maybe if the'res somebody who's listening to our show and knows about a device that would be something that would match up with what her needs are, let us know. We'd love to be able to forward the information on, make it known to all of the listeners and hopefully kind of drive that point home that, yeah, we're looking for that kind of a thing.
WADE WINGLER: Cool. We've got another one here from Jermaine in Champaign about augmented reality. Here's this one.
SPEAKER: Hi, this is Jermaine from Champaign. I was just listening to this week's ATFAQ, and you guys were talking about hoping that augmented reality would offer a chance to tell the blind and visually impaired where they were in the world and what was around them. I don't think I'm blowing the lid off of a secret project because I was at an amplified phone conference earlier this year, and Plantronics was discussing a project that they are doing out in California where, with one of their Bluetooth headsets, they're using both GPS and directional sensors to tell blind and visually impaired users where they are and what they're looking at. So if you want to try to get in touch with Plantronics , I'm sure you guys have somebody there you probably know. But this is a project that they're working on with Bluetooth headsets, so thanks.
BRIAN NORTON: Excellent. That's great feedback. Sounds like a very interesting project, and I'm interested to learn more about that. I'll have to look up and find out more about that information, what the project's all about. But it does kind of bring up the point of augmented reality and different ways of going about that, so great feedback. Thank you, Jermaine covers any that in. I appreciate that.
WADE WINGLER: Mark is kind of our Plantronics guys here, so maybe you can follow with one of your contacts over there.
BRIAN NORTON: Absolutely.
MARK STEWART: I've had great success with their headsets. I think they're pushing the envelope of software combined with the Bluetooth.
BRIAN NORTON: Excellent.
MARK STEWART: Will do.
***
BRIAN NORTON: So we'll jump into questions today. Our first one was from an email we got from Duane. The question is, I am wondering should I buy a computer or a notetaker? I use a computer mainly for email and Internet, but I'm concerned that with the changes to Windows — as you know, they're moving from Windows 8 to win is 10 — that my screen reader may not be accessible. So that is the first question.
WADE WINGLER: I want to ask a clarifying question. Saying a notetaker, I assume because he's a screen reader user, we're not talking about an iPad or an alpha smart. We're talking about a laptop versus like a pack made or a Brown note.
BRIAN NORTON: I would assume so. Notetakers for persons who are blind or visually impaired are really portable devices. They essentially basically have a keyboard and that's it. They don't have a display. They are very portable, small devices that they can take. They typically have some built-in refreshable braille, so not only do they get speech feedback but they get some tactile feedback as well. Computer versus that type of device.
WADE WINGLER: Which I guess isn't totally different than people who don't use screen readers because people still have this argument about a laptop versus a tablet. Kind of the same in a different argument. I'm making it more complicated. I'm not actually providing an answer.
BELVA SMITH: That's exactly where I was going with this question. I was going to make it a little more complicated because I didn't — I guess I didn't catch that he is currently using a laptop, so I was going to suggest that the caller asked himself a couple of additional questions before he makes his mind up.
I also wanted to note that he should feel comfortable that his screen reader is going to work with Windows operating system changes simply because that's their goal. If they can't work with Windows, then they're going to go out of business. The changes for 10, if that's what he's worried about, are going to be good changes. It's not going to be anything that's going to be detrimental to the screen reader. And then I understand that he's saying that he mainly has just email and Internet. While a laptop and a notetaker — in fact, I used to say that a notetaker was just like a laptop without the screening, but I've changed my opinion about that. Laptops and notetakers do do some of the similar things, but they are very, very different. The way that you do things on them is very different.
So I guess he should first decide which one does he have experience with. If he's experienced more with the laptop than he is a notetaker, then probably would want to stay with what he's got the skills with. Also what kind of folks are around him that will be able to give him support? Does he have other folks around him that are using notetakers, or are they primarily using laptops? That's two really good questions.
Also think about cost. The cost of a notetaker versus the cost of a laptop with a screen reader is very different. Your notetakers are $3500-$5500. A good laptop and a screen reader is less than $2000. If you need repairs, hardware repairs, it's also going to be more expensive to get a notetaker repaired than it is a laptop. And you typically can't take your notetaker down to Best Buy and drop it off and get it repaired. You're shipping it, waiting several weeks to get it back sometimes. So think about the cost that would be involved with repairs in the future.
And also, if you haven't had the opportunity to try both, then take advantage of your state's program. For us here in Indiana, that would be INDATA, where they could contact INDATA and say I would like to borrow a notetaker for 30 days and give it a try. That would help them be able to make their decision. Also contact the vendors of the notetakers and ask questions if you have them.
I think that's my biggest bit of information for making the decision. Number one, which one are you most experienced with; number two, is cost-effective; and number three, what's around you, what are you going to get the most support with the users around you.
MARK STEWART: Windows 10, you gave an opinion on that, but I guess I'm interested in you expanding on that a little bit, your initial thoughts on Windows 10 for the folks that you serve.
BELVA SMITH: From what I'm understanding, at this point, Windows 10 is around the corner, July 29. We should all be able to get it. JAWS, I know, is ready; however, there is some — be careful, some caution in there. You have to follow a specific set up with Windows 10 and JAWS 16. It does have to be JAWS 16. It cannot be JAWS 12 or 13 or 14, and definitely not 3.
MARK STEWART: Wow.
What I'm advising — if this is what you're asking me, Mark — what I'm advising my folks is, unless you are very technically savvy, and unless you need to be on the cutting edge, slow down, don't download Windows 10 on July 29, because there will be bugs that have two be fixed. I know that they're replacing Internet Explorer with —
MARK STEWART: It's a different type of browser.
BELVA SMITH: What's the name of it?
MARK STEWART: It's been a little while since I looked that up or heard of it.
BELVA SMITH: What I do know is that that's not going to be accessible with a screen reader. You still need to be using Internet Explorer 10. So that's one of the things that you have to make sure you change when you do download it. Also the new mail program is not going to be accessible. You're going to want to stick with using your old mail program. I think I've got guys that are looking up what they're calling that.
WADE WINGLER: Edge, I think, is the browser.
BELVA SMITH: Edge. That is exactly it. Internet Explorer will be going away and we'll all have to get used to Edge. And also you just have to make sure that if you do have older versions of JAWS, which I do have plenty of clients that have two or three copies of JAWS on the computer, because whenever you install a new version, they say, oh, wait, can we leave our old one just in case. So we do, although they never go back to it that I'm aware of. They have it. But before installing Windows 10, those older versions of JAWS do have to be removed. In short, wait a minute, let them get some more things ironed out. But if you have to have it, you can get it. JAWS 16 will work with it. I'm assuming that NVDA is going to be fine with it too. I haven't confirmed that, but I'm assuming that it will be.
MARK STEWART: When there's been these transitions from operating system to a new operating system and you've got all of the adaptive technology, just not even screeners but when you talk about screen magnifiers, Dragon for voice input, all these other kinds of things, it's about a 3 to 6 month wait time before all these little bugs and all the little things that they didn't get before they actually released the software and up catching up. It's hard to really know what the timeline is until you see firsthand what all has changed, what are all the variables that you find.
BELVA SMITH: The bugs.
MARK STEWART: I just want to jump back to the question. All the questions you ask are the questions that I ask too because you really need to find out exactly — the emailer mentioned email and Internet are his primary things. You know, what else do you like? What else do you do? Because the computer, although it has lots of productivity software and you're going to be able to go to the Internet and listen to the radio stuff like that, a lot of these notetaker devices are more than simply a word processor where you take notes. There are notetakers that have built-in radios and all the different types of little need things, add-ons that that they have that, if you really enjoy those types of things, if you really use those types of things, there's some added benefit when you can just have it at the touch of your fingertips.
BELVA SMITH: Right. And the notetakers aren't using full-blown versions of your office suite. If you need to do — obviously that isn't the case with this person — but if you need to do intense word processing or spreadsheets or presentations, then you're going to need a PC for doing some of that power type stuff.
MARK STEWART: I'll also jump back to what you said about the cost difference. A lot of the notetakers, they have built-in braille displays, and really the braille displays are what is the huge cost when you're talking about notetakers because, if you're going to throw a braille display over there with your computer, the cost goes way up as well, and then you're probably talking about apples to apples. If you're going to take a screen reader, a laptop, and a braille display and throw it against a notetaker with a built-in braille display, you're probably getting closer in cost —
BELVA SMITH: A little bit closer, but you're still going to come out cheaper with a PC.
MARK STEWART: Correct.
WADE WINGLER: And one of the things that I want to add on here, the original question was about, it seems to be somebody who's currently using a computer for email and Internet and should they be switching over to a notetaker. I would think that a lot of notetaker users are going to argue that a notetaker is quicker and more responsive, especially if it's something that you've been using for a long time, you probably aren't going to be asking this question. You're going to understand the differences. I'm guessing, if this person is using a computer now, using a screen reader, worrying about it being compatible with future versions of Windows probably isn't their main thing to worry about. That's what do I need to use it for to do those apps exist on one platform or the other, then how quickly and how elegantly can I use it. I think people who've been using notetakers for a long time consider those, they're very fast, very elegant, very well-known tools, and maybe consider a computer to be a little slower, a little clunkier, but it does more.
BELVA SMITH: Right. Because I think when those folks, even those folks that are using the notetakers, when they want to do their power work, they're going to their PC.
***
BRIAN NORTON: So our next question, this is actually two separate emails, but they asked very similar questions. I'll kind of paraphrase it from a little bit. First email was Corey. The second email was from Emily. Essentially they would love to hear our suggestions for books, blocks, magazines, podcasts, newsletters, etc. that they should be subscribing to or listening to. I'll open it up to folks — I can jump right in.
I'll talk about listservs first. I've got two listservs that I subscribe to. The one is the AT Forum listserv through RESNA. That's got lots of folks who do similar things to what we do here. Our primary jobs in our clinical department is to go out and do evaluations, to meet with people, figure out what their needs are, to recommend adaptive technology to help them lead more independent and fulfilling lives whether that's at work, home, or at school. It's kind of a whole entire forum of folks that get to submit questions and they get feedback from professionals all over the country, sometimes all over the world, and it's really a good place to kind of get some questions, to submit questions and get some feedback from folks. It's the AT forum listserv that they had.
And then I also get lots of great news information from a place called Flying Blind, LLC — I think it's an LLC. It's Flying Blind, They have an email listserv that kind of gives you some tech tidbits, kind of the new and interesting things that are coming out, technologies for the blind and visually impaired. I always find that very fascinating and it gives great information about not only the current state of what's going on with that type of technology but also things to kind of know about down the road. So Flying Blind is another one that I listen to. I'm not sure if anybody else has any listservs.
BELVA SMITH: I don't have any listserv but I have a list of podcasts.
BRIAN NORTON: Go ahead.
BELVA SMITH: I'm going to start with Assistive Technology Update.
WADE WINGLER: Thank you.
BRIAN NORTON: That's a plug to Wade behind the microphone.
BELVA SMITH: Seriously. It's a good source of information. Accessibility Minute because that's short and sweet. Of course then ATFAQ. FSCast, that is hosted by Freedom Scientific. Good, great source of information. Anything Leo Laporte I listen to. He's got lots of different tech podcasts, Mac related, PC related. And then I like the Blind Odyssey. It's not necessarily about technology, but it is a good podcast hosted by someone who is visually impaired. And then I've got a list of favorite websites. Do you want those?
BRIAN NORTON: Sure, absolutely, throw them out there.
BELVA SMITH: YourTechVision.com. It's a great place to go and get information and also some good tutorials. That's what I like to look for, are tutorials, when I'm hearing about something new or learning to do something. Freedom Scientific, again, their website is full of informative information. AppleVis. Eastersealstech.com. Mac for the Blind. This is one that I've just recently come across, and I'm scared to even try to say the name of it, The Tech Juggernaut. I just recently discovered that one. A lot of good tutorials on that, especially Mac related. And then of course Google and YouTube, two very resourceful places that I use.
MARK STEWART: Belva, on Google, do you set up Google alerts? Is that how you do it?
BELVA SMITH: I did, and they were making me crazy, so I stopped. I think I have one Google alert that still comes through. Those Google alerts can be helpful, but it's kind of like I signed up for one of the user email groups for folks using JAWS and I need a whole separate email account to handle all those emails, literally hundreds a day. I turned off most of my Google alerts.
BRIAN NORTON: For those that don't know what a Google alert is, you can go to Google and look up Google alerts and you basically put in a search term. I've got a couple of them. One of them is assistive technology. So every day I get an email from Google that says here's what I found as I look for assistive technology. It comes directly to my inbox in an email format. It kind of gives me what's happening in the world of assistive technology that way. I've also set up adaptive technology. I set up one for our agency, Easter Seals crossroads, so on and so forth. It's a really great way to get a blip of information every day about what's going on in those different worlds.
BELVA SMITH: I think I was too broad, because I think I put in blind, which brought —
BRIAN NORTON: I found if you limit it to assistive technology, adaptive technology, it kind of narrows it down for me so I don't have a huge email. It's probably 15, 20 different days that I can quickly scan through each day just to kind of make sure I'm not missing some really neat, important information that came out.
WADE WINGLER: Some of the places I go for information, it's partly my job to keep on top of some of these things. I spend some time looking at twitter. I think is a lot of good assistive technology lists on Twitter where you can get up-to-the-minute information. And there are about three hashtags that I watch a lot on twitter. One is #assistivetech. Another is #spedtech, which is special ed tech, which is really great for the K-12 assistive technology. I also follow #A11Y, which is accessibility, which is A, with 11 letters missing, and Y. It's where A11Y comes from. That's all about the accessibility of online stuff and some assistive technology gets mixed in there as well.
I'll plug our YouTube channel as well. Every Monday we put out a tech tip video a lot of the folks in his room to produce about assistive tech. Our blog has content. So on Monday we put out a YouTube video. Tuesday, Wednesday, Thursday we put out a blog post, and then on Fridays we do assistive technology update. You can find all that at www.eastersealstech.com.
One more thing I would suggest. If you like a particular vendor of assistive technology because you use their products or you work with vendors, go to the manufacturer's website. They almost always have an email list. If you're into DynaVox products or Freedom Scientific products, go there and get on their email list because you will have usual stuff in your inbox. It's very product related, but a lot of these questions you need to know are about products. I would say the same things about tradeshows and organizations, so like ATIA and Closing the Gap and CSON and RESNA, some of the big tradeshows. They all have mailing lists as well. Go there and get signed up for those and your inbox will be filled with all kinds of cool information.
MARK STEWART: I just have one thing to add to all of that wonderful information. If Perhaps, you are or are representing someone who has a learning disability and also has kind of borderline capability with regards to they're computer and high tech savvy so they can use a computer and what have you, but they're kind of new to it, just be sure to be aware that something that's the case now that wasn't really the case 10 years ago is that there are video demonstrations. Those folks may very well know about YouTube, and YouTube can be a wonderful source, but you have to look hard to find the formal presentations. There are certain sites — like, for example, if Windows 10 is coming out, we were talking about earlier, if I have the terminology correct, they'll have formal tutorials that are educational but are word based and maybe pictures or screenshots. But then there also will be a separate category of video demonstrations. Those will be people actually interactively talking, using the mouse, using the software, so it's much more multimodal. So for example, if somebody's just not as comfortable reading or, like a lot of us, you really want to learn and need to learn, but you don't love that reading the manual experience, the video demonstration is something that works really well these days. It used to not work so well 10 years ago with regard to Internet speed.
BRIAN NORTON: Absolutely. I just want to throw in a couple of other things along with that. They also asked about some books. I teach an assistive technology course —
WADE WINGLER: Here comes Cook and Hussey.
BRIAN NORTON: kind of the holy Grail or Bible of assistive technology is the Cook and Hussey Principles and Practice in Assistive Technology. That's kind of the industry go to when you start talking about assistive technology. It covers a very wide swath of technology and how it's applied in various places. But a couple of other practical textbook kinds of books that are out there, there's one called Assistive Technology in the Classroom. There's also one called Assistive Technology in the Workplace. It was very useful.
And then INDATA's counterpart in Wisconsin, call the Wisconsin Assistive Technology Initiative, or WATI, has a really great resource guide. It's tailored a little bit towards students and assistive technology in the classroom, but you can take student out of the sentence and stick an employee or other things and it really has a lot of relevance in those situations as well. I find it as a really good resource. And then two other really practical websites to go to. Access World Magazine, which is something that the AFB puts out. They have lots of product reviews, really practical user perspectives on what they find are the pros and cons with a particular device. It gives a lot of good feedback about what's really great about something and what's maybe not so great about something. I found it very useful. And then also the Job Accommodation Network, which has got a couple tools that I find really helpful. The first one is they've got A to Z on their website. It's disabilities A to Z. You can type in the disability and it talks about assistive technology or accommodations that may coincide with that type of disability. They've got a couple of other resources there that do the very same thing. Very useful and practical websites for that.
And also some folks we've mentioned before. If you're looking for mobile technologies like apps or things like that, we talked about on our show BridgingApps.org is a great place to find information about the apps. Again, it's the user perspective so they have folks actually trying these things out and then writing a review about what they found nice, what they found challenging, about those particular apps that they use. So those are just really great places to kind of find good, practical, useful, down and dirty, in the weeds kind of information about assistive technology.
BELVA SMITH: And use Google and your search. That's how I most of the places that I go to, because there's always new podcast and new tutorials that are available. Just search them out.
BRIAN NORTON: Absolutely.
***
BRIAN NORTON: Next question: what impact will the ongoing costs for productivity in AT software have on folks with disabilities? Example, Office 365, all of those basically subscription based types of software. Kind of just open that up to folks.
BELVA SMITH: Let's just turn the question around and say what effect does that have an all of us? Instead of buying something one time and having it, that's kind of going away.
BRIAN NORTON: Right.
BELVA SMITH: Good for the manufacturers, but stinks for our wallets.
BRIAN NORTON: I kind of look at as maybe we all did it to ourselves. The old, hey, I bought Microsoft Office and now I'm going to go ahead and install it on —
BELVA SMITH: 10 computers.
BRIAN NORTON: — all of the computers I have at my house. You're just cutting the manufacturer out on some of those things, so now that there's subscription-based thing — and with how the web's developed over time, the tools and the things are there so they can do the sufficient based kinds of software. I think it's interesting thing.
BELVA SMITH: And my son just bought my daughter-in-law a new MacBook for her birthday, and he was going to buy Mac Office. The folks said why are you going to do that? You've got pages. You've got numbers. All of that's already going to be on there. She's looked at them and loves them. I think there are other alternatives that we may start looking at more seriously. I believe that maybe you don't have to have — I'm still not using office 365 or 360, whatever it is. I don't plan on it unless I absolutely have to.
BRIAN NORTON: And I kind of think maybe the questions a little geared — I know here in Indiana, funding sources, a lot of the funding sources that are used to produce the assistive technology for folks, they don't pay for ongoing costs, so the concern is if I have a disability and maybe I'm on SSI or SSDI, my monthly income doesn't allow me, with all of the expenses that I have, to be able to live in my apartment or do anything. I just can't cover the ongoing cost of some of these software packages, and my funding source isn't going to cover that either. What do I do? Maybe that's the bend or the direction that question's coming from. What happens then? What do I do that?
MARK STEWART: I'll tag onto that, Brian. You kind of set the stage for the listeners around the world, and that's appropriate. I'll do just a little bit more of that. Yes, this is a hot topic for us. I'm sure we're not the only ones. In many settings, there are service providers and there are limited funds for those services. In most all settings, we want to encourage someone to become independent as fast as possible in the most lasting kind of away, and so I can imagine that there are multiple program formats out there were initially there's quite a bit of service provision both because of funding limitations and also because of philosophy, good progressive philosophy of wanting to fade away as fast as possible and encourage the person to take off and be independent. You have that upfront opportunity for things.
One of the things that worked well in our format was while we were around in part of the process, we could counsel the person through and we were there while the software was initially being purchased. That worked fine because it was a one-time purchase. Yes, occasionally there needed to be upgrades, but the fact of the matter is in a lot of situations, the person could go for years and years and years, especially if they needed to, with that initial purchase. That was a great thing because we wanted to get out of there. We wanted to set them up to be independent. All of those following years, they're by themselves and hopefully doing well in lots of different ways. Frankly, this is kind of an important topic to me, and I know it is you guys. There are some real sensitivities here. My apologies. Some concerns, frankly, for us. It'll all work out in the end, but these things need to be talked about. I can't assume that the manufacturers are thinking about this in every context. So for some of these folks, we're concerned that while we did everything upfront to set them up to be as independent as best they can for as long as they can, there's not a lot of wiggle room with regards to finances, traditionally. For a lot of the folks with disabilities we work with, there's not a lot of safety net. Things happen and things change from month-to-month. It just takes one month or two month apparently, and now you can't have this product that was key to keeping you independent. Who knows, it may even affect your credit, right, or the ability to get the software in the future. That's a real concern. Of course, you know, there are folks with disabilities out there who this doesn't apply to. They're a much better budgeter than me and smarter in other sorts of things. But we know who we're talking about, folks with organizational challenges and budgeting challenges, even computer savvy and things like that. So that's the concern as far as I'm concerned.
BELVA SMITH: Mark, do you really think — let's use Microsoft since they are the biggest in this area. Do you really think that Microsoft will stop producing the "one time I can purchase Microsoft Office and own it"?
MARK STEWART: Yeah.
BELVA SMITH: You really think that's going away?
MARK STEWART: I think so.
WADE WINGLER: Absolutely. And I want to flip this on its head just a little bit because the question is what does this mean for people with disabilities. Well, Mark described a situation which is very common where a person with a disability might be relying on third-party funding to get their equipment up and going and doesn't have —
MARK STEWART: Thank you, yeah.
WADE WINGLER: — Support for ongoing cost. The other way to look at it is, oh my gosh, for $9 a month, because I'm not relying on a voc rehab for some of the funding, I now have access to not only the most up-to-date updated daily version of the newest office system out there. I also get, in the case of Microsoft, a terabyte of cloud storage that is backed up automatically. All I have to do is either pay $100 a year or $10 a month for the service and now I have access to something that before was $300 that I had to download. And if $100 a year, $10 a month this work for me, well, then I can take over to something like Google drive and get it for free. Whether accessibility is 100 percent or not. I think there are some positives to be set for this as well. We are clearly being moved from a buy to a lease mentality where we're not paying for something upfront. We are paying for the ongoing cost, you know, the whole razor versus blades business model. I think that's part of our culture. It's part of the technology. But don't forget the positives, that your stuff is backed up, it's updated, it works, and you're locked into the man, right? Whoever the man is in that case. But it does give you some very quick, easy access to high-quality tools.
MARK STEWART: Right. There are things that are going to have to be the answers out there, right? If not, we're going to get involved with solving those, finding the answers. For example, maybe it'll be worked out eventually where someone can pay upfront for multiple months, right?
WADE WINGLER: I think right now it's either $9 a month or $100 a year so we can pay annually if you want.
BELVA SMITH: But I don't think everybody's going to care about having that latest — I work within enough folks that find Office to be way too complicated anyway, so they don't need all those bells and whistles. Those will be the folks that will probably be looking for the free alternatives.
MARK STEWART: I get plenty of people who are still using office 2010 because they know where everything is.
BELVA SMITH: The ribbons freak them out. They want it to stay where they were.
BRIAN NORTON: I think that's an interesting perspective. There are enough free alternatives, specifically with Google drive, and whether or not the question of accessibility is there. I think in a lot of ways, that is addressed in those particular programs like when you talk about Google Drive, accessibility is addressed in there. It may not be as easy or intuitive to use as Microsoft Office, but it's still able to be used by a lot of adaptive technologies from our perspective.
BELVA SMITH: Right, and they'll just have to keep stepping up to the plate and get more accessible, which I think is everybody's go anyway.
MARK STEWART: And there's the quality of the technology and the Internet and folks in a rural environment as well.
BRIAN NORTON: Trying to get the web-based stuff to work over dial-up.
WADE WINGLER: It does assume broadband.
BRIAN NORTON: That's a big challenge.
MARK STEWART: We'll figure it out.
BELVA SMITH: And not everybody's got broadband.
WADE WINGLER: Yet.
BELVA SMITH: Yet.
***
BRIAN NORTON: Next question: I'm rearranging my workspace. What should I be thinking about as I do this? Things like ergonomics, organization, or others?
MARK STEWART: I'll start off with this one. Again, there's the what are the person specific needs? What's the size of the office, etc. Of course, from the general nature of the otherwise interesting question, we know that there's a lot of specifics that we don't know. Just on this topic, I love one nice, flat worksurface as much as you possibly can get. From a cultural standpoint, for some reason people don't kind of think that way. The desk should just be a certain size and you put other things other places, or considerations of decoration and what have you. Times are changing. You look at various offices, and you do start to see that sort of an environment. It is something that I would encourage. I would really push the limits of finding that one wall or the corner where you can get as much nice, flat, even service as possible. And then even if you put some of the things on that same surface that are secondary, tertiary to your primary work, I still kinda like that because you can get to it a lot easier. Efficiency of motion, efficiency of energy use are very important things. Kind of picture that first worksurface. As clean as possible with regards to clutter. A separate shelving system to the side that maybe even goes up high where you can keep those peripherals and things like that and then bring them into play just as needed. Take advantage of wireless technology with regards to printers and what have you. With regards to presumably computer access type technology, have plenty of space for that but still let it be close up to you as much as possible. Try to get away from hard copy, from paper stuff. It looks at this person's kind of making some changes and has an opportunity here. Really kind of think about pushing the window of going paperless at this point. Maybe a scanner to scan some paper. Presuming that there's going to be some paper Again, another argument for this one nice flat worksurface with that paper can be off to the side.
I'm not assuming, I'm not presuming that the person is going to be in a wheelchair technically needing an accessible workstation, but I recommend it anyway. Lots of space underneath. Again, that goes against the traditional classic desk where there's just enough space to go underneath it for the chair, and then you have the cabinets off to the side and their decorative and what have you. Lots of space to move around underneath to go work on another project on the other part of the desk when you're done with the one product and you can easily move over or back and forth. Height adjustability for anyone is a big thing. We're going more and more towards sit/stand type desks. As far as shooting down the middle covering this topic, I don't know that that's cost-effective for the person, so I'm not saying that you have to have sit/stand desk, but at least initially having the seated desk at a really good height, so buying a table where the legs can be adjusted to fit you just right, I think, is a really smart move. If you can afford it, something that's height adjustable. I can go on.
BRIAN NORTON: I had a good friend of mine showed me this thing before. You mentioned making sure that the papers off to the side and not getting the things that you use most often closest to you. I had my friend show me one day as we were doing an ergonomic counsel, this diagram, and he kind of drew the person's desk, and he made this rainbow looking thing on the desk where —
WADE WINGLER: Is this friend in air quotes or is he sitting here in the room?
BRIAN NORTON: He's sitting here in the room. He drew this rainbow on her desk. What we did is we took everything on her desk and we listed it out on a piece of paper. We made them categorize them one through four. If I pick up the telephone and we take a look at your telephone, how often do you use that? Is it a one, which is you use that all the time, every couple of minutes, every couple of seconds, whatever, it's number one. Do you use the tissue box? Where does that fix? Well, that's a number four. The theory behind that is as you do this numbering system, when you get done with that, of all the things on your desk, where do they fit in that rainbow? If it's a number four, well, those things you use very little and they shouldn't be crowding the things that are open and close to you that you need to be using all the time. So put those towards the back of your desk or put them someplace around. If you use things really often, put them in the first step of the rainbow is that it's really close to you, you have immediate access to it, you're right there in your wheelhouse as far as getting to those kinds of things. I thought that was really interesting. And then you look at basic ergonomics, the chairs, 90 degree angles with your forearms and your upper arms.
WADE WINGLER: But you're showing us which is very helpful on the radio.
BRIAN NORTON: If you guys were here, you'd just be like, wow, he really knows his magic angles. But 90 degree angles in your elbows, 90 degree angles in your legs with your knees, and then also backbone, tailbone, those kinds of things, 90 degrees angles.
MARK STEWART: The numbering system is great. It's interesting, we all are on the same team yet we come from different backgrounds and are trained the same yet only to an extent.
BRIAN NORTON: We all have our own little flavor of how we do it.
MARK STEWART: Yeah. I know that that's something that you and Wade bring in. I've always really liked that, the numbering system. The ergonomic chair that you're talking about, let me just say a quality ergonomic chair — and I emphasize quality — these days what you might think is quality with ergonomic chairs just isn't quite quality. If they're not really of a certain standard, they tend to break on you within a year. And then that chair should be highly adjustable. So if I'm going to say something generically and not get into specifics of chairs, highly adjustable so that it can be said to you and a very good quality so that it'll last and be cost-effective over time.
BRIAN NORTON: I'll just slip in here, not that it's priority one, but I love an external monitor arm with a larger screen monitor. So much flexibility.
MARK STEWART: Absolutely.
BELVA SMITH: I don't remember the exact question, but I haven't heard anybody mention lighting and window coverings.
BRIAN NORTON: Absolutely.
BELVA SMITH: Again, I guess that's a different background that I'm coming from because with vision, lighting is primary, and especially window coverings if we have a large window that may be letting too much light in.
MARK STEWART: That's a basic tenant of ergonomics as well, lighting in the room and making sure you're able to see what you're looking at.
BELVA SMITH: And not dealing with too much glare.
BRIAN NORTON: There are these things that are common across all the needs that really fit. They're also particularly things we see in the job. You said it, the glare, but I would check that on. Some things, maybe that's not so important. But like I said, if you can afford it, you can do so much with an external monitor arm and a monitor that's 23 inches plus, whether it's a physical disability or a visual disability. I feel that same way about antiglare. Unless the person'ss working in video editing and things like that, for computer access, it might not be something that comes to mind for folks, but if there's a nice antiglare wash on an otherwise hi-def screen, great for everyone.
BELVA SMITH: Yep.
MARK STEWART: Absolutely.
***
WADE WINGLER: And now it's time for the wildcard question.
BRIAN NORTON: So our next question is the wildcard question of the week. This is where Wade gets to surprise us all again with a question out of the blue. Wade, what have you got?
WADE WINGLER: This is an object lesson question for everybody today. I need everybody to get your iPhones and have them at the ready because we all use iPhones here because we standardized on that a few years ago. My question for each one of you, and will go around and enter this one by one, what are the apps in the doc on your iPhone? They're at the bottom. What are the ones in the bottom and why? I'll go first. I'll give you guys a minute to scramble and find your home screens.
I don't have any of the original apps in my dock because I use tweaked up version for all kinds of things. I spend a lot of time tweaking on apps. The very first thing in my dock is a program called Omnifocus which is an Apple only high-end task management system that keeps me going throughout the day. It's a system that's kind of based on the getting things done way of, well, getting things done. It allows me to know what I need to be doing next, what I'm behind on, what I'm ahead on and all that kind of stuff. The next thing is Outlook, the Outlook app. I only use it for email. I don't use it for the calendar. I don't use it for the files or the people functionality. I really like the way the Outlook app handles multiple email accounts and I like the swipe features that come with it. Those swipe features are on other things as well, but I really like the way the Outlook app works.
The next one is a program called Drafts. It's my quick sticky note kind of app. There are a lot of times when somebody's saying something or I know I want to write something down but I don't know if I'm going to put it in an email. I don't know if I'm going to put it in a calendar. I don't know where I'm going to put it. I just know that I need to be writing down something that somebody's saying to me. And then once I write it down, it lets me click it and send it immediately into Evernote or Omnifocus or an email or a text message or something like that.
And then the last one I have in my dock is a program called Fantastical. It's a calendar replacement. It's very fast, very clean, and it allows me to have multiple calendars up so that I can see what's happening at work and I can see what's happening at home and I can look at all of those calendars to make sure I don't double book myself. As I'm sitting here talking, Mark and Belva are passing phones back and forth and getting —
BELVA SMITH: Mark's cheating. He's moving things around in his doctor.
WADE WINGLER: Don't you do it, Mark Stewart. You leave stuff in its dock right there. You'll be grounded.
BRIAN NORTON: Don't you move Clash of Clans out of your dock.
WADE WINGLER: All right, Brian Nicole your turn.
BRIAN NORTON: Let me throw this caveat —
WADE WINGLER: What is Clash of Clans anyway?
BRIAN NORTON: I don't have Class of Clans. It's close but it's not there. I have an iPhone five so I can only fit four icons in my dock. Can you fit more in your iPhone 6 over there?
WADE WINGLER: I just have four.
BRIAN NORTON: That's all you've got?
WADE WINGLER: Just four.
BRIAN NORTON: So we're all relegated to four. I just wanted to make sure that was clear. So in mine, I just have a regular telephone. I'm on the phone all the time talking with clients, talking with funding sources, all of those kinds of things, so phone is in my dock.
MARK STEWART: Hey Brian, I have a question.
WADE WINGLER: Just like that.
BRIAN NORTON: Exactly. I've got Safari. I just use that to be able to look up things. I go to Safari. I Google stuff all the time to be able to look up quick tidbits on product information, to be shortcuts for a particular adaptive piece of software that I use. So I'm all the time in Safari.
I use the regular mail app on my phone. I went and tried Outlook for about 6 to 8 months, and I really like it, but I couldn't get the thread stuff to stop doing the threads, and that just confused me as I'm out and about trying to kind of get to the new email versus the old mail and I couldn't turn off threads. So I went back to the regular mail app for my mail manager.
And then I also use Fantastical, really great calendar. I like that calendar. It's got a lot more functionality to it than the built in calendar that's there. I use Fantastical as well. Those are the four apps in my dock. I power use all of those. But I will say I have probably five or six other ones that are directly above the dock. I rearrange my icons so that when I go to my home screen, they are readily available to me. They are very close at hand, but those of the four I keep on my dock.
BELVA SMITH: Mark, have you got yours fixed up yet?
WADE WINGLER: You have three Solitaires in your dock.
MARK STEWART: I'm making notes on things to try. I have the phone. I use it a lot. I have mail, the typical app. It's connected to the exchange server and I power use that. Safari, and music that I don't use. Those are the four things in the dock.
WADE WINGLER: Aren't those the ones that come in your dock?
MARK STEWART: They are the ones that come in the dock. I have no problems with my phone. It works just fine. Some of the other stuff, like Brian said, I have right above on the front screen. Clock. I use Notes a ton. Pretty obvious. Weather, calendar. I case manage a lot. I use a PC and then iPad and iPhone. The phone is pretty much just business related, powering through the workday, keeping on top of things. I use the iPad a little bit more experimentally, keeping up with different types of apps and what have you.
WADE WINGLER: Cool. Belva?
BELVA SMITH: I am one of those, I was going to feel really bad until Brian read his. I'm one of those generic folks because, yes, I have the ones that come. I have Safari because I use that all the time, every day. My phone, all the time every day. Mail, I am just using the mail app. I did try Outlook not as faithfully as Brian did, used it maybe only two or three months. The thread just made it really difficult when I'm trying to get my mail quickly. And then I just use the regular calendar. I have four screens of apps. Quite frankly I don't care where my apps are because I just use your to open them. I tell Siri to open whatever I want when I need it.
WADE WINGLER: It's kind of funny. So I have those things in my dock, and on my home screen I have apps that that I use every day, probably every one of them every day, but then I only have two screens. I have my home screen and my second screen is a group of alphabetized groups. I have AB, CD, EF, GH, and all the apps are in there alphabetically so that I can find them pick because I don't use Siri but I use Spotlight all the time.
BELVA SMITH: That's a good idea.
WADE WINGLER: I type the first couple of things. They're just all alphabetical so all my apps fit into two screens and I don't have a lot of clutter that way.
BELVA SMITH: By the way, I did get Rain Aware and I love it.
WADE WINGLER: It works well with voiceovers too.
BELVA SMITH: Yep.
BRIAN NORTON: Very good. You mentioned categorizing your apps. I do lots with folders as well.
BELVA SMITH: I do a lot of folders.
BRIAN NORTON: But I kind of break it up into disability folders. So I've got a cognitive apps older which is for persons with cognitive impairments, issues like that, and I also have a vision app folder. I got an OCR app folder which can be used in a variety of different ways. And I've also got a mobility app folder as well. I can fit everything on two screens at this point. I'm just waiting for the next revision of the phone that I get that can have more members I can download more stuff that I use very rarely on the phone. I feel like I'll Donald lots of apps, try them out, and then quickly move away from them. I guess that's the world of apps as they stand. They are so inexpensive that you can demo them for relatively defensively and try them out and see if they were. If they don't, you've purchased it, you can't return it after you try it. Anyways.
***
BRIAN NORTON: All right, guys, that's a wrap. Thanks everyone for listening to the show. Please send us your questions if you have them. We love to be able to hear from you. Thanks, Belva; thanks, Mark; and thanks, Wade, for being a part of the show.
BELVA SMITH: See you guys in a few weeks.
MARK STEWART: See you later.
WADE WINGLER: Take care everybody.
WADE WINGLER: Information provided on assistive technology frequently asked questions does not constitute a product endorsement. Our comments are not intended as recommendations, nor is our show evaluative in nature. Assistive Technology FAQ is hosted by Brian Norton; gets editorial support from mark steward and Belva Smith; is produced by me, Wade Wingler; and receives support from Easter Seals Crossroads and the INDATA project. ATFAQ is a proud member of the Accessibility Channel. Find more of our shows at www.accessibilitychannel.com.