The smoke alarm sounds and your mind begins to race.  "Where's the problem?  Is it smoke?  CO?  Burned popcorn?"  The newest release of Nest Protect is a smart solution.  It is an industrial-grade smoke sensor that lasts up to a decade.  According to Nest's website, "the all-new Nest Protect is the smoke alarm other alarms look up to."
In a previous post, I discussed the Nest Thermostat, a smart thermostat that learns your habits and more, and can be operated from your phone.  Similar to the Nest Thermostat, the Protect is aesthetically pleasing and can also be controlled via one's smartphone.  You may be thinking, "Okay, that's cool and all, but a lot of things can be controlled from smartphones nowadays.  What is so special about this Nest Protect?"  Great question!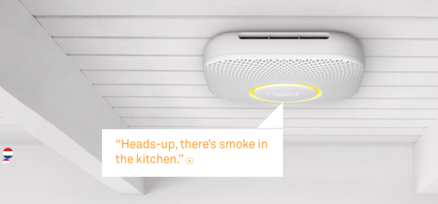 The Nest Protect is unlike any other smoke alarm on the market.  It thinks, speaks, and alerts your phone of any danger.  It speaks aloud with a friendly human voice and will provide an early warning to, for example, inform you of burning toast before it turns into a burning toaster.  In case you're not home, however, the Nest Protect will send an alert to your phone.
As the Nest website states: "It's on your ceiling and on your phone."  If you're cooking and everything is under control, and there is a little smoke, you don't have to grab a broom to silence the alarm–simply silence the alarm through the Nest app!
Does your smoke alarm chirp at inconvenient times through the night, letting you know the batteries are running low?  The Protect's batteries last for years and will alert you with a message on your phone.
It is highly advised that individuals test their smoke alarms at least once a month.  However, "9 out of 10 people don't.  So Nest Protect checks its batteries and sensors over 400 times a day.  And it's the first alarm that uses Sound Check to quietly test its speaker and horn once a month."
To learn more about the Nest Protect, click here.