For individuals with mobility impairments (and more), answering a telephone may prove to be rather challenging.  A possible solution for these individuals is the remote control speakerphone, RCx-1000, from Harris Communications.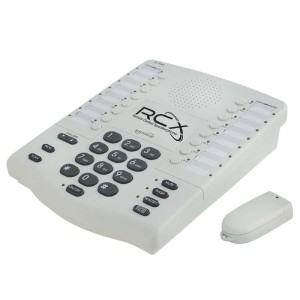 The RCx-1000 is a remote control speakerphone that was specifically designed for individuals with low mobility.  The RCx-1000 allows users to answer calls with voice commands–making the process of answering the phone hands-free!
In addition to operating by voice commands, the speakerphone can also be operated with the included wireless remote.  Making a call is simple and can be done through the remote!  By pressing the button on the remote, the phone will run through the 32 pre-programmed numbers.  Once the desired number is highlighted, simply press the pendant again.  There is also a standard numeric keypad on the RCx-1000 so users may dial any number manually.
Features of RCx-1000:
Voice activated answering for incoming calls
Large 3 inch speaker for high quality sound, volume and clarity
90dB+ loud ringer
32-one touch memory buttons for easy dialing of frequently dialed numbers
Missed call indicator
Flash hook switch
3.5 mm multimedia jack for headphones
3.5 mm multimedia jack for microphone
Battery back-up (6 NiMH rechargeable AA batteries included)
Wireless remote with AC adapter power and battery backup (Includes one 12V battery).
Also comes with wall mount bracket and a lanyard for wireless remote.
To learn more about the RCx-1000 and other products available from Harris Communications, click here.
You may also view the User Manual PDF found here.