Podcast: Play in new window | Download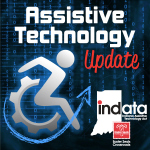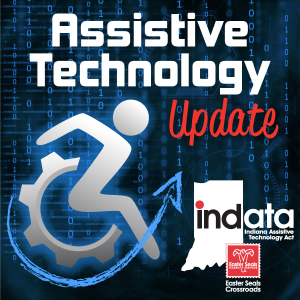 218-07-31-15 – The story of an AT Entrepreneur – Kris Parmalee Co-founder and CEO of Lectio
Your weekly dose of information that keeps you up to date on the latest developments in the field of technology designed to assist people with disabilities and special needs.
The story of an AT Entrepreneur – Kris Parmalee Co-founder and CEO of Lectio
Read our blog by Laura Medcalf www.EasterSealsTech.com
Accessibility – Blackboard Help http://buff.ly/1fAyYen
ADA Video Gallery http://buff.ly/1ggDMGN
What's New in JAWS 16 Screen Reading Software http://buff.ly/1eu0CZD
Dolphin – Windows 10 Information http://buff.ly/1eu0p8Z
Windows 10 Status – Ai Squared – We've got accessibility covered http://buff.ly/1D66Pqm
ATU196 – Microsoft Windows 10 Accessibility for People with Disabilities (Dan Hubbell and Brett Humphrey),  http://buff.ly/1D66x2T
App: I can have conversations with you www.BridgingApps.org
——————————
Listen 24/7 at www.AssistiveTechnologyRadio.com
If you have an AT question, leave us a voice mail at: 317-721-7124 or email tech@eastersealscrossroads.org
Check out our web site: https://www.eastersealstech.com
Follow us on Twitter: @INDATAproject
Like us on Facebook: www.Facebook.com/INDATA
——-transcript follows ——
KRIS PARMALEE: Hi, I'm Kris Parmalee, CEO and cofounder of Lectio, and this is your Assistance Technology Update.
WADE WINGLER: Hi, this is Wade Wingler with the INDATA Project at Easter Seals Crossroads in Indiana with your Assistive Technology Update, a weekly dose of information that keeps you up-to-date on the latest developments in the field of technology designed to assist people with disabilities and special needs.

Welcome to episode number 218 of Assistive Technology Update. It's scheduled to be released on the last day of July, July 31 of 2015.
Today my guest is Kris Parmalee who is a "mom-trepreneur", somebody here in central Indiana who didn't like what her options were for her child with a learning disability, so she created an app and is now selling it. She is the founder of a company called Lectio.
Also we've got a story about accessibility on the Blackboard learning management system; a little reflection about the ADA and what it means 25 years ago; and information, or maybe a lack of information, about what screen readers and vision assistive technology is going to work with Windows 10.
We hope you'll check out our website at www.eastersealstech.com, shoot us a note over on Twitter @INDATAproject, or call our listener line, give us some feedback. That number is 317-721-7124.
***
Laura Medcalf is our social media content specialist. She popped into my studio and doesn't even know that I'm recording something. Laura, how are you?
LAURA MEDCALF: Oh, dear, I'm great. How are you?
WADE WINGLER: Good. Laura writes our blog, does most of the content. How are things for the blog these days, Laura?
LAURA MEDCALF: It's really great.
WADE WINGLER: Good. So some things that you've written about recently include?
LAURA MEDCALF: The Lectio app which was developed by an Indianapolis mother, Nike's Flyese shoes, and so many other cool technologies.
WADE WINGLER: I know. You like your job, right?
LAURA MEDCALF: I love my job. It's a dream job.
WADE WINGLER: And you're a great writer. If people have an idea for a story that should appear on our blog , how should they reach out to you? If they said, hey, Laura, got a thing that should go on the blog , in the email you?
LAURA MEDCALF: Yeah.
WADE WINGLER: What's your email address?
LAURA MEDCALF: lmedcalf@eastersealscrossroads.org.
WADE WINGLER: Great. Laura, thanks for what you do.
LAURA MEDCALF: Thank you.
WADE WINGLER: If you guys want to check out Laura's work, head on over to www.eastersealstech.com. She writes there all the time. She's great.
***
WADE WINGLER: Now that Laura snuck out of the studio, did you also know that she records a show? It's called Accessibility Minutes. You can find it online every Friday. Look for Accessibility Minute on iTunes or visit AccessibilityMinute.com . You won't regret it.
***
WADE WINGLER: Here in the US, it's summertime and folks are getting ready to go back to college before too long. I myself am a recent MBA graduate and teach college, so Blackboard is a platform that I spend a lot of time on and continue to do so.
Did you know that there's a lot of accessibility built into Blackboard? I saw something come across my desk here recently that talked about Blackboard's accessibility initiative and the fact that Blackboard "Is fully committed to ensuring all products and services we deliver are both usable and accessible to all users regardless of age, ability, or situation." And I'm looking at the website here and there actually is some pretty interesting stuff. They talk about the accessibility for screen reader users. They talk about global keyboard shortcuts. They even talk about how captioning is integrated into Blackboard system. I'm going to pop a link in the show notes, and whether you're a teacher or a student or just curious about learning management systems accessibility, check our show notes and read more about what blackboard is doing.
***
Just a few days more than 25 years ago, the Americans with Disabilities Act was signed into law on July 26 of 1990 by President George Bush. And I'm going to commemorate dedication by playing a little bit of the ceremony where President Bush signed that law. I'm going to play a couple of minutes of content here and we'll come back.
[Applause]
GEORGE H.W. BUSH: Our success with this act proves that we are keeping faith with the spirit that our courageous forefathers who wrote in the Declaration of Independence, "We hold these truths to be self-evident that all men are created equal, that they are endowed by their Creator with certain unalienable rights." And these words have been our guide for more than two centuries as we labored to form a more perfect union. But tragically, for too many Americans, the blessings of liberty have been limited, or even denied, and the Civil Rights Act of '64 took a bold step towards righting that wrong, but the stark fact remained that people with disabilities were still victims of segregation and discrimination, and this was intolerable, and today's legislation brings us closer to that day when no Americans will ever again be deprived of their basic guarantee of life, liberty, and the pursuit of happiness.
[Applause]
GEORGE H.W. BUSH: This act is powerful in its simplicity. It will ensure that people with disabilities are given the basic guarantees for which they have worked so long and so hard: independence, freedom of choice, control of their lives, the opportunity to blend fully and equally into the rich mosaic of the American mainstream.
WADE WINGLER: And then of course President Bush goes on to delineate the other sections of the ADA that talk about public access and telling medications and all that kind of stuff.
So this will date me a little bit, but in July of 1990, I was a college student. I was an undergraduate at Butler University, and I remember that year walking around the university with photocopied wheelchair access symbols with the "not" symbol on it, and we went around campus and put the symbols that said basically wheelchair access denied here because we were in support of the ADA in what was going on and everything that was happening with the disability rights movement. A couple of years after that, I started my career in disability services and have been doing that for over 20 years now.
I have to say that I think a lot of times today we take the ADA for granted and other things it affords are things that are just the fabric of how we do business. That being said, there's plenty left to be done and a lot of those things we cover here on the show when additional legislation happens, it impacts assistive technology in the lives of people with disabilities.
Congratulations to the United States, 25 years of the ADA. Hope you enjoy the quick little audio segment and maybe take a few seconds and reflect on what the ADA has meant for you and those around you over the last 20 years. I'll pop a link in the show notes over to this video so you can check it out and listen to the whole thing. Check our show notes.
***
So some of the buzz around our office this week is about Windows 10, which by the time this recording comes out, will be out and we'll see what kind of chaos it creates. But the question that's been buzzing around the office is what works with it and what doesn't? We've kind of gotten to a point in our history where we expect most of the main assistive technology programs to work with a new version of Windows when it comes out. But it seems that it's not quite that simple. When I look over at the AI Squared website, I see a message that says "Microsoft announced that they will ship the new Windows operating system on July 29, and we are working to ensure our products work with it." And it says, "To keep you up-to-date, each week we'll post our progress for both Zoomtext and Window Eyes." I got an email from Dolphin saying that they are working with Windows 10, and when I look at the Freedom Scientific website and talked to one of our in-house experts about that, it seems like it's going to work, but there may be some questions with the new browser that comes with Windows 10.
I'm recording this, by the way, on July 27, so just a few days before the software comes out. It seems that the state of compatibility is kind of questionable at this point. Hopefully next week I'll have an update and we can talk about what is working, what was working when it came out, and in the meantime I would encourage you to go back and listen to episode number 196 of the show. It was released back in February 2015. We had an interview with Dan Hubble and Brett Humphrey, two of the folks over at Microsoft, who are in charge of accessibility for Windows 10 and other accessibility related things. I'll pop a link in the show notes over to that interview with Dan Hubble and the link over to Supernova's Dolphin announcement as well as AI Squared and freedom scientific stuff. You can check there and try to figure out what is going to work with Windows 10 when it comes out.
***
Each week, one of our partners tells us what's happening in the ever-changing world of apps, so here's an App Worth Mentioning.
AMY BARRY: this is Amy Barry with BridgingApps, and this is an App Worth Mentioning. This week's app is called "I can have conversations with you." This app is designed to help children with conversation and social skills. The app was developed to be effective for learners with autism, PDD, Asperger's syndrome, or social communication disorders, who are ages six and up, talking in sentences, able to read, and comfortable using the iPad.
The app provides a unique solution to parents who wants to empower their child to initiate, understand, and participate in conversations. An easy-to-follow, self-explanatory program engages the learners' interest within a fun, supportive requirement, so that learning to communicate is naturally reinforcing.
For individuals with autism and other communication disorders who speak in sentences, the "I can have conversations with you" app guides them to become independent communicators with various people encountered throughout daily life. Some of the app features worth mentioning are video modeling of people in everyday conversations; interactive cues; virtual world play using your child's own voice; personalized achievements or certificates; hundreds of conversational exchanges using both audio clips and written text; ongoing encouragement with tons of stimulating reward images and sounds; customized reports of progress, strengths, and areas of improvement.
Available at the iTunes Store for $29.99, the "I can have conversations with you" app is compatible with the iPad. For more information on this app and others like it, visit BridgingApps.org.
***
WADE WINGLER: So recently here in the city of Indianapolis on the Fox affiliate, there was a story about a mom who makes an app for her son with dyslexia. Of course it caught my eye. And not long ago, I found myself in a great, quaint little local restaurant seated across from Kris Parmalee who is the cofounder and CEO of Lectio and that mom, that mom-trepreneur — I thought I might be able to say that and I did — who has created an app called Lectio that's designed to help folks with dyslexia and is kind of cool and is kind of different. I thought it would be good to have her on the show to talk about her app. But I really wanted to get her on the show and talk also about what it's like to be an assistive technology entrepreneur. Joining me here in my studio is Kris Parmalee. Kris, how are you?
KRIS PARMALEE: I'm great, thanks. How are you?
WADE WINGLER: I'm fine. Thank you for coming in today and spending some time. So I've been messing around with the Lectio app. I installed it on my phone, and I think it's pretty cool. We're going to talk about it. But some of my listeners know that I just finished my MBA and I have been all about the entrepreneurship. And I thought, well, you're not just an entrepreneur; you're a "mom-trepreneur", who is motivated by a need that your son had. You've created something that sort of has taken off and is catching fire. I want first to hear about your kid. Tell me a little bit about your son and where this idea came from.
KRIS PARMALEE: So my middle son has dyslexia, and he was diagnosed actually a little bit too late, the end of first grade. And as we got through second grade into third grade when he started transitioning from learning to read to reading to learn, we start looking at assistive technology in the classroom.
At first things were okay with Kurzweil 3000. We use some other sort of really rudimentary technology like the Intel reader. But then as he got more sort of aware of his disability, and so did his peers, that kind of technology took him away from his peers, pulled him out of the classroom. It required a lot more time than his peers spent on reading or even taking a test. So I kept thinking that there had to be some sort of solution where he could still sit at his desk, and when he got stuck on a word, could have it read to him, sort of like me standing over his shoulder. That would happen with homework. He would be reading independently, and then he'd stop and say, mom, what's this word. So I really searched for a solution that could do that, and there was nothing on the market. I couldn't believe it. Couldn't believe it.
WADE WINGLER: So you made it?
KRIS PARMALEE: I made it
WADE WINGLER: So let's talk a little bit about — the name of the app is called Lectio.
KRIS PARMALEE: That's right.
WADE WINGLER: And it's available on what platforms?
KRIS PARMALEE: Right now it's an iOS device only. It's on the app store. We will move to Android, but right now it works on iPad, iPod, and iPhone.
WADE WINGLER: I've been playing around with it and I think it's pretty cool. I recently was at a conference where I was able to grab a brochure and take a picture of it and immediately have it it reading words to me and looking up definitions. I was able to shoot the slide at the PowerPoint at the front of the conference hall and get it to read some of that stuff for me. I thought it was pretty cool. We're going to talk more about the app and get into that stuff. Tell me about yourself and how you came to become an app developer. You've done this a lot in the past, right?
KRIS PARMALEE: Never.
WADE WINGLER: No?
KRIS PARMALEE: Never. I am an entrepreneur at heart. I think that when I see a problem, I always want to act to find the solution. So when I saw this, that there was nothing on the market, and I knew how prevalent dyslexia was. So one in five, twenty percent of the population, we're talking about 8.2 million US schoolchildren.
WADE WINGLER: Wow.
KRIS PARMALEE: So the opportunity was there. I shopped the idea to a couple of people I knew that did development. Nobody was that interested. They didn't really understand the market. I'm a mom. It wasn't that appealing at the time. And then I found somebody that kind of latched onto the idea and helped me explore it. So we've been working on it for about two and a half years, and it morphed from taking a picture and putting the word on your notepad and having it read aloud using the voice speak to what it is today. It's been pretty cool to watch the technology develop.
WADE WINGLER: So I'm interested in kinda getting into the weeds a little bit about what that development process look like. Because you said you're a mom, and I think by saying that you're saying you're not necessarily the technical person. You had this idea and then you had to get it turned into an app. What were the steps?
KRIS PARMALEE: The steps were definitely first educating the developer about dyslexia and the purpose of the app. So it is a spot reader. We are not talking about — there's plenty of text to speech software, but this is really a spot reader. So first telling them, getting them to understand the instances where this would be used. So putting them in the classroom and helping them understand, this is what my son sees. This is how he needs the app to work quickly and using ubiquitous technology. Getting them to understand the market. And then once that happened, they played around with it. The original version, once we moved from moving the word to your notepad and having it read aloud — the original version you would resume and using that fingers, the little motion we all use on our iDevice —
WADE WINGLER: That pinch gesture.
KRIS PARMALEE: Yes, the pinch gesture. You would focus in on a single word and take a picture of it. And then you would wait for the database to process it. It required the Internet. Through some initial testing with about 400 users, that didn't go so well. It was too time-consuming. The processing time is too slow, and it required the Internet which was a stumbling block for a lot of people. So we moved it to now where you sort of take a larger picture of text and the database turns every word it recognizes into a yellow highlighted word, and then you just touch it. But it was definitely an iterative process. It still is. The technology still is not perfect. It's about 75%. The iterations will continue.
WADE WINGLER: It's interesting that that was one of the main challenges that you dealt with, the fact that it needs to be ubiquitous, because if you're not connected to the Internet — and although we are connecting more and more, there are critical times where you're not. The cell phone signal is not there. There is no Wi-Fi available. That's one of the things that I found kind of impressive about the app is it works whether or not you're online. That's not true for things like my Spotify or Apple Music that I want to play and of the things that really are part of that. I think it's pretty impressive. So when you started looking at this the very beginning, did this seem like a monumental task? Did it seem like it was going to be impossible to take on? And then how did that play out? Was it harder or easier than you thought?
KRIS PARMALEE: I think I had sort of a naïveté that helped me believe it was going to be so easy. Because, again, I couldn't believe that something so simple didn't exist. So the developer was a little more discouraged, but a lot of things worked in our favor. At the right time, certain databases became available on open source. At the right time, devices became more easy to use. The camera got better. So all of those things sort of played in our favor. But I don't think I was ever afraid that it couldn't happen. I think it seemed like such a simple idea that I knew somebody could make it work. I didn't have the right background. I just had to find the right person.
WADE WINGLER: Good. As you look back on the process so far — and we're going to talk about how far along this process is — what have been the biggest challenges? Is it getting the people to understand the need, the developers to understand the need? Or have there been other big obstacles?
KRIS PARMALEE: No. I think we really overcame that hurdle. Honestly the bigger challenges have been just in the business structure. This is actually the second company that we've had focused on the technology. The first company we got a long way and then we ended up with a partnership Disputed and had to dissolve the company. That's very painful.
WADE WINGLER: Yeah.
KRIS PARMALEE: It sucks a lot of time and energy around the primary focus. The other thing is my partner in Lectio, which is the new company, we talked about the original company. We spun our wheels a lot trying to raise money from investors. That was our primary focus and not so much on the technology. With this new company, we took a different approach and we spun our wheels like crazy developing the technology to the point where it could get on the market, and we spent very little time worrying about private investment. So instead, we are focused on getting the app into the market, getting it to the people that need it and can use it, and then just growing it organically.
WADE WINGLER: So less shark tank and more boots on the ground.
KRIS PARMALEE: Yes. Absolutely.
WADE WINGLER: Excellent. So what have been the biggest rewards so far?
KRIS PARMALEE: I just love to see people use the technology and be in awe. I've gotten some emails from some teachers who have said, wow, I can see how this will help a kid in the classroom. One of the biggest rewards is to see my son who's joined me on a lot of the promotion, and we've done some business competitions together, and to see him really getting to tell his own story about how technology has helped him and to own his disability with such pride has been amazing.
WADE WINGLER: And you talked about the inconvenience and the stigma of some of the older, less elegant solutions, right? We talked specifically about the Intel reader which was very popular a few years ago but it didn't look like anything else in the classroom. It was very unique looking and required some special kind of stuff. Now, tell me if I'm wrong, you got a kid that can whip out an iPhone, take a picture, and move on, right?
KRIS PARMALEE: Yes.
WADE WINGLER: A kid whipping out an iPhone taking a picture is something that happens every second every day —
KRIS PARMALEE: Correct.
WADE WINGLER: So that's completely a very "normalized" kind of experience but effective.
KRIS PARMALEE: Which is why I think the technology even transitions to adults in the workplace. There is no magic pill for dyslexia. This is a lifelong disability. It's great for adults because nobody's going to look at you strange if you whip out your iPhone. You can just be checking your email for all anybody knows.
WADE WINGLER: Now we live in a world where selfie sticks are becoming the normal thing, so if that's going to be normalized, then taking a picture of your worksheet in class is no big deal. So from a business perspective, what's the status of the app and Lectio. It's for sale?
KRIS PARMALEE: It's for sale.
WADE WINGLER: Are you getting some sales? What's the business model look like? What are your long-term goals?
KRIS PARMALEE: So it is for sale on iTunes. We're getting sales. Unfortunately — or fortunately — it's the summer so a lot of people are away from school. I really started with what I knew, which is that market. There are lots of applications for this technology, but I'm most familiar with the dyslexia community. So we've been targeting schools that specialize in learning differences, primarily around language related learning disabilities, getting some good feedback, getting some purchases. What really needs to happen is those key users need to get interested and see the potential. We are hoping to partner with a school system soon and get it integrated into all of their iPads in the classroom, especially schools that are one-to-one with iPads. The future is further iterations of the technology, of course. We have some very cool things that we look forward to implementing and will do that. As sales grow, so will the strength of the technology. The long-term goal is acquisition. I am not the forever CEO of Lectio. Lectio is really a product, and it makes more sense that an existing technology company would folded into their portfolio. So that's the long-term goal.
WADE WINGLER: Okay, so if we have folks in the audience listening, and I know that we do, this is a product that might be part of your portfolio someday. Back to the entrepreneur kind of thing, what advice would you have or somebody, whether it's a mom or a person with a disability or just anybody, who wants to create their own assistive technology product, what's your best advice for them?
KRIS PARMALEE: What I just said, start with what you know. Start in a market that you're familiar with or community that you are ingrained in. I think that's what helped us with the original launch when we did the study was 430 users. I had those users because of the networks I was already plugged into as an advocate for my son. So start in a community that you are familiar with. I think it's really helpful. And then the other piece is find some really incredible advocates who believe in the need. I think that's what I found in my partner and eventually our developer. These guys really believe in the need. They saw the potential. I think they'll go to bat for it.
WADE WINGLER: Excellent. Before we wrap up here, give me website information, telephone numbers. If people hear this and say I've got to talk to Kris or I want to download that now, what information would you provide?
KRIS PARMALEE: I would say go to the iTunes Store and search Lectio. You will see our app come up. The website is mylectio.com. My email address is mylectioapp@gmail.com. You can follow us on Facebook or Twitter. I hope they give it a try.
WADE WINGLER: The website again is MyLectio.com.
KRIS PARMALEE: I, by the way, would love to hear feedback, positive or negative, for many users. We love to collect feedback.
WADE WINGLER: Excellent. Kris Parmalee is the cofounder and CEO of Lectio, and today I've called her, twice successfully, a "mom-trepreneur", and has been our guest today. Kris, thanks so much.
KRIS PARMALEE: Thank you.
WADE WINGLER: Do you have a question about assistive technology? Do you have a suggestion for someone we should interview on Assistive Technology Update? Call our listener line at 317-721-7124. Looking for show notes from today's show? Head on over to EasterSealstech.com. Shoot us a note on Twitter @INDATAProject, or check us out on Facebook. That was your Assistance Technology Update. I'm Wade Wingler with the INDATA Project at Easter Seals Crossroads in Indiana.