The average employee spends approximately 7+ hours hunched over a desk staring at a computer.  Because we spend so many hours in front of a screen, it is imperative to our overall health that we maintain an ergonomic posture.  Not maintaining an ergonomic posture may result in pain and discomfort, and lack of productivity.  Soon, ergonomics may be more obtainable with the Autonomous Desk.
Check out this excerpt providing more insight from a 2013 study conducted by Microsoft:
In the US, Microsoft found that workers would spend on average of six hours on the computer a day while at work, and one hour on the computer while at home. This was more time in front of a computer screen compared to how much sleep in acquired at night! Microsoft also found that 85% of workers in the United States experience discomfort on a daily basis. Worldwide, it is 89%! The most common complaints were discomfort in the neck, shoulders, wrists, upper back, and hands.
The Autonomous Desk has been designed so carefully and according to its website, it is "The smartest office desk yet, powered by AI."  It is already funded on Indiegogo and said to begin shipping soon.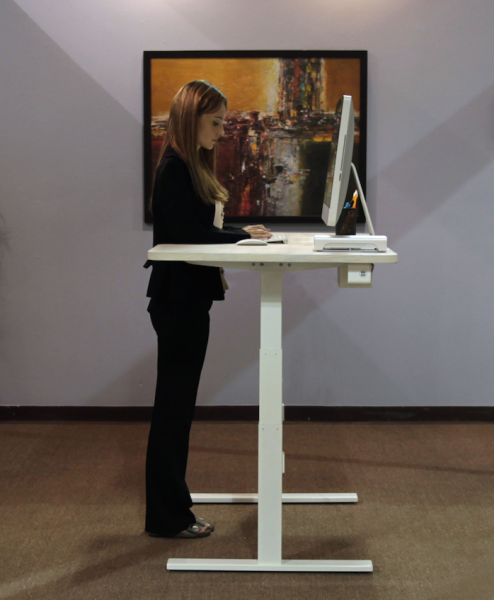 Built-in features of the Autonomous Desk:
Thick and durable top:

Available in multiple options: Deluxe Bamboo, Oak, Walnut, Solid White or Solid Black

Powerful sit-to-stand motor: high-performance dual, silent motor
High-quality industrial steel

Frame options: White, Black, or Gray

Smooth ergonomic curve provides full armrest
Built-in:

Memory pad
Wireless charger
USB charger
HD speaker
Bag hanger
Getting Started with the Autonomous Desk:
The first few days you have it, you will need to change the desk's height.  After that, the desk will learn about you and start moving from the sitting to standing position and back again; this will help you stay more active and healthier while you work.
"Autonomous Desk senses your arrival in the morning and automatically raises to your preferred standing height, giving you a healthier way to start your day.  Throughout the day, if you've been sitting for hours, it proactively reminds you to stand up.  Sitting less can improve your health in significant ways."
The Autonomous Desk is not only an ergonomic desk, but also a personal assistant.
You may ask the desk questions such as:
"Where is a good Thai restaurant?"
"Call a taxi."
"Play my favorite playlist."
"How is the weather today?"
"When is my next meeting?"
And more!
Stay connected.
If you have other connected devices in your office, you can connect them with the desk.  For instance, if you have the Nest Thermostat you can state, "Set the temperature to 70 degrees."
To learn more about the ergonomic Autonomous Desk, be sure to visit Autonomous.ai or Indiegogo.