Reading is a favorite pastime for many individuals, but as people age, their eyesight may begin to deteriorate making it difficult to read.  Fortunately, there are several audiobook apps on smart devices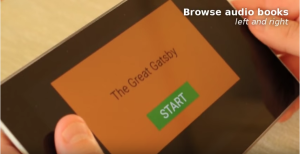 allowing these individuals to get back to reading.  Though these apps have proven to be beneficial for a myriad of individuals, using a tablet or smartphone may be too complicated, especially for the elderly.  Homer Player is a great solution as it allows users to transform their tablet into a dedicated audiobook player.
Check out the step-by-step guide on how to turn your tablet into a dedicated audiobook player here.  Here are the requirements to convert an Android tablet into a dedicated audiobook player:
An Android tablet with Android 5.0 or newer
Access to a Mac or PC
About 30 minutes of time
It is suggested that the tablet have only volume and power buttons to make accessing audiobooks even easier.
Homer Player Features:
Audiobook support

"Playback is geared towards audiobooks with folder-based navigation.  The folder name is the title.  Subfolders are treated as part of the same book (useful for books that come on multiple CDs.)"

User-friendly interface for those with low vision:

Book titles are read aloud when browsing
The buttons are large and in high-contrasting colors

Easy stop:

To stop the reading, users may simply place the device face down on a level surface.

Single application (kiosk) mode:

With the kiosk mode enabled, the user's actions are confined to the app, disabling all other functions of the device.
This way a multipurpose tablet can be converted into solely an audiobook player, without additional complicated functions.
To download the installation package to your phone or tablet, click here.
-OR-
Click here to learn more about the Homer Player.