New backpack? Check!  New school supplies? Check!  New schedule? Check!  That's right, it's your child's favorite time of year, time to get back to classes, studying, and homework!  (Or is it the parents' favorite time of year, the time they finally get a break from entertaining the little ones all summer?)  Well, either way, school is in session and AssistiveWare has products to help your child tackle this school year!
AssistiveWare was founded in 2000 and has since "established itself as a leading innovator of assistive technology software for iOS and Mac OSX with over 125,000 customers worldwide and is committed to collaborating with the global community to make a difference in peoples' lives."  The company's most well-known product, Proloquo2Go, is an award-winning Augmentative and Alternative Communication (AAC) application for iOS devices, including the Apple Watch.  It is an app that provides a "voice" for individuals who cannot speak at all or who have difficulty speaking.
Upon visiting the company's website today, I found a link to four back-to-school apps to assist students with reading and writing.
AssistiveWare Apps for Reading & Writing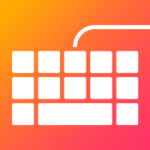 Keeble is an iOS 8 keyboard that allows individuals with fine-motor challenges or vision impairments to type in any app on an iPad that supports Apple's standard keyboard.  The optimized scanning layouts of the keyboard will benefit switch users.
Keeble's Features:
Alternative Access:

User configurable backspace key repeat delay and rate
Prevent accidental selections with Hold Duration option
Compensate for motor challenges with Select on Release and Select on Dwell

Auditory Feedback:

Turn on Keyboard Clicks
Speak as You Type option allows users to hear each key, word, or phrase while typing
Use spoken cues as users move their finger across the keyboard

Customizable for Each User:

For beginning readers, the keyboard can be switched to only lowercase letters, ABC layout (in lieu of QWERTY), and vowels can be contrasted in different colors.
For adults the keyboard can be switched to the traditional QWERTY layout with all characters.
Three available themes: Colored, gray, or custom colored.

Faster Typing:

Automatic capitalization and smart word prediction help users speed up typing
Option between word completion, next-word prediction and multiple-word prediction
Adjust the number of suggestions and order of suggestions
Match the size of the prediction bar to the user's needs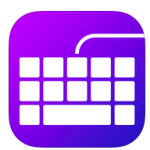 Keedogo and Keedogo Plus are iOS 8 keyboards designed for children and young students who just started to read, write and type.  It features a basic layout to help beginners focus on learning rather than being distracted by other functions often found on keyboards.
Keedogo's Features:
May be used in any app
Select lowercase letters
Option of QWERTY or ABC layout
Optional colored vowels
Simplified keyboard
Gray or Colored-themes
Large, easy-to-read font
Keedogo Plus Features:
Keedogo Plus has the same features as Keedogo, but with two added functions:
User customizable word prediction
Automatic capitalization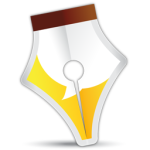 Developed for use on Macs, Wrise is "an accessible word processor designed to support reading comprehension and text composition."  It's accessibility features make writing and reading accessible for all, including individuals with dyslexia.
Within the app, users may read, write, and create with the following features:
Read with Wrise:
Text to Speech function allows users to listen to text with customizable voices, speech rate, and volume.

The Text to Speech Playback option also allows users to click on a word to learn how it is pronounced.

EasyReading Mode allows users to save their preferred font, size, and colors.
Selection Reader allows users to import documents or other text from virtually any app.
Write with Wrise:
Users have the option to have the text read aloud as it is typed.  (Options between every word, sentence, or paragraph.)
With PolyPredix multi-word prediction, users may type with 45% less effort.
The app learns each individual's vocabulary as he types, resulting in more accurate word prediction.
Create with Wrise:
Define reading speed, voice, language and volume within app.
Read multilingual texts using multiple voices for different languages with tags, or "let Wrise do the work with automatic language detection."
Export creations as audio files or iTunes tracks to listen to documents on-the-go or to use with other projects (e.g. podcasts, audio/video edits, etc.)