Making music is important to every child's development.  The benefits of making music include improved concentration, language, sympathetic engagement and social interaction.  However, many instruments may not be accessible for all individuals, especially those with physical disabilities.  The Skoog is an exception; it is an accessible, easy-to-play instrument designed for everyone.
"The Skoog is not a typical instrument.  Whatever your skills, abilities and musical talents, Skoog offers a user-friendly design and feature rich software are the key to musical freedom.  For many children, the barrier to making music is the physical dexterity required to play a traditional instrument.  The Skoog removes that barrier, allowing children to make use of one of their greatest gifts: imagination."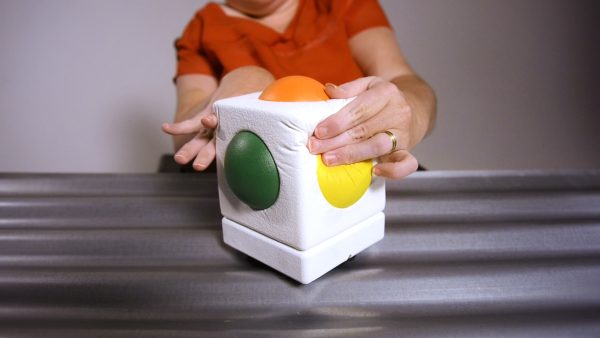 Overview of the Skoog
Tap it, shake it, squeeze it, give it a little twist.
To play the Skoog, simply plug it into your computer's USB port and play your heart out!  The Skoog software allows users to customize the instrument's sensitivity to suit your playing style, which means anyone can rock out to their favorite tunes or use programs like GarageBand to open up a new world of amazing music and sound.
Play the Skoog with any part of your body!
The Skoog is designed to adapt to your own natural movements, allowing you to explore music and sounds in your own way.  The Skoog's adjustable sensitivity means that you can play with your hands, elbows, knees, or head.  "Whether you have very limited mobility or bags of agility, you can make your Skoog fit your style."
How to play the Skoog:
You play the Skoog simply by physically interacting with it.  There are dynamic sensors beneath the Skoog's soft surface that respond to your every move, no matter how gentle or forceful you are feeling.  "By pressing, squeezing, rubbing, tilting, or shaking the Skoog in different ways, you control how the different instruments sound."
System requirements:
Mac OSX
Mac OS 10.4.11 or later
1 GB RAM
250 MB free hard drive space
Quicktime 7.1 or later
Java Runtime Environment
Headphone/line out
Color display and USB port
Windows
Windows XP SP3, Vista 7 or 8 with a minimum Pentium 4 or equivalent and 1 GB RAM
An ASIO-compatible soundcard recommended for optimum audio performance
250 MB free hard drive space
Java Runtime Environment
Headphone/line out
Color display and USB port