Podcast: Play in new window | Download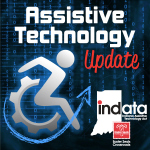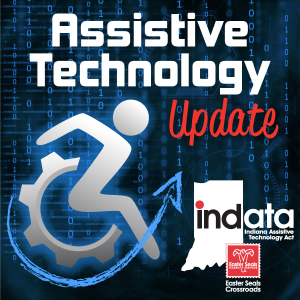 Your weekly dose of information that keeps you up to date on the latest developments in the field of technology designed to assist people with disabilities and special needs.
Teaching Accessibility with Larry Goldberg of Yahoo (www.TeachingAccessibility.com)
TOM | Google | UCPNB | Bay Area Makeathon | TOM GLOBAL http://buff.ly/1hMAkUU
Please email emergencyprepstudy@gmail.com or call (202) 994-1887 for more information!
Documents confirm Apple is building self-driving car http://buff.ly/1J4wQnf
Pain Management Apps for Children – Assistive Technology at Easter Seals Crossroads http://buff.ly/1Nlco7V
8 Linux distros for the blind and disabled http://buff.ly/1TTuBO0
App: Yes No Questions www.BridgingApps.org
——————————
Listen 24/7 at www.AssistiveTechnologyRadio.com
If you have an AT question, leave us a voice mail at: 317-721-7124 or email tech@eastersealscrossroads.org
Check out our web site: https://www.eastersealstech.com
Follow us on Twitter: @INDATAproject
Like us on Facebook: www.Facebook.com/INDATA
——-transcript follows ——
LARRY GOLDBERG: Hi, this is Larry Goldberg. I'm Director of Accessible Media for Yahoo, and this is your Assistance Technology Update.
WADE WINGLER: Hi, this is Wade Wingler with the INDATA Project at Easter Seals Crossroads in Indiana with your Assistive Technology Update, a weekly dose of information that keeps you up-to-date on the latest developments in the field of technology designed to assist people with disabilities and special needs.
Welcome to episode number 221 of Assistive Technology Update. It's scheduled to be released on August 21 of 2015.

Today we're going to talk about a program called Teaching Accessibility with Larry Goldberg who is the Director of Accessibility over at Yahoo. Also there's a make-a-thon happening in San Francisco about assistive technology; there's an opportunity for you to participate in an emergency preparedness study; there's some documents from Apple letting us know that they are going to be maybe creating a self-driving car; some pain management apps for kids; Linux distribution for people who are blind or have disabilities; and an app from BridgingApps.org.
We hope you'll check out our website at the www.eastersealstech.com, call our listener line at 317-721-7124, or shoot us a note over on Twitter @INDATAproject.
***
On September 11, 12th, and 13th in San Francisco, there's going to be a Bay Area make-a-thon for assistive technology. The question on the headline of the website is what if you could impact lives in just 72 hours? This is put on by Tom the tycoon maker, United Cerebral Palsy of the North Bay, and Google.org. Apparently a group of people are going to get together for 72 hours, and they're going to develop hardware and software prototypes are designed to help folks with disabilities. At the end of that, there will be a judge, a very esteemed panel of judges, who are going to math teams with the most promising prototypes that will enable them to take their next step towards making a real impact. Now, you apply to be a maker for this online, but the applications are closed at this point. At this point I'm going to suggest you go to their website, and I'll pop a link in the show notes, and check out everything they're doing, and then hopefully we'll have some results that we can report back later in the future episode of assistive algae update. I've never been part of them make-a-thon, especially one related to assistive technology, and I've just been intrigued and would like to be there. If you're going to the make-a-thon or are connected to them, give us a call, let us know, because we'd like to talk to you about that. Our number here is the 177217124. We might have you do an update on the make it on for our show.
***
The George Washington University in Washington, DC, is doing a little bit of research about how people with physical disabilities think about and prepare for disasters. They are looking for study participants who can spend some time either online or on the phone taking a survey. To qualify, you have to be 18 years or older, you have to live in United States, and you have to self-identify as a person with a physical mobility. And then you are asked to participate in an online survey or a call in. It says it will take about 20 to 30 minutes to do the online survey and about 40 minutes if you do it by phone. In exchange for your time, you're going to get a $10 gift card from Amazon, iTunes, or Target, and you're going to be givng some good giving some good information to the University to help with emergency preparedness. To get involved, you need to either send an email to emergencyprepstudy@gmail.com, or call 202-994-1887, and they'll send you more information. I'll pop the email address and the phone number in the show notes so that you can have them and maybe you will be a research participant about emergency preparedness. Check our show notes.
***
The headline from the Guardian reads, "Documents confirm Apple's building self-driving car." Now, we've talked on the show a number of times about the promise that a self-serving automobile might make for folks who are blind or have other kinds of disabilities. WWe'vee also talked about Apple technology here. There have been rumors that a project called Titan is something that Apple has been working on. Well, this article, which is a good read by the way, it reads like a spy novel almost, talks about a thing called GoMentum station, which is an old naval weapons station that's in California, and there are some documents that meet the folks over at the Guardian to believe that Apple is going to use that facility to do test driving on their self-driving car. Apparently it's a very secure, fairly remote, really big pace where such a thing could happen. I'm not going to go through the entire article here, but it is interesting to read about the different processes they've gone through to make these conclusions. They talk a little bit about Google and Tesla and Volkswagens and Mercedes-Benz who have been issued permits by the California Department of Motor Vehicles to test self-driving cars on the road. Apple has always been a very secretive kind of company, and so the fact that they aren't looking to do public road base testing isn't a surprise. Anyway, if you're into self-driving cars, or you're into the Apple rumor mill and some of those things, check out this article because it's interesting that there seems to be something condition that Apple is going to be test driving this project, and self-driving car. Check our show notes.
***
I'm the father to three kids, and I have to say from experience I can tell you that, sadly, sometimes our kids are in pain, so too with kids with disabilities. So Laura Medcalf, who is our social media content specialist and writer here at Easter Seals crossroads, has tackled this topic in a blog post named Pain Management Apps for Children. Laura talks about several different apps here.
The first one is called the Small Talk Pain Scale which is a free app that uses pictures of faces and those kinds of things to help a kid better articulate the amount of pain that they are in. Then there are a couple that are diaries to keep track of pain, especially chronic pain, to better communicate that with healthcare providers. One is called My Pain Diaries which is a five dollar app, and another one is called Pain Squad which is a free app that's also a diary sort of app. The last one here in Laura's post is called Achy Penguin, which is a way for kids to feel more empowered about their pain, and incorporates things like breathing and relaxation techniques, and the quote here says, "Pain is complex, and Achy Penguin is meant to be another tool to help when appropriate." I'm going to pop a link in our show notes over to this particular blog post, and I'm also going to encourage you to check out our blog at www.eastersealstech.com. We have new content there every day of the week, Monday through Friday. There's always something new, always something related to assistive technology there. If you haven't found that resource, it's a good one to have in your toolbox. Again, I'll pop a link directly over to this particular post on pain management apps for kids. It'll be right there in our show notes.
***
I have to admit, although Linux is something that I've dabbled in a little bit, I'm by no means an expert. But I was encouraged when a found an article over at opensource.com by Kendall Clark. The title is, "Eight accessible Linux distributions to try." The thing that I like about this article is it talks a little bit about the basics. So if you're somebody who is new to Linux, it talks about the process of burning and booting your Linux distribution, how to download a fusion, how to burn it, how to boot the image, and then he goes into some specifics about the particular distribution. They talk about ones that are focused on particular kinds of disabilities. So they've got three categories. One is specifically for people who are blind or visually impaired. The next are distributions with accessibility software built in; it just needs to be enabled. Another category of distributions that are primarily intended for users who don't wish to use a graphical desktop are those textbased distribution. I'll run down them here really quick. The first category the talk about Vinux and Sonar. And then in the next category they talk about Fedora, Ubuntu, Ubuntu MATE, Trisquel. And then in the textbased category, they talk about Talking Arch and Debian. And in each one of those categories, they give you some details about the nuances of one of those distributions. If you wanted to try Linux and you are interested in the assistive technology side of it, this might be a good place to kind of start and figure out what's going on there. To help you do that, I'll pop a link in the show notes and you learn more about these eight accessible Linux suspicions to try.
***
Each week, one of our partners tells us what's happening in the ever-changing world of apps, so here's an App Worth Mentioning.
AMY BARRY: This is Amy Barry with BridgingApps, and this is an App Worth Mentioning. This week's app is called Yes No Questions from I Can Do Apps. Yes No Questions is a therapeutic tool designed to work on answering questions presented both auditory and in writing. Five levels of increasing difficulty include answering questions about objects, color, shape, category, verbs, features, and comparisons. This app is designed in collaboration with a speech language pathologist. Yes No Questions from I Can Do Apps is ideal for parents, teachers, therapists, and individuals with language and/or cognitive disorders.
The app presents with real pictures of objects. A written question can be shown or hidden. A button is available for the user to touch so that the question can be read aloud. A green "yes" button and red "no" button is on each page for the user. Sounds or words associated with each of these buttons can be turned off or on. After 10 questions, a tally score is given for correct and incorrect responses.
This app was reviewed with elementary age children with developmental delays or autism. The children recognize the pictures due to the excellent quality of the photographs. They use the app without the therapist assistant after a short training period. The tally score at the end was very helpful for the therapist to keep record and for the children to see the improvement of their scores over time.
Available at the iTunes Store for $2.99, the Yes No Questions app from I Can Do Apps is compatible with iOS devices. For more information on this app and others like it, visit BridgingApps.org.
***
WADE WINGLER: I'm always excited when I hear that the world is paying attention to accessibility. Recently I saw a thing come across my email inbox called teaching accessibility. In my roles, that one of the things I like to try to do. I was super excited when I was able to make contact with Larry Goldberg of Yahoo who was involved in this project called teaching accessibility. He's joining me via the phone right now. Larry, are you still there?
LARRY GOLDBERG: I'm here. Great to be here with you, Wade.
WADE WINGLER: Good. Larry, thank you so much for carving some time out of your busy day to talk about this project. Before we jump into teaching accessibility, I know that you are not new to the accessibility field. Can you tell my audience a little bit about your background and how you got to this role at Yahoo?
LARRY GOLDBERG: It's kind of interesting. I come into this whole world from the world of video production and computers. Going way back to when I graduated college, I was in video production, didn't know anything about disability issues, but I did know that something called closed captioning existed. That was early because it happened to be the early '80s. WGBH in Boston was looking for someone to run their captioning division where not only were we inserting captions into PBS programs, but CBS, HBO, and even national network ads. Because I understood computers and televisions, I got the job. From there I spent 29 years with WGBH running the captioning group and the video description group, and then created an R&D group called the National Center for Accessible Media which got much more involved in policy and standards and even consulting with corporations on how they can make their products and services more accessible.
Throughout all that time, I got to know a lot of people in the disability world, began to learn a lot more about the needs and do a lot of needs assessments, met a lot of friends who are deaf or blind or impaired. Towards the end of my time at WGBH, one of my consulting clients was Yahoo. And as what happens in this world, the folks at Yahoo said would you be interested in coming on board this team that we are building up. They really needed someone to handle the vast amount of video that Yahoo provides to our users and try to make everything as accessible as possible. So it was kind of a match made in heaven.
Here on the Yahoo team we have what I might honestly say is the best, most experienced team on accessible technology. Alan Brackman and Gary Bolton who both started the Apple disability solutions group in the 80s. Mike Sebanic has our team. He came from Apple and basically was the developer of voiceover on both iOS and desktop. Darren Burton from the American Foundation for the Blind who handles a lot of our mobile app accessibility. So a pretty amazing team who have a combined experience of probably well over 100 years in the field.
WADE WINGLER: As somebody who's been in the field for over 20 years, I've been aware of your work and kind of know that you've pioneered a lot of things. I'm excited that you're taking that with you and heading such a strong team at Yahoo. So tell me a little bit about this new thing, this teaching accessibility project and how that became something you're involved with.
LARRY GOLDBERG: It's a very interesting genesis. It really starts about 15 years ago at the end of the Clinton Administration when the whole issue of web accessibility really came to the forefront, and the vast proliferation of web-based entertainment, information, and services. The Clinton immigration made an effort to get universities and corporations to really buy into doing a better job at educating their students and making better products. But then the administration ended, nothing really became of it, and over the years we came to realize — I was still in the nonprofit sector, but most recently joining a for-profit company — that while there is a wonderful, core group of specialists in the field of assistive technology and accessible technology, we still really need the broad population of people around our campuses to really know what we're talking about when we talk about a screen reader, when we talk about the Web content accessibility guidelines, or Section 508. It can't all be held among this expert group, because we interface with so many people. Yahoo's got tens of thousands of employees, and every day we are talking with them, and in order to do a better job of making what we do more accessible, we really need this baseline knowledge about accessibility, horizontal, really, instead of vertical over the specialists, horizontal across the tech environment.
So I was having a conversation with Jeff Weland from Facebook about this issue. They were feeling exactly the same pain point. As it turned out, so is Google, so is Microsoft, so is Comcast, so many other companies where they've hired a few really excellent accessibility specialists, but day in and day out we are interfacing with people who we have to start them at zero, give them the basics and then begin working on the products.
Tracing it back to the roots of how we can do better, we realized all of our new hires, these young people coming out of universities all of the country, they are not really getting this in their basic core curriculum in the sciences, computer programming, computer science, human computer interface. How can we work with the universities so that they begin teaching a wide swath of students at least the basic about this, so that when we do our hiring, we will find the base knowledge there in the population.
Universities, many of them doing excellent work in the field, many of them are part of this project. They are generally somewhat siloed and the courses that they do teach on accessibility, maybe one course, maybe an elective, maybe a seminar. We are trying to make this across the board, and we talked to our friends in academia, they said we could use some incentives. If industry said we will hire people, we will focus on people who have that base background, like industry had to do around privacy issues and security, as technology changed, industry put demands in academia. So we said if we can put an accessibility demand on academia, they will respond. It's almost like a market pressure. So we came up with this job description initiative, and we decided that if we ourselves, an industry, can commit to putting a line or two in our job description for various tech positions, across the board, preferences or requirements for accessibility knowledge and skills, experience working with people with disabilities on their input and output alternatives, maybe we really could affect a change here. It happened, and we launched it just before the celebrations for ADA 25, and already we are seeing some great results.
WADE WINGLER: And with your information there, I've got a million questions in my head right now. I want to start with a couple of the players in the group. You mentioned Facebook and Google and others. Are they some of the active partner organizations and initiatives?
LARRY GOLDBERG: Yes, they are. We set up a website called TeachingAccessibility.com, and on that website you will see a list of supporters and people who are actively involved from the American Association of People with disabilities, Adobe, AT&T, Carnegie Mellon. Alphabetically you go down the list, as always Yahoo's last because alphabetically that's where we are. But you'll see Microsoft and LinkedIn and Intuit. This was a very rapid turnaround project. We came up with the idea just a few months before launching, and people just grabbed it. They said it makes so much sense. It wasn't really a heavy lift for the companies to make a few changes, and now we have to educate our hiring managers so that when they are interviewing a new perspective higher, they know what questions to ask about accessibility and what the answer should be. That's sort of the next phase of the process as these new job descriptions go online.
WADE WINGLER: That makes a ton of sense. It sounds like an all-star cast of people who can get the wheels moving and make some meaningful impact. Tell me a little bit about why colleges might be the right place to start with this initiative. Should we be starting younger? Should we be working with people who are already practicing in the field of doing design and development?
LARRY GOLDBERG: Of course that would be great. Just like in the major push towards STEM education that we hear all about, absolutely the initiative was to start as young as possible. My own son has been inundated with accessible technology issues since he was born. But I think that to start somewhere, some focus for ourselves, and knowing that a number of universities are already doing this. And then some of the concepts are a bit advanced in terms of how to design for accessible webpages or mobile apps. We thought the universities would be a good place to start. It is, in fact, where the Clinton administration actually started themselves in reaching out to the major research universities. And because many of the universities already have something going on. There are some amazing, dedicated professors within Olin College and RIT and Stanford and elsewhere that are already doing some of this. Also, of course, you try to get your arms around higher ed. I don't know how many colleges are teaching these issues, but think about then trying to do that for all of high schools in this country or further down in grammar schools. It's a bit daunting. So, yeah, I think maybe we'll have a trickledown effect eventually, but I think we'd be happy if we can effect change in the undergraduate curriculum over the next few years.
WADE WINGLER: I think that makes a ton of sense, especially if you're talking about the university's role in preparing people for employment and breaking that world impact. It's kind of interesting. I'm looking at the website right now, and in the job description sections, I see these live, well done job descriptions. At the moment there are some from Facebook and Lincoln and Sanford and others, and I'm seeing the words, I think for the first time, UI design principles and accessibility best practices as a requirement for a software engineering job. And another one, it talks about skills with accessibility and usability as a preferred qualification.
LARRY GOLDBERG: Isn't that amazing? We've never seen that before. A secondary effect, and really wonderfully secondary, is if you are a good candidate for these jobs, and you read the chapters caption and have never heard of the accessibility and don't know what that means, right then and there, we will get a lot of people to start looking at the W3C website and doing web searches, and right there we are going to create anything mabe a viral effect where anyone who wants one of the jobs, if you're smart, you actually look into this. Right there you get an education.
WADE WINGLER: You might even create some WCAG watercooler talk.
LARRY GOLDBERG: Exactly.
WADE WINGLER: That'll be great. Larry, tell me about the long-term goals. How do you know when this has been successful? When do you call this project a success?
LARRY GOLDBERG: It might be a generational change. Maybe we'll go a little faster. It's funny, because [Inaudible] public/private partnership for industry and academia, folks in industry wants rapid change. They want some very near-term goals. These job descriptions, that turned around in a couple of months. In academia, we know things move more slowly. Changing the base curricula in these courses is a process. The ACM and other accreditation organizations take this up over many, many years, some of which has already started. But we won't see change — let's just say in one year, some of these universities actually start teaching these and entry courses, mainstream courses that anyone has to take, and some of our job descriptions are being noticed, our intake interviews include discussion of accessibility. The great goal for us will be that we sit down with an engineering team that's developing a new app, and we raised the issue of accessibility, and one of these new young hires says, oh, yeah, I learned about that in college. So if I just quoted this, this, and this, it'll pretty much work with voiceover, right? And we'll all have a party right then and there.
WADE WINGLER: Absolutely. I'll be joining in with that. That sounds great. Larry, if folks want to learn more about the accessibility media project, what's the website again? What kind of contact information? Where should they start?
LARRY GOLDBERG: That would be teachingaccessibility.com. There is a twitter feed @TeachAccess. The Yahoo Tumblr feed, YahooAccessibility.tumblr.com. All those places will be posting news and information. Those position descriptions you were looking at our on the website, and more and more will be added. We've got a lot of in the news articles will be adding the next day or so. Your show and many others are taking notice of this, starting with the Washington Post who broke the story originally, and many others, so we'll be posting links to those articles. As people look at that, there's also, if you go over to the twitter feed, you will see we actually have a Gmail address. We ask people if they're interested to write to us at teachingaccessibility@gmail.com.
WADE WINGLER: Larry Goldberg is the director of accessible media at Yahoo and today has been taking us to school on teaching accessibility and that new initiative. Larry, thank you so much for being with us.
LARRY GOLDBERG: My pleasure, Wade.
WADE WINGLER: Do you have a question about assistive technology? Do you have a suggestion for someone we should interview on Assistive Technology Update? Call our listener line at 317-721-7124. Looking for show notes from today's show? Head on over to EasterSealstech.com. Shoot us a note on Twitter @INDATAProject, or check us out on Facebook. That was your Assistance Technology Update. I'm Wade Wingler with the INDATA Project at Easter Seals Crossroads in Indiana.