Both Android and iOS devices offer accessibility features for visually impaired users, such as TalkBack and VoiceOver.  With these features enabled, consumers with visual impairments are able to navigate their phones with the phone talking to them, letting them know apps they have access to and more.  Though such accessibility features are beneficial, they may be a little overwhelming for some users.  This is where the benefits of BlindShell come in.
In sum, BlindShell is essentially an app for Android phones that provides a simple interface with the most essential functions like:
Calling
Texting
Alarm
Notes
Calendar
Contacts
Voice recorder
Color recognition
Money recognition
Book reader
Magnifier
Within BlindShell, any text uploaded to the phone can be read aloud to the user.  Individuals may also download books from the accessible online library, Bookshare, and have them read aloud anytime.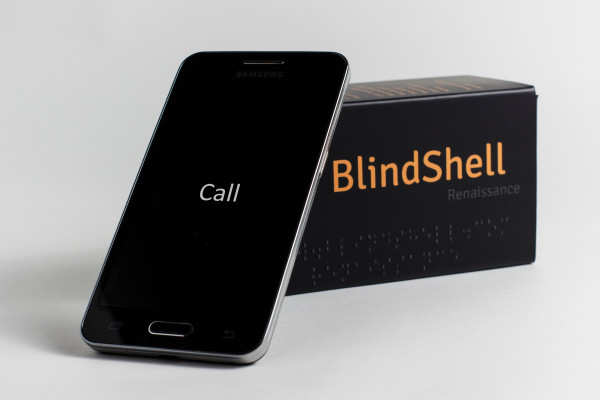 How to use the BlindShell App:
1.  BlindShell runs on Android as a launcher app to replace the standard user interface with the new, minimalistic one.
2. The BlindShell app is operated using basic touch gestures:
A short tap on the left or right side of the screen moves between menu options
A long touch confirms a choice
A short tap with two fingers can stop the screen reader and have it repeat the information, or can give information about an incoming call.
A long touch with two fingers moves a user to the previous screen
Quick one finger swipe up from the bottom of the screen to the top opens the State Information application.
The sixth gesture involves holding one finger on the screen and tapping the second finger "N times, anywhere on the screen.  The item that is in the Nth place in the list is chosen.  This is most useful for writing an SMS or a note with the built-in keyboard."
3. Everything occurring on the screen is read by a text-to-speech synthetic voice with tactile and audio feedback.
The BlindShell application can be downloaded from the Google Play Store as a free 15-day trial.  Click here to download the full version.