For some children, especially many on the autism spectrum, learning how to behave appropriately can be rather challenging.  Individuals at The Developmental Garden acknowledge this fact and aspire to help children succeed by developing helpful resources, such as the Give Me 5 app.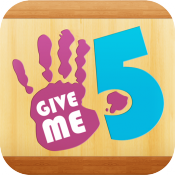 Give Me 5 is a social skills learning app available on both Android and iOS platforms.  Within the app, children will learn about 8 different categories of social skills by answering questions about social situations presented in brief video clips.  The videos demonstrate everyday, relatable scenarios and are designed to "help children analyze social situations by looking for key social cues in these scenarios."
Give Me 5 is presented in an interactive, engaging way.  In addition to viewing the video clips, children can also choose a virtual friend to play with, take a picture of themselves, and record their own voices saying "Give Me 5!" or other encouraging words.  By choosing the correct response, children are provided with a deeper social understanding.  Upon completing all 5 videos in all 8 categories, they are rewarded with fireworks!
8 categories of Give Me 5:
Manners
Words
No words
Understanding others
Understanding me
Calming feelings
People and places
Big picture
The company has also released a board game version of Give Me 5, which is available on Amazon.  The board game is a fun way for children to learn "through analyzing social scenarios, using visual cues, role playing, and problem-solving."
To learn more about this app and more, visit The Developmental Garden website.