"If you want your children to start adopting certain habits such as tidying their room or putting their slippers away, they must first learn which is the right place to store those objects.  Once the children have acquired this knowledge, we will be able to assign them small responsibilities."  Such skills can be learned through the fun Alex Learns to Sort app developed by Didactic Apps!
Alex Learns to Sort is an exciting app that aims to develop one's logic, attention and concentration, all while having fun categorizing objects in the shortest amount of time.  Within the app, children will sort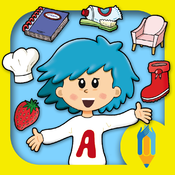 stationary or moving objects.  How fast a child needs to categorize each object is customizable according to each child's ability and age.  "This way, the app will help children to improve find psychomotricity as well whilst learning lots of new words… in 5 languages! (English, Spanish, French, German and Catalan.)"
Features of the Alex Learns to Sort app:
Children can begin to develop logic and classify objects into the appropriate categories.
Children can learn a lot of new words in different languages and obtain basic skills and knowledge.
There are 5 scenarios present within the app to teach sorting in a fun way!

Clothes: Clothing will need to be organized according to the weather
House: Children will start to adopt habits (e.g. putting things where they belong).
Places: There is a designated place for each action.  Children may learn certain actions are appropriate in a certain place, but not acceptable in another (e.g. especially for socialization).
Food: Food will have to be identified, laying the groundwork for a healthy diet.
Professions: Children approach the world of professions by identifying typical objects of a fireman, doctor, or a chef.

The app also works on fine motor skills.  There are four speed levels available to adapt for each child's age and ability.
The game is designed to work on attention and concentration.  "Although the game is designed to develop the skills of children in general, is a great help for children with disorders of attention with or without hyperactivity (ADD or ADHD) and autism spectrum disorders (ASD)."
Also includes helpful tips for parents.
The app is available on both iOS and Android platforms.