When it comes to writing, many students are rather uninspired.  The developers behind the Write About This app acknowledge this fact and have thus designed an app to spark one's creativity to encourage writing for students ages 8 and up!
The Write About This app, in sum, is a visual writing prompt and creation platform.  It was designed with children in mind so it features easy-to-use icons and a child-friendly privacy policy.  According to Common Sense Media's review, the app's "prompts and images are appropriate for all ages, with increasing depth and complexity at higher levels."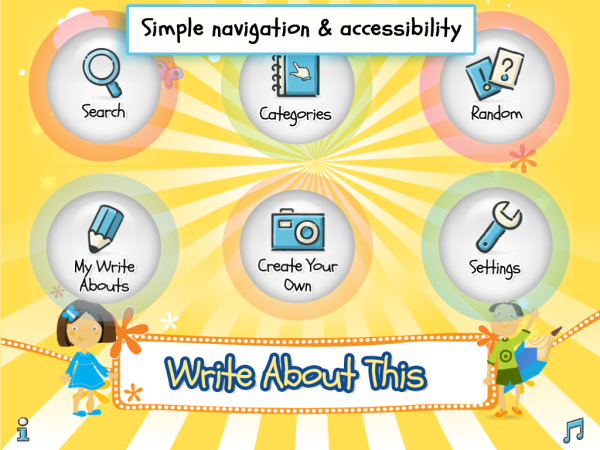 More features of the Write About This app:
Ideal for use in classrooms or at home
Developed by a teacher
Customizable for each student
Easy digital publishing and sharing:

Share PDF via email or save to device's Camera Roll.
Authors can also create a voice recording with their work to create a personalized movie on the Camera Roll.

The voice recording feature is ideal for struggling writers to get their ideas out verbally as a pre-writing strategy.

Prompts include:

Fiction and non-fiction narratives
How-to
Persuasive
Compare/contrast exercises

Students can take pictures of an event, for example, and use that image as their writing prompt!
Aligns with Common Core standards
There is a free version available to try the app out before purchasing it, but it has limited features.  The full version of Write About This offers the following, while the free version's features are followed in parentheses.
125 images (1 per category)
375 writing prompts (3 per category)
Write Abouts: unlimited (1)
Create Your Own: unlimited (1)
Author Profiles: unlimited (1)
Export to Camera Roll: unlimited
Voice Recording: unlimited
Searchable database: 1200+ keywords (none)
To learn more, visit the Write About This app's website or check it out on iTunes!