Podcast: Play in new window | Download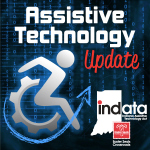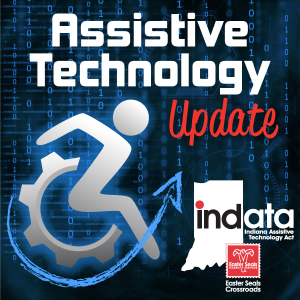 Your weekly dose of information that keeps you up to date on the latest developments in the field of technology designed to assist people with disabilities and special needs.
233-11-13-15- iFocus at Hadley School for the Blind and Assistive Technology
Show notes:
iFocus at Hadley School for the Blind and Assistive Technology | www.hadley.edu
NCD's recommendations on accessibility of self driving cars: http://buff.ly/1GX9qoN
Udemy | www.BridgingApps.org
Audrey Busch's legislative update | www.ATAPorg.org
——————————
Listen 24/7 at www.AssistiveTechnologyRadio.com
If you have an AT question, leave us a voice mail at: 317-721-7124 or email tech@eastersealscrossroads.org
Check out our web site: https://www.eastersealstech.com
Follow us on Twitter: @INDATAproject
Like us on Facebook: www.Facebook.com/INDATA
——-transcript follows ——
DOUGLAS WALKER: Hi, this is Douglas Walker, and I am the Access Technology Instruction Specialist at the Hadley School for the Blind, and this is your Assistance Technology Update.
WADE WINGLER: Hi, this is Wade Wingler with the INDATA Project at Easter Seals Crossroads in Indiana with your Assistive Technology Update, a weekly dose of information that keeps you up-to-date on the latest developments in the field of technology designed to assist people with disabilities and special needs.
Welcome to episode number 233 of Assistive Technology Update. It's scheduled to be released on November 13 of 2015.

Today I talk with Douglas Walker over at the Hadley School for the Blind about their services and focus on his iFocus program. We've got a fascinating story about the accessibility of self-driving cars; a thing about you to me from BridgingApps; and our regular update from Audrey Bush talking about what's happening on the hill in Washington DC.
We hope you'll check out our website at www.eastersealstech.com, shoot us a note on Twitter @INDATAproject, or give us some feedback on our listener line. The number is 317-721-7124.
***
From our friends over at RESNA, I just learned about and read a set of recommendations from the National Council on Disability about self-driving cars. It's called "Self-driving cars: mapping access to a technology revolution." The thing is about 40 pages, and it really breaks down a number of the disability related issues that are involved in self-driving that are coming down the road. They refer to them as autonomous vehicles, or AV's here in the report, and the talk about the tremendous amount of independence that might come when we get to a situation where cars basically drive themselves and do so safely whether that's next week, next year, next decade, I'm not sure.
In the report, they even talk about the love various levels of autonomous vehicles and how we are kind of there already. There are some cars that will watch for lane change problems or even self-parallel park, so there is some level of automation coming. They describe different levels up to the highest level of automation where the car fully drives itself in a safe way. I think that's still very prototypical and not available yet, but they are talking about it.
In this report, to talk about a lot of interesting things, like drivers licensing at the state level. If there were a completely and fully automated vehicle, would the driver really be a driver or would they be a passenger not requiring a license. The idea is that there are people with disabilities who can't get a driver's license now due to vision or other kinds of changes, but if it were a fully automated vehicle, would you even need a license? How to handle that? They talk about risk management and liability, the issues of auto insurance providers and their willingness to provide car insurance to people with disabilities who hadn't been driving before but might with an autonomous vehicle. They talk about changes to technology infrastructure that might be required, changes to the road or highway systems to make autonomous vehicles work a little bit more. They talk about software security and privacy. They talk about what happens in a situation where the equipment fails or is not reliable and how does that work. They even talk a little bit about the accessibility and how assistive technology might interface with an automated vehicle. You think about GPS and how you would find your way. Assistive technology really needs to work with those automated vehicles.
It's a fascinating read. It's not too governmental-wonky language. I found it fascinating and interesting and fairly easy to read. I'm going to pop a link in the show notes over to the National Council on Disability's website. It's a PDF file there. I'll just link right to the PDF file and you can check this out for yourself and learn more about what accessibility concerns there might be as we move into a world where cars drive themselves.
***
Each week, one of our partners tells us what's happening in the ever-changing world of apps, so here's an App Worth Mentioning.
AMY BARRY: This is Amy Barry with BridgingApps, and in this week's segment I'm sharing a free educational online course worth mentioning. The course title is Getting Started with Mobile Devices for Special Needs, and it is available at Udemy.com.
Thanks to a grant from Udemy, BridgingApps has launched a free course for parents, caregivers, teachers, therapists, people with disabilities, or anyone who needs access to information to assist with setting up a mobile device for success. The goal is to empower people with disabilities and their support teams to learn about options for preparing and protecting mobile devices by being informed of appropriate accessories for users with special needs. This step-by-step guide includes tips for getting started, helping individuals access their device, accessories, safety, and more. You'll learn through a combination of video lessons, real-life examples, and case studies. There is also some really excellent supplemental material. We are confident that you will enjoy this course, and we encourage you to please share this with anyone who could also benefit from the information.
The getting started with mobile devices for special needs course is free at Udemy. To take the course on your computer, you go to Udemy.com and search "mobile devices special needs." Udemy also has an app for Android and iOS devices so you can even take the course on your mobile device. For more information on this training course and others like it, visit BridgingApps.org
***
WADE WINGLER: It's time for on the Hill with Audrey. Audrey Busch is the Director of Policy and Advocacy for the Association of Assistive Technology Act Programs. In her update, she lets us know how the power of politics is impacting people with disabilities and their use of assistive technology. Learn more about Audrey and her work at ATAPorg.org.
AUDREY BUSCH: This is Audrey Bush, Policy Director for the Association of Assistive Technology Act Programs, coming to you with your monthly Washington update. October was a busy month for Congress who was forced to make decision on several key issues that included increasing the debt limit, which was scheduled to expire on November 3; the election of a new speaker of the house; and overarching budget issues.
To many's surprise, Congress resolved each of these issues. In fact, Congress struck a bipartisan budget deal days, not hours, before the deadline of when the debt limit was scheduled to expire. This ahead of schedule, out of the ordinary budget deal came from the leadership of former speaker of the house John Boehner in collaboration with the Senate and the White House. In a nutshell, the deal raises the debt limit until March 15, 2017, and increases spending for both domestic and defense programs over the next two years by 80 billion dollars, which is intended to be equally split among the two categories, quite an impressive number in such physically strained times.
To much surprise, there's actually more. Congress resolved the issue of a potentially bankrupt Social Security disability insurance program as well, which was scheduled to run out of funds in 2015. It actually extended the program's solvency through 2022 by taking money from the Old Age and Survivors Insurance trust fund. Congress and the White House even came to turned on how to pay for the spending. How novel is this? The offsets will come over the next 10 years and include 11 billion dollars in new tax revenue from stronger tax compliance measures. And moreover, the single largest offset comes from extending sequestration for one more year into 2025. With a deal in hand, Congress ran it through their legislative process and passed the bill, sending it right over to the White House for signature by the president.
While simultaneously taking on federal budget challenges, the House GOP settled on a new speaker of the house and officially nominated Paul Ryan, a Republican from Wisconsin, who took the gavel and was greeted with much applause, stating "We are not selling scores; we are wiping the slate clean." Ryan won 236 votes among the chambers 247 Republicans to be elected speaker. It seems to be a new day in Washington with renewed hopes of progress in collaboration, but while progress was made, there is still no final fiscal year 2016 budget. Therefore, the next deal needing to be made is a final budget to keep the federal government operating. As always, there is lots of politicking and maneuvering happening in Washington, so stay tuned for the next Washington update to hear the latest happenings in our nation's capital.
***
WADE WINGLER: So I've been working in the field of assistive technology for a while, and I know that Hadley is a name that has been there from the very beginning, and the Hadley School for the Blind is a hallmark organization that really has been a leader for many years when it comes to services for folks were blind or visually impaired and assistive technology. So I thought it would be really good idea for you guys in the audience to learn more, if you don't already, about what's happening at Hadley when it comes to assistive or access technology, and I was fortunate enough to be connected to Douglas Walker who is the Access Technology Instruction Specialist at the Hadley School for the Blind. We have him on the line today. Douglas, how are you?
DOUGLAS WALKER: I'm great. It's great to be here.
WADE WINGLER: Thank you for taking time out of your busy day and probably out of providing some important services. I'm sorry to interrupt that. I want to know a little bit about you and your job and your role and how you got to the place that you are there at Hadley. I'm going to ask a lot of questions about Hadley.
DOUGLAS WALKER: I'm actually a consumer of assistive technology myself. I am legally blind. I have what's known as Best Disease; I jokingly say it's not necessarily the best thing in the world to have. It's a form of macular dystrophy. It's an inherited disorder. I hover between 500 and 2700 vision. I use a combination of enlargements as well as screen reading software throughout the day depending upon how my vision fluctuates during the day.
I've been at this for a while. I've been working in the field of visually impaired for the last 25 years. I've had different roles as I've gone through this. I hold an undergraduate in elementary at from the University of Alabama at Birmingham. I've got a graduate degree from Vanderbilt University as a teacher of the visually impaired. I hold a certificate from California State University Northridge in assistive technology. So I've been doing this for a little while.
I started actually teaching at the Tennessee School for the Blind in Nashville and worked there as an elementary teacher with heavy emphasis on assistive technology there. I ended up working as an itinerant mission teacher for a while as well and ended up working back at the Tennessee School for the Blind as their outreach technology consultant. In that role, I sort of did technology workshops for teachers of the visually impaired on a wide array of different types of assistive technology and sort of grew from there.
I've always been a huge fan of the Hadley School for the Blind, and about four years ago applied for a job as an assistive technology instructor there. I got the job and sort of have had an evolution of what I do there.
I started out at Hadley as an instructor of assistive technology there and taught all — we have eight courses on assistive technology at Hadley. I actually taught all of the course work there as well as — I don't know if you are familiar with our Seminars at Hadley. Seminars at Hadley, we've had quite a bit of success at Seminars at Hadley. We do seminars on just about everything from cooking to fishing to woodworking, anything you can imagine with assistive technology. This year we've had technology seminars on Facebook and Twitter and all those kinds of things. Sort of started doing that as well for Hadley.
Of course, we, like everybody else, started getting a lot of feedback on the need for more assistive technology on the iDevice stuff and Apple products. Our feedback kept asking for more and more seminars on this. So what we did was we decided to have a quarterly iFocus seminar. We've been having that for — goodness, next week I have my 12th one coming up, so we've been at that for three years. What we decided to do was cover four different topics in each of these seminars.
We do have quite a bit of a following amongst our students and amongst professionals in the field and of vocational rehabilitation agencies and people at the Veterans Administration and stuff like that. All of our consumers of our seminars are not necessarily totally blind. Of course we know that even if you are considered legally blind, you might have some usable vision as well. A lot of our feedback after our seminars, because it is an audio driven seminar only, was requesting that there was some kind of visual component for this. What we did was we decided to launch Videos at Hadley and the iFocus video instructional series.
What these are, they cover these four topics that we do. They mirror those. They are sort of like companions to the topics that we do during our seminars. They are videos on how to use — we started with just the most basic of the iPhone and iPad, and we're trying to hang close into just iOS for now. We have the videos that we do, and they usually last between 15 and 30 minutes, but we are able to go a lot more in depth with the videos. The videos are done in a way so that even if you don't have any vision at all, you're able to follow exactly what's going on, so you don't lose any content. If you have some vision, you get that extra visual bump to help you sort of know where you are in the screen or no visually what's going on. Because I know for me that even though I use screen reading software, I'm going to want to use the vision that I have two sort of explore the screen as well.
We've had some success with this. Last year we posted — we were able to get 30 videos up on YouTube. That's where we started with this. We did that initially to try to get more of a global footprint. We are really happy we do this because when we went and sort of ran the analytics on YouTube, we found that we are being viewed in over 25 different countries, which is pretty great. This has even broadened our reach even more. I think we are up to around 50 videos now.
Like I said, we primarily just hung towards doing the basics on the apps that are on the iPhone; however, we did start stepping out of that this past year. We did one on KNFB reader as well as Voice Dream reader and Dropbox. So we are starting to sort of step out of just — maybe for lack of better word starting to focus on blind specific apps as well. So we are looking forward to next year and even evolving into more. We still want to hang — anytime there is an update or change on the phone, there's going to change some of our videos. This next year there is probably going to be a revamp of a lot of our videos with changes of iOS 9. We'll also be adding additional topics as well.
I no longer teach the course work. I'm just over the videos and the iFocus seminars and the scheduling outside presenters for our seminars, so sort of where I stand right now with Hadley.
WADE WINGLER: My first question is, Douglas, when do you sleep? It sounds like you've got a whole lot going on there.
DOUGLAS WALKER: A whole lot going on there. And I also teach in the Vanderbilt vision program on the side which I'll be doing tonight. Yeah, I'll have to stop around. Sometimes I meet myself coming around the corner. It's all good. It's exciting. I'm sort of a type A personality, so I don't need much sleep.
WADE WINGLER: I've always said that if I didn't have to sleep I wouldn't because there's so much good stuff to do.
DOUGLAS WALKER: And it's fun. I'm all about that. If we could find a way around sleep, that be great. I just keep on going.
WADE WINGLER: I'm going to come back to some questions about the iFocus seminars, but can you backtrack with me a little bit? For the folks who aren't familiar with Hadley, can you give me the elevator speech about how Hadley's history and how Hadley became interested in assistive technology? And then we'll come back to more specific stuff.
DOUGLAS WALKER: Hadley has been around since 1920. Hadley has always been distance education. We started out as braille and are still very dedicated to braille. As a matter of fact, we are revamping all of our braille coursework now and will be totally UEB coming in the new year. We are still very dedicated to braille and braille instruction.
Several years back, we really started doing technology coursework as well and launched all of our online coursework. So we still have a number of courses, and those have evolved over time. We have everything from developing your technology toolkit. Internet basics, which is in the process of being revamped. I'll be talking more about that in a meeting tomorrow. I think we have Larry Lewis coming in. You are probably familiar with Larry. He's going to be helping with revamping that course. We have our typing and keyboarding courses for teaching the very basics of how to actually keyboard, all the way up to more advanced stuff like using Excel.
In the course work — and I taught most of these courses. Our coursework is done in a way that takes you step-by-step through the courses. People sometimes are really intimidated by something like Excel, but it's done in a way where you don't have to be a math whiz, and it's step-by-step. By the time you actually finish that course, you really have a good grasp on how to do Excel and can sort of take it on from there. We also have courses like formatting Word documents, which is really great for getting some more advanced skills on being able to format your documents if you work in a professional setting and are using Microsoft Word. These are all developed so they work well with screen readers as well as magnification software. We also have screen readers listening skills which is really a fantastic course for teaching a person how to use a screen reader, be able to sit at a desk and interact with colleagues at the same time that they are answering the phone. It's really a cool course. We have a wide range.
We have a brand-new course as of last year called Web Browsing Basics that teaches both in low vision and a screen readers how to get the basics of getting on the web and what combo boxes are and how to interact with combo boxes and how to deal with ads and all this kind of stuff on the website. It's really great course here. The newest one launched what Strategies to Connect with Social Media, so that talks about Twitter and how to use Facebook and other kind of stuff.
That's just the technology aspect that we have. We also have a full-blown high school program so that you can actually get your high school diploma, which is big, because we know that all of our coursework, whether it comes through the mail or online course work is going to be totally accessible, and it's not always easy to find accessible math coursework or social studies or sciences of like that. Ours is going to be accessible. We also have a family education program. This is for helping family members not only learn more about the field of blindness and what a person might be doing that is blind and to actually be able to help the person out. So if you have a child or maybe a parent that is newly blind, so we have a family education program that can be a huge help there. We also have our professional studies programs, so if you are a professional in the field, maybe a voc rehab agent or you work for a voc rehab agency, or if you're a teacher of the visually impaired, we have coursework that will benefit you as well.
The newest program we have added is our new Low Vision Focus at Hadley. We've actually launched a website just for the Low Vision Focus. That's exciting. We have some really great videos and audio that has been added to the website that teach all sorts of aspects of coping with daily living stuff for newly blinded or people that are new to the world of low vision. We know that in increasing population with our baby boomers and everything right there. It deals with how to label things and how to safely do stuff like that in your home. That's really a cool program that we have there.
That's the basis of what we offer. I've already talked about Seminars at Hadley, which is fun because I'm heavily involved in that. I'm serious, if you haven't checked that out, we archive all of our seminars on our website as well as offering them as podcasts from iTunes. Check those out, because we cover everything from cooking to fishing to you name it.
WADE WINGLER: It sounds like your audience is beginner and more advanced, that you're offering lots of different formats and topics. We've got about a minute left in the interview here. One of my first questions before we move on is what's the cost to participate? If people want to learn more and find out how to get connected to these things, how should they do that?
DOUGLAS WALKER: If you are legally blind, there's absolutely no cost for any of our coursework. It's absolutely free. I jump on anything out there that's free. You can find us by going to the Hadley website at www.Hadley.edu. That's where you can go and browse through and get familiar with the courses that we do have, everything that we do offer. You can find our Seminars at the Hadley link there as well if you're interested in listening to our live seminars or even our archived seminars that we might have. You can find our iFocus videos by going to www.youtube.com/hadleyschool. There's actually an iFocus list on our YouTube channel there. You can also find those on our Hadley website. There's a Video at Hadley's link on our homepage. Or if you want to go directly to our instructional videos list, you can find that by going to www.Hadley.edu/instructionalvideos. That's a lot about Hadley. A little bit about us, where to find us, and we've got a lot going on. There's a little bit there for just about everyone for sure.
WADE WINGLER: Douglas Walker is the Access Technology Instruction Specialist at the Hadley School for the Blind and has been our guest today. Douglas, thank you so much for all this great information. I hope that folks will be reaching out to you.
DOUGLAS WALKER: I hope so. We look forward to seeing you on our Hadley website and having you as students and participants in our videos and seminars and any of our courses. Thank you for having me today.
WADE WINGLER: Do you have a question about assistive technology? Do you have a suggestion for someone we should interview on Assistive Technology Update? Call our listener line at 317-721-7124, shoot us a note on Twitter @INDATAProject, or check us out on Facebook. Looking for a transcript or show notes from today's show? Head on over to www.eastersealstech.com. Assistive Technology Update is a proud member of the Accessibility Channel. Find more shows like this, plus much more, over at accessibilitychannel.com. That was your Assistance Technology Update. I'm Wade Wingler with the INDATA Project at Easter Seals Crossroads in Indiana.