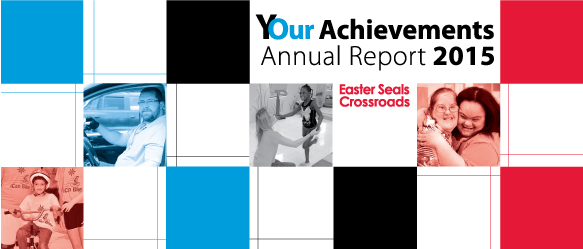 Easter Seals Crossroads is dedicated to serving our community in a myriad of ways.  Please take a few moments to view the following video demonstrating all the amazing things we do every day!
Overview of Easter Seals Crossroads:
Easter Seals Crossroads responds to the many adults and children with disabilities, special needs and challenges who depend upon us to improve the quality of their lives.
We help children achieve their full potential at play and at school;
We help young adults transition from high school to work;
We help individuals gain independence through community day supports;
We help adults maximize their skills and abilities through employment and assistive technology;
We help veterans transition back into their communities
And we maintain an Industrial Services division that employees persons with disabilities to generate an income to support our services.
Why Donate to Easter Seals Crossroads?
Donations help us assist children and adults achieve their goals. Our values of quality, respect, integrity and service guide us in the responsible usage of donations. Your contribution — either through a donation, a volunteer activity or the purchase of a ticket to an event — stays local and supports our mission to promote inclusion, independence and dignity for the many people whose lives are affected by disabilities or special needs.
Further, donations to Easter Seals Crossroads are used for mission critical services; children's therapy and autism programs; school-to-work transition services for young adults; and employment programs for adults and returning military veterans. Contributions also support camp scholarships so we can reach more families with special needs.
Click here to find out different ways you can donate to Easter Seals Crossroads!