Last Wednesday, I wrote Part One of the series of blogs entitled Holiday Gift Guide 2015 featuring 8 auditory gift ideas.  As promised, throughout the next few weeks, I will be providing different lists of gift ideas for loved ones with (or without!) special needs.  This week's list focuses on toys to help develop fine and gross motor skills.
Since we live in such a connected world where a majority of our time is spent staring at screens, I wanted to provide affordable toy options to help get the kiddos away from screens!  I hope these lists help reduce your stress this holiday season so you can enjoy the holidays!  And just in case you were wondering…
36

days until Christmas!
6 Holiday Gift Ideas $30 and Under:
Motor Skill Development
Ages 4+
Overview:
Shelby the adorable pug took a day trip to the beach.  While on her trip, she buried bones in the sand and needs your help gathering them!  In this number counting game, children will have fun taking turns using the Shelby Squeezer to fill their dog bowl with bones.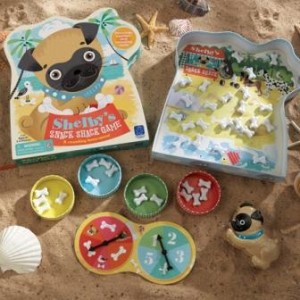 Whoever digs up the most bones wins!
Benefits:
Exercises fine motor skills and hand-eye coordination
Visual lesson in number recognition, counting, and basic adding and subtracting
Simple to play and understand
Quick, fun game that can be played over and over in short time span
Easy setup and cleanup
Ages 4+
Overview:
In the exciting game of Pancake Pile-Up, children have fun pretend-working in a diner.  They help customers by racing the other servers to the grill, relay-style, to stack and serve the pile of pancakes matching their menu cards.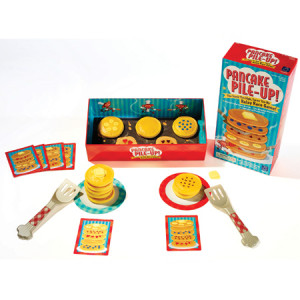 Benefits:
Develops gross motor skills, balance, and coordination
Teaches sequencing, a basic math skill
Encourages social skills from teamwork to being a good sport
 Fun and physical–great energy outlet!
Ages 4+
Overview:
Puppets-on-a-Stick inspire imaginative play with colorful durable puppets!  While the name hints at a simple toy, it is actually an award winning product.  The original, award-winning trio features: Lex (Orange), Kai (Green), and Fez (Purple)!  Children will have fun with this trio creating puppet shows, YouTube videos, and more.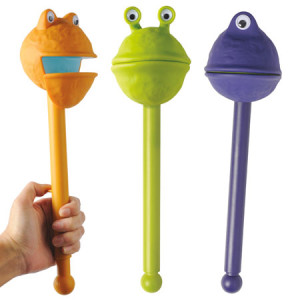 Benefits:
Encourages self-expression
Inspires peer interactions while boosting confidence and self-esteem
Inspires dramatic and creative play
Develops communication skills
Ages 6+
Overview:
"It's not rocket science–it's centrifugal force!"  In this frantically-paced space race, players spin their saucers fast enough to lift and transport their fuel balls from the launch pad to the Mother Ship.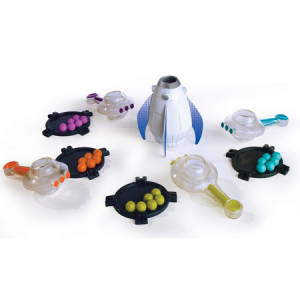 Benefits:
Develops hand-eye coordination
Enhances fine motor skills
Introduces scientific concept of centrifugal force
Fun for the whole family!
Ages 4+
Overview: 
Crazy Cereal is a new electronic game where two players grab a spoon and watch the scoop of the spoon magically change colors!  Then, they will have fun digging into a cereal-bowl and scoop up pieces of that color.  If it flashes quickly, the player has to pick up any 2 pieces simultaneously.  This game is fast paced and whoever collects the most cereal pieces wins!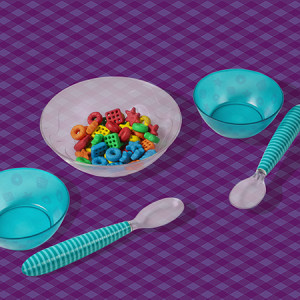 Benefits:
Practice color recognition
Build fine motor skills
Develops hand-eye coordination
Promotes sportsmanship and social skills
Game components can also be used for pretend play
Ages 3+
Overview:
Searching for a more tactile toy for your kiddo?  Playfoam offers just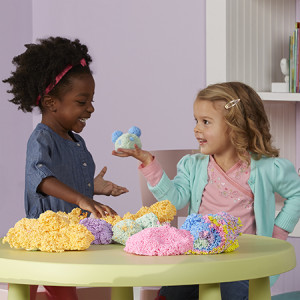 that!  Children will have loads of fun squishing, squashing, and shaping the Playfoam–and starting all over again!  Since the formula never dries out, the creativity never ends!
Benefits:
Develops visual artistic talent
Encourages creative play
Great sensory learning tool
Non-toxic
Easy to store and clean up
Today's toy ideas were brought to you by Educational Insights.