Earlier this year, I wrote about a museum exhibit featuring tactile paintings for individuals who are blind or visually impaired.  Now, a company called E.A.S.Y. Tactile Graphics is painting a new canvas of possibilities for individuals with vision impairments.
The company's mission statement states: "We firmly believe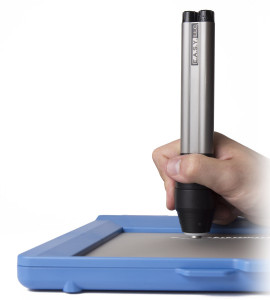 that drawing is not reserved solely for the sighted, and our mission is to bring freehand tactile drawing into the lives of blind and visually impaired children and adults."
The company's two products (also available as a bundle!) allow individuals who are visually impaired or blind create tactile drawings.
The inTACT bundle includes:
inTACT Sketchpad

"Draw what you feel, feel what you draw."
The inTACT Sketchpad is an easy-to-use tool that allows users to create tactile drawings.  As individuals draw on the Sketchpad, raised lines appear on the drawing sheet, making it possible for them to feel their drawings along the way!

Features:

Rubber drawing surface enables lines of different heights and textures
Magnetic frame for easily securing and changing drawing sheet
Internal slot to secure stylus while not in use
Lightweight and durable design ideal for children and adults

inTACT Eraser

"Draw. Think. Change. Perfect!"
The inTACT Eraser is the first-ever eraser for tactile drawings.  The Eraser is comparable to a miniature iron as it flattens the tactile drawing quickly, erasing them to the touch!

Features:

Built-in beeper informs the user if the Eraser is on or off and indicates low battery
Protective grip keeps your fingers off the heated tip; both hands stay cool as you erase
Compact and battery-powered, the Eraser is a vital tool for freehand tactile graphics.