Here at INDATA, we always try to keep our readers up-to-date on the latest assistive technology.  A few years ago, we provided a Tech Tip on the DaVinci CCTV.  Now the same company, Enhanced Vision, is introducing a newer and improved version of the DaVinci: the DaVinci Pro!
In sum, "The DaVinci Pro is a fully integrated solution, offering the advantages of a CCTV and OCR combined into one system."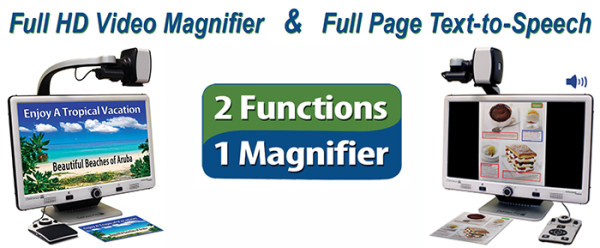 Key Features of the DaVinci Pro:
CCTV Features:
Sony Full HD 1080p camera displays crystal clear images in "vibrant color and contrast."
24″ high resolution HD LCD monitor, pivots for best image quality
Auto focus 3-in-1 camera for self-viewing, reading, or distance viewing
Magnification up to 77x!
Easy setup
Computer compatible–users are able to toggle between CCTV and computer.  Also connects with iPad.
28 viewing modes to optimize contrast and brightness
2 year warranty
OCR Features:
Reading preview allows users to read an entire page or toggle through paragraphs and read selected text
13 megapixel camera for accurate full page text-to-speech (OCR)
Male and female premium voices
Easy-to-use console with simple and advanced modes
Ability to save pictures, documents, or books and export files to PC.
To learn more, view the DaVinci Pro User Manual (PDF).
To check out more products available for individuals with low vision, visit the Enhanced Vision website!