Sensory World is a website featuring a virtual, interactive house filled with several activities.  The company, FitzRoy, developed the online Sensory World to "fill a gap in provision of an accessible website for adults with learning disabilities."  While visiting the website, users will navigate around a colorful house and garden.  The website is entirely free and can be used at home or at school.
When you click the link to enter Sensory World, you'll be greeted by a beautiful blue sky, a garden, and a cream-colored house prompting you to click on the door.  Once you click on the door, you have the option to login, register, or enter as a guest.  (Note: if you enter as a guest you won't be able to save your progress for later use, but you'll still be able to navigate throughout the house and garden!)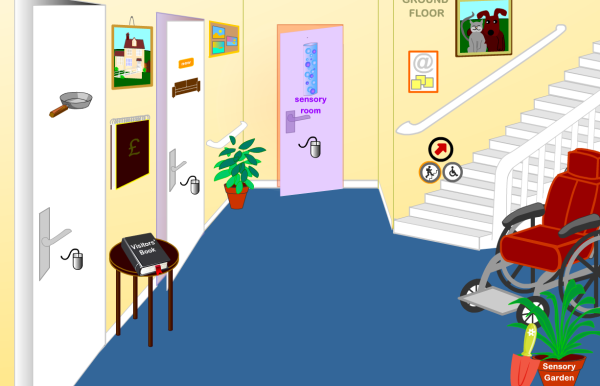 Once you enter the Sensory House, you'll see 3 white doors each featuring a mouse icon, letting you know you can visit these rooms.  Individuals who have difficulty reading can identify the different rooms by the images posted on each door (e.g. kitchen has a skillet, lounge has a couch, etc.)
Since the kitchen is on the left, let's visit there first!  Once you click on the door to the kitchen, you'll be greeted by three different buttons:
Health & Safety
Hygiene
Nutrition
By clicking on the Health & Safety button for example, you'll be introduced to several possible hazardous scenarios in the kitchen.  Further, on the first level, there will be shopping bags in the way, a hot skillet, a bowl about to tip over and more.  By clicking on each item, a short animation will appear letting you know what can happen so you avoid these hazards in the future!  Once you complete different levels of tasks in each room, you'll be rewarded with a certificate of completion (very rewarding)!
Other activities in Sensory World include:
Design your own lounge by choosing from a selection of designs, colors, and features
Design your own favorite-themed sensory room (themes include: 60s, Princess, Jungle, Night, Beach, Space and more.)
Learn how to create your own budget and manage your money
Explore the sensory bathroom upstairs
Design your own band and listen to them play in the music room
Visit the sensory garden and learn all about the different seasons, gardening, and wildlife.
To learn more about Sensory World, visit the FitzRoy website or go explore Sensory World for free now!