The Sight Word Adventure is one out of several apps developed by the Seven Academy, a company dedicated to designing exciting, educational apps for children.  Smart Apps for Kids awarded this app their coveted Top Pick status because it's "by far the best sight word app I've seen."  So what sets this app apart from other methods of teaching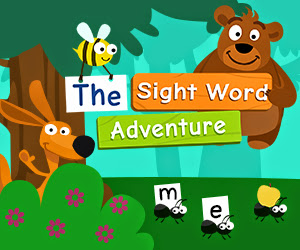 sight words?
Learning sight words can be tedious and boring as they are often taught through lots of repetition.  Seven Academy has taken the often monotonous task of learning sight words, and transformed it into a more exciting adventure through different games like hide-and-seek, bingo, whack-a-mole and more!
Games included in The Sight Word Adventure:
Hide-and-seek: in this game, a cute kangaroo hides in a magical forest.  Each time the child finds her, she'll reward them with a new sight word!
Pop the Balloons: children will have fun targeting the balloons with the correct sight word and pop them using a slingshot.
Whack-a-mole: children will have fun whacking the moles who aren't holding the correct sight word.
Bingo!: play bingo with sight words! Get three in a row to win!
Bear's Maze: in this activity, children guide the bear through the maze to collect cherries that spell out a sight word.
Letter scramble: unscramble letters to make a word
Construction: build a tower by choosing the right cheese
Typewriter: type words on a vintage piece of technology
Silly Songs: Can you remember the words to the band's rap song?
To learn more, visit iTunes!