As human beings, we often express our needs and wants through communication, may it be verbally or through our expressions.  However, children with autism generally don't understand how to express themselves in different situations.  The maker behind What's the Expression? acknowledges this and has thus developed the app to help children learn to express different emotions (e.g. happiness, surprise, sadness, anger, etc.)
The developer behind the app, WebTeam Corporation, has been a global leader in autism management technology for more than a decade.  More recently, it developed a unique, powerful platform called ColorsKit, which consists of many special needs apps "capable of improving the lives of those touched by autism.  From early screening and education to vocational and life skills building, ColorsKit helps parents, teachers, and healthcare professionals effectively screen and manage autism from infancy through adulthood and employment."
The app utilizes fun graphics and exciting animations to teach different emotions.  To begin playing What's the Expression? children have the option to choose their favorite character.  Some options include a pig-tailed girl named Ningzy or a generic blue smiley face!  After selecting his/her character, a training session will begin presenting a multitude of facial expressions which the child will be asked to track.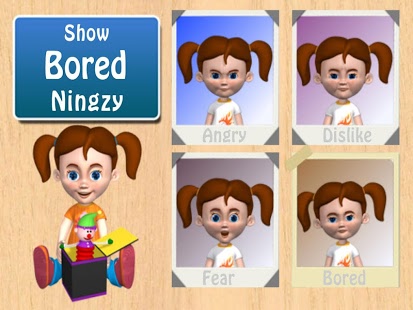 For example, during the training round there are 4-5 different emotions presented with corresponding images.  After the training round, the child will be presented with four images of emotions (e.g. happy, sad, angry, surprised) and then asked to "Show happy Ningzy."  After selecting the appropriate emotion, the child will be awarded with an animated or audio/visual reward!
The app is available to download on Apple, Android, or Nook devices!