A few years ago, we did a Tech Tip touring our Autism Resource Center's unique sensory room.  The idea of a sensory room was born in the late 1970s by two Dutch psychologists, who thought of the room as a therapy for persons with learning disabilities.  Over the years, a sensory room began offering a wide range of multi-sensory stimulation, benefiting individuals with dementia, autism, cognitive disability, brain injury, chronic pain, and more.  Designing a multi-sensory room requires a lot of time and research, as it involves finding products to stimulate all senses.  Nowadays, you can practically get a sensory room off-the-shelf with the IRiS Sensory Room Package!
According to the Sensory Processing Disorder's website:
"A sensory room is extremely therapeutic for both children and adults with sensory processing disorders… from mild to severe.  In fact, anyone in the general population could benefit from spending time in one!"
The IRiS Sensory Room Package is the "ultimate off-the-shelf wireless interactive package."  IRiS's products are perfect for developing cause and effect skills, color recognition skills, switching skills, vocalization, social interaction and more.
The wireless switching products can be positioned anywhere within a room to maximize a user's comfort and experience.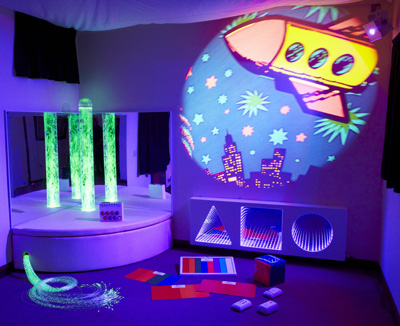 This IRiS Sensory Room Package includes:
2 Curved Bubble Tube Acrylic Mirrors (36″ W x 48″ H, 48″ W x 60″ H)
1 IRiS Musical Touch Wall
1 IRiS Qube (7″ x 7″ x 7″)
1 Aurora Projector Bundle — includes Aurora LED Projector, wheel rotator and 3 effect wheels (Balloons Extravaganza, Fireworks Bonanza and a blank wheel)
1 Bubble Tube Pump and Hose
To learn more about sensory rooms or the IRiS Sensory Room Package, visit Experia USA.