Does your child have a hard time following directions?  If you answered yes, then Teach Speech Apps offers a solution with their namely titled Following Directions app!  Following Directions is a fun, interactive app that helps individuals learn how to follow instructions through a series of engaging activities.
Before diving into further details on the app, let's briefly discuss its developer, Teach Speech Apps.  When developing their apps, they work with a team of speech-language pathologists to provide quality apps for speech and language.  According to their website, all Teach Speech Apps encourage learning alongside an engaged adult and also:
Feature colorful and professional photos: designed with all ages and learning levels in mind.
Are affordable, quality apps: $2.99 or less
Enrich vocabulary
Feature distraction-free interface: clean, sleek design promotes focus on activities
Utilize multi-sensory learning: see and hear when an answer is selected
Align with Common Core Standards
No ads or in-app purchases
Overview of the Following Directions app:
The app helps develop the skills needed to help boost memory, motor, and auditory processing skills with four different activities:
One step directions: drag and drop

Example: "Put the blue square on the pinwheel."

Two step directions: choose from 4 pictures

Example: "First touch the watch and then the car."

Inclusion/Exclusion: choose from 6 pictures

Example: "Touch all green items except the apples."

Motor-skill based and conditional directions

Example: "Clap your hands."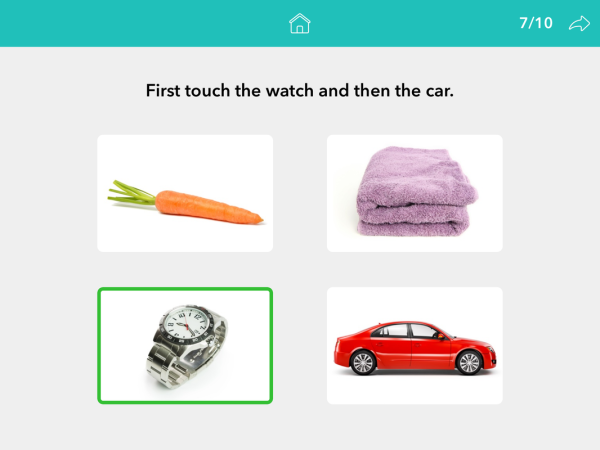 To learn more about Following Directions or other apps developed by Teach Speech Apps, be sure to check out their website.