Podcast: Play in new window | Download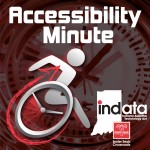 171-02-19-16 Bookshare
Hey there! Welcome to Accessibility Minute, your weekly look at Assistive Technology, those clever tools and devices designed to help people who have difficulties with vision, mobility, hearing or other special needs!
Many individuals with low vision or blindness, autism, physical disabilities, learning disabilities and more often have a print disability, which prevents them from reading traditional print materials. Bookshare is an online library offering the world's largest selection of accessible books with almost 400,000 titles available!
With Bookshare titles, individuals can:
– Listen to books with high-quality text-to-speech voices
– Hear and see highlighted words on screen
– Read with digital braille or enlarged fonts
– Create physical braille or large print
– And more!
To see if you qualify or to learn more about Bookshare, visit BookShare.Org.
For more information, to read our blog, or to drop us a line, visit EasterSealsTech.com. That was your Accessibility Minute for this week! I¹m Laura Medcalf with the INDATA Project at Easter Seals Crossroads, in Indiana.