There are many forms of assistive technology that may benefit individuals who are blind or visually impaired.  However, one type of assistive technology I've yet to discuss in depth is alerting indicators, which may benefit these individuals greatly.  Maxi Aids "offers the highest quality selections of liquid level indicators, talking alarm clocks, motion sensors, toilet level indicators, and much more."
5 Alerting Indicators for Blind/Visually Impaired:
There are several options of liquid level indicators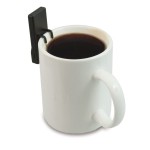 available by Maxi Aids, but this one seemed particularly ideal as it is pocket-sized thus portable!  Many of us are always on the go nowadays, so the more assistive devices we can fit into our pockets the better!
Features:
Simple to use two-pronged portable pocket sized liquid level indicator perfect for on the go:

Simply hang the indicator on the lip of your cup and pour liquid with complete assurance

Audible high-pitched "tweet" alert prevents overfilling of mugs, glasses, and cups
Ultra lightweight (0.5 oz)
The All-in-One Alarm Clock is a wireless alert system ideal for home or office that provides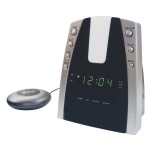 notifications for a variety of alerts.  The KA1000 base unit has a  "built-in clock, lamp outlet, telephone jack, bed shaker, and the ability to connect to additional wireless transmitters."  These wireless transmitters can be used to connect home security systems, cameras, fire or smoke alarms, and many other audible alarms.
Features:
Features a snooze and dimmer, with a loud buzzer volume control up to 95 dB and comes with an adjustable bed shaker
Telephone signaler
Doorbell signaler
Nightlight and reading switch
Even during power outages, the rechargeable battery kicks in for sound and shaker notifications.
For individuals who are deaf, hard-of-hearing, blind,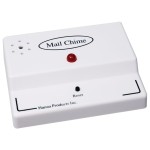 visually impaired, those with mobility impairments, elderly, and more, may all find themselves going out to check the mail on a freezing, snowy day–only to discover the mail has yet to arrive or that there is no mail.  The solution is simple: The Mail Chime notifies users when their mail has arrived.
Features:
Easy to install:

Simply mount the sensor on your mailbox door using double-sided tape (included)
Plus the receiver into an electrical outlet anywhere inside your home

Once installed, when the mailbox door is opened, the sensor sends a wireless signal to the receiver inside your home
The Mail Chime then alerts you by flashing a bright LED light and four audible beeps that confirm your mail's been delivered.
300-foot range
Adjustable volume control for beep alert
Comes with Mail Chime Alert w/ AC adapter and sensor with 12V A23 battery
Works on all three basic types of mailboxes: slot, curb, or wall-mounted.
Individuals with visual impairments not only have to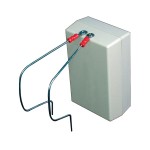 worry about overfilling their cups, but they also need a way to know if their toilet water is at the correct level.  A simple, affordable solution to ease one's mind is the Toilet Level Indicator by Maxi Aids.  Once the Indicator is installed on the side of the toilet bowl, a buzzing sound will alert individuals if the water rises above the normal level.
Features:
Easy to install:

Simply place level indicator on the side of toilet bowl

Convenient and practical
If water rises above average level, a buzzing sound will notify you.
Uses 9V batteries (included)
The Wander Alarm is a sensitive monitor that can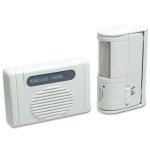 detect someone moving into or out of bed, chair, window or doorway.  It is a solution for individuals with visual impairments to increase their overall sense of security.  (*Note: Not for use in safety or life-threatening situations.*)
Features:
Wireless motion sensing system
Simple to install and use; can be mounted with screws or velcro
Sensor has range of approximately 15 feet
A chime can be set off at the sensor, or a discreet signal can be sent to a remote receiver placed up to 100 feet away
System uses two 9V batteries
To check out other Alerting Indicators for those who are blind, visually impaired, deaf, hard-of-hearing, or more, check out this list of products by Maxi Aids.