With so many desktop and portable video magnifiers available on the market, it's hard to decide which one may work best for your unique needs.  If you're wanting a portable CCTV, check out HumanWare's new Prodigi Connect 12!
According to HumanWare's website, "The new Prodigi Connect 12 is more than a powerful digital magnifier with desktop and distance viewing.  This ideal solution for students of all ages opens the window to an intelligent Android world, allowing free and open access to more than a million apps."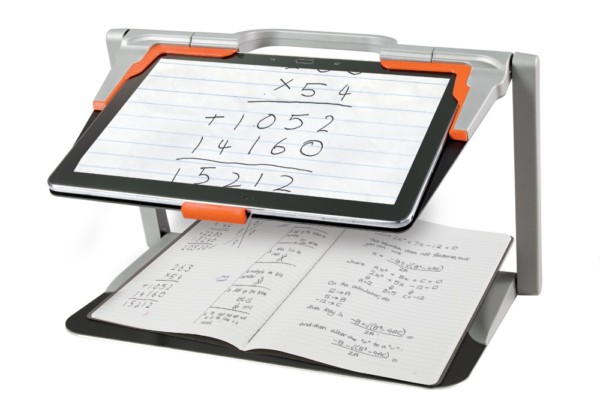 Prodigi Connect 12 Features:
The Connect 12 is a powerful tool for low-vision users at school, work, home, or on the go.  Check out these features to see what sets it apart from other low-vision products!
Long-lasting battery: up to 12 hours of use!
Lightweight (weighs 750 g or 1.7 lb)!
Ability to read any text from clipboard in Diamond Edge Text
Ability to save distance pictures for viewing within Gallery
To access Android, simply toggle the home button
Live 1-24x magnification in half-page view
3 efficient reading modes:
Speech output on documents and menus
Saved document gallery
16 color schemes to choose from
Compatible with Bluetooth keyboard
Long-lasting battery: up to 12 hours of use!
What Prodigi Connect 12 Includes:
Foldable stand and tablet, already installed and pre-assembled.
Pre-installed apps including: Dropbox, Google Docs, Gmail, Drive, and more.
USB cable and international switching power charger
Laptop style carrying case featuring many convenient pouches and shoulder strap
To learn more about the Prodigi Connect 12, visit the HumanWare website.
**We have recently added the Prodigi Connect 12 to our lending library here at the INDATA Project.  If you're interested in learning more, receiving a free demo or loan of this product, please contact our Equipment Loan Specialist, Justin Amber, at 317-466-2001 ext. 2421.**