Podcast: Play in new window | Download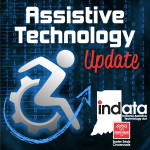 Your weekly dose of information that keeps you up to date on the latest developments in the field of technology designed to assist people with disabilities and special needs.
261-05-27-16 – RJ Cooper –
Show notes:
RJ Cooper | www.rjcooper.com
Call in your iOS tips and tricks! 317-721-7124
Bringing Wheelchair Design Into The Digital Age http://buff.ly/1TWWsaH
For Wheelchair Users, A RoboDesk For Electronic Devices http://buff.ly/1TWVYkN
App: Wunderlist | Tools for Life – www.gatfl.org
——————————
Listen 24/7 at www.AssistiveTechnologyRadio.com
If you have an AT question, leave us a voice mail at: 317-721-7124 or email tech@eastersealscrossroads.org
Check out our web site: https://www.eastersealstech.com
Follow us on Twitter: @INDATAproject
Like us on Facebook: www.Facebook.com/INDATA
——-transcript follows ——
RJ COOPER: This is RJ Cooper, president and owner of RJ Cooper and Associates, and this is your Assistance Technology Update.
WADE WINGLER: Hi, this is Wade Wingler with the INDATA Project at Easter Seals crossroads in Indiana with your Assistive Technology Update, a weekly dose of information that keeps you up-to-date on the latest developments in the field of technology designed to assist people with disabilities and special needs.
Welcome to episode number 261 of Assistive Technology Update. It's scheduled to be released on May 27, 2016.

Today we are going to have a fun conversation with somebody who's kind of become a legend in the field of assistive technology. Some of my earliest assistive technology memories are related to RJ Cooper. We will have a nice conversation to today with him, get his perspective on the history of assistive technology.
Also we have a couple of interesting stories about wheelchair design and how we're moving that into the current age of technology. We hear from our friends over at Tools for Life as he talked to us about an app called Wunderlist.
We hope you'll check out our website at www.eastersealstech.com, call us on our listener line at 317-721-7124, or shoot us a note on Twitter at INDATA Project.
***
We are working on a special episode of Assistive Technology Update coming up here in a few weeks. We need your help. Are you somebody who uses iOS, the iPhone operating system, whether it is on an iPhone iPhone or iPad or even an iPod touch? Well, I want to know what tricks you have up your sleeve. I'd like to do an entire episode where we just have people calling in and sharing their favorite I was tips and tricks. Now, it doesn't have to be obscure. It can be the thing you find most useful about the iOS operating system. We are looking for things that are assistive technology or disability specific, but they don't have to be. We just really would like to know what you do with iOS that you think is kind of cool or handy or the most interesting tip or trick that you use.
Here's what I need you to do: I need you to call into our listener line, 317-721-7124, and leave us a message. Try to keep it under a couple of minutes and tell us what's your best iOS tip or trick. I want to compile those things into an episode so that we can share these. Because I don't know about you, some of these always show me something that makes me go wow, that's helpful, that's going to change my life or at least a tiny part of it to make it easier. We'll be putting the show together very soon so I need to hear from you as soon as you can. Again, call our number, 317-721-7124, and leave your best iOS tips or tricks there on the line and we will try to get you included in an upcoming episode.
***
There is a fascinating article in Fast Company magazine that talks about a new clever design of wheelchair. Benjamin Huber who is the founder of an industrial design agency called layer has basically said that wheelchairs are mostly built in a one size fits all kind of fashion with some adjustability. Unlike our clothes which are designed to fit very closely and meet the unique proportions of our bodies, wheelchairs aren't always made that way. What they've done is created an interesting and gorgeous wheelchair that has some 3-D printer components. First of all, it is a very stylized design. It looks cool and you can tell they've given a lot of thought to the push rooms and how some silicone bombs make that a better experience. It has a great unlike mechanism. I think what fascinates me most about this wheelchair is they are scanning the user's body and then printing a 3-D printed seat that fits their proportions exactly. In fact, the foot rest and seat are printed 3-D so they match the unique proportions of the individual user of that wheelchair. Then they use some standard components for the other pieces. It's not on the market yet. It seems that they are still doing some research and figuring out the commercialization of it. But if you want to see some beautiful pictures of a very artistic wheelchair and some cool video of how they do 3-D printing to exactly fit the unique shape of each wheelchair user, you need to check out this article. I'll pop a link in our show notes over to Fast Company and you can check out this headline that says, "Bringing wheelchair design into the digital age" check our show notes.
***
Friend of the show Doctor Bradstock is a professor at Purdue University in one of the engineering schools. He's a person with a spinal cord injury who has developed a thing called Robo desk. He is trying to solve the problem with how you get your iPad in place when you need it and out of the way when you don't if you're using a power wheelchair and have a spinal cord injury. Let's listen to what he has to say.
SPEAKER: So we are talking about power wheelchairs users, often they will have some limitations in their upper limbs, so they're able to do a lot of mundane tasks. Even a mobile device which is very usable, such things as grabbing it and holding it up to take a picture, or being able to stow it. These are difficulties you have.
WADE WINGLER: When you watch the video, it is fascinating because what Robo desk does is it has a series of robotic arms that facilitate the iPad or whatever you're trying to do with, whether a writing surface or some other tablet consumer, computer, moves it down and out of the way so that it's not in the way when you don't need it but you flip a switch and it moves back in a very robotic way in front of you so that you can use your stylis to activate the device or take a picture or whatever. As you can imagine, I was super happy to see that this was actually aired this a week or ago national public radio All Tech Considered and it is still on their website. They got a blog post about it that talks about the story. They also have a video where I pulled the audio from so you can see the Robo desk in action. I sent a note to my friend Brad and we're going to try to get them on the show in a few weeks to get them to talk specifically about this device. In the meantime, check our show notes and watch a video, pretty cool stuff.
Each week one of our partners tells what is happening in the ever-changing world of apps, so here's an App Worth Mentioning.
BEN JACOBS: Hello, this is Ben Jacobs with Tools For Life, the assistive technology at program at Georgia Tech, and this is an App Worth Mentioning. This week's app is called Wunderlist. Wunderlist, named the app of the year in 2013, is a management app that assists with to do lists and tasks. Wunderlist allows you to create to do list that can be organized by categories and folders. You can set due dates, reminders, and even assigned tasks to another person. Wunderlist allows you to collaborate with anyone by sharing your list and receiving real-time updates and even allows you and other collaborators to add comments and hold conversations within the app. This app has a really neat feature that allows you to mail to Wunderlist, meaning that if you receive an email that is more of an action item rather than correspondence, then you can simply email to wonder list and it will be automatically added to an action item list. Additionally, Wunderlist allows you to add anything from the web straight to your lists. Wunderlist is free and is available in the iTunes and android Play Store. This app works across all platforms including Web and smart watches. You can upgrade to Wunderlist Pro for $4.99 per month or $50 per year. To learn more about Wunderlist and other great apps, visit the TFL app Finder on the tools for life website at www.gatfl.org.
***
WADE WINGLER: So I'm excited about our interview today for a number of reasons, but one of them is, when I started my job at Easter Seals Crossroads over 20 years ago, I got a tour of the organization. Your first day on the job, everybody gets a tour of the place. The thing I found most fascinating that they on my tour was a thing called a Cooper car. I don't know what a Cooper car was or who RJ Cooper was at that point, but since then RJ Cooper is someone who has been sort of a luminary in the field of assistive technology, always been around and a name I'm familiar with, and although I've met RJ a time or two at a conference and shook his hand, I haven't gotten the chance to have a conversation with them until today. I'm excited to have him joining me via the Internet. RJ Cooper, are you still there?
RJ COOPER: I am. Thank you for that nice introduction.
WADE WINGLER: It's burned into my memory. It'spart of my history, so I appreciate what you did to make that happen.
RJ COOPER: Thank you.
WADE WINGLER: I would love for you to tell folks in our audience a little bit about yourself and how and why you got involved in assistive technology and how you became such a passionate person you are about this topic.
RJ COOPER: I would love to, thank you. Back in 1983, I was studying computer science with digital emphasis at the University of Utah in Salt Lake City, loved my time there, got involved with the robotics lab just a little but wanted to use computers for something other than, at the time, military was big on contracting with the University of Utah and I certainly didn't want to be sending missiles to anybody. So I thought about using computers for people in the Peace Corps, so I visited my local Peace Corps office there and they really didn't know what a computer was or have any inkling that computers were going to be basically everywhere someday. If you did anything with water, they were very interested with in you, hydrologists, aquifers, oceans, anything with water. These days everything is computers, but no one could see it back in 1983. So I tried to come up with a different way of using computers. Along with them in 1983, about 20 to 50 people around the earth, I thought of using a computer for someone with a special need. I started locally in Salt Lake City, expanded to Utah, and pretty much overnight I became very well known for coming up with innovative ways of using computers for people with special needs. I was unique and I was rewarded by people's praise and I loved it.
WADE WINGLER: There have been a lot of years since those original thoughts about assistive technology. You've seen a lot. I'm going to ask you some questions about your perspective when you get on with the interview, but bring people up to speed on the products and services you offer today. Tell us about your day job.
RJ COOPER: These days the iPad complete taken over special needs and disabilities as far as technology. Everything is iPad. It's almost as if the computer never even existed. Further than that, not just the technology is geared towards iPad, but the people in their life, their learning, and implementations are also very iPad oriented. What I mean by that is iPad seems to order quick fixes, the media pick up an iPad and things are different. People feel sometimes you pick up an iPad and things are changed or fixed. Even the mentality of our newbies coming out of our universities going into practice at schools, private practice, hospitals, agencies, even they seem to be caught up in this quickfix idea that you give someone an appp and an iPad and away they go. Over the previous 30 years before there was an iPad, we knew that there was a progression of people to follow and have success with in order to reach a goal. That doesn't seem to be the case right now, so my day job is completely focused on iPads, trying to come to convince people to take one small step at a time like we used to. But most of the time offering iPad solutions.
WADE WINGLER: Can you give me some examples of those solutions?
RJ COOPER: Number one would be mounting. This would be a mounting arm of some type attached to a wheelchair so that the user can use it. But one example of this implementation once again is that people think that mounting an iPad is the same thing as being successful with an iPad. As soon as they get it mounted, they concentrate on forcing, pushing success upon a learner or user rather than thinking it through step-by-step once again. So I see that a lot and I'm trying to always coach people, for example asking them what app they want to use, and haven't even thought about the app. They are just thinking about the mounting. Once again that quickfix mentality. So a non-positioned device is one of the number one thing people ask me for, and then it's been a good amount of time trying to convince them that I am their ally trying to help somebody be successful rather than throw technology at them.
WADE WINGLER: You are right. If the iPad isn't within reach and isn't in the right spot, you're not going to have much success with anything else.
RJ COOPER: That's true. My focus is a starting point, given that access physically to the iPad is a place to start, not a destination.
WADE WINGLER: Absolutely. What are some of the other points on that journey at three get past the mountain. Talk to me a little bit about interfaces or apps. I know you dabbled with all of those things, right?
RJ COOPER: That's correct. In September 2010, just shortly after the iPad came out in April, I realized that it was here today and started moving all of my products over to iPad, so that would be switch interfaces, the positioning arms, different types of statuses that were connected with iPads, speakers, cases, stands, everything I made and I had to convert for iPad use. I successfully done that but a strange things happened in the field of assistive technology: that is that all of the vendors that had their own slices of the pies years ago with computers have all been funneled into competing against each other for a lot of the same products for the iPad. So the field which was very well segmented so that we could all survive years ago now we have about six companies, all of us producing very similar items, and all of us competing for the consumer or the agency or the schools budget. So it's a very tough time actually financially for a business like mine.
WADE WINGLER: I am right there with you, having spent some time in the industry I have a lot of friends and colleagues who are trying to rethink and reconnoiter what they're going to be doing with their business model. I have seen the impact. The argument that I get a lot is that it's better for the end-user. It's better for the customer or consumer in the end. Any thoughts about that?
RJ COOPER: You bet. I feel the iPad, major improvement in the quality of service, the quality of problem-solving is easier, the quality of the device itself, having everything in one small box whereas we had discrete pieces before. So the endgame, the end results, both of those are much better with the iPad. It's just that quickfix mentality at the front end and as a what vendor itself, that is the researcher, it's a tough place to be with the iPad low price points. Steve Jobs, when he forced , records to sell songs for $.99, and that became the model for apps: $.99, $1.09 and I sense, just not enough for an assistive technology vendor to stay afloat.
WADE WINGLER: I remember when the clearance racks at software stores were full of 19.99 software, and that was a bargain. Now $20 for a nap is something that is many times considered expensive. I appreciate that change.
RJ COOPER: You are totally right. That's exactly right. Overall, I think the iPad is improved just about everything technologically for the end-users and the learners.
WADE WINGLER: I couldn't agree more. RJ, I was looking around your website and I saw all kinds of interesting things related to switches and software and stands and all that kind of stuff. I was intrigued when I sell road trips. Tell me a little bit about these road trips that you are doing.
RJ COOPER: I love leaving a legacy or at least the thought of leaving a legacy. After 32 years of doing this, I've made products. Many of my computer programs are still out there and I still get calls about them. People ask me to renew the registration code because they've moved into a new computer. So here's a 20-year-old program that I've updated over the years slightly, and people still want to use it on computers which I'm very flattered with that idea; however, as we get into iPad territory over the past five years, it's become necessary as you just said a moment ago to reinvent myself, to stay current and relevant. The only way to really get that out to people is literally to go out to people. So each month, as per someone that requests me to do so, I visit a different part of the country at no charge and I work with three different facilities directly and three learners or users – eight learners or users at each of the three facilities. I fly in, rent a car, drive from place to place, work each day all day trying to make a difference in their lives, and then come back. And maybe there will be some sales as a result of that. But hopefully people will say for a few years yes, RJ Cooper did visit here.
WADE WINGLER: That sounds like a great way to probably see some parts of the country or the world you might not of seeing and a really good way to share some good information and, like you said Kelly the legacy and be very helpful.
RJ COOPER: We'll find out. I'm 63. I'm giving myself under the hopefully 10 years.
WADE WINGLER: There you go. I know you pride yourself as a problem solver and a creative kind of person. What's the number one question you get from people online or calls or when you're out doing a road trips.
RJ COOPER: In the age of computers, it was from parents that were frustrated with their school districts or their doctors or their agencies not being up to snuff on technology. That was is the number one concern. I would always tell that mom, usually a mom, sometimes a dad, that someone has to take point, the group or team approach is great in theory, but as far as actually initiating – was the word — not results but initiating, starting something. That requires one person who's going to rise above and beyond for usually their own reasons. They just want to make a difference in this person's life, usually a child. That person, in the cases of the number one reason people called me at that time, was that no one was taking point, no one was going to conferences, no one was learning about the technology. There were just sort of shooting from the hip. So I would try to convince mom that she has to be that person, I would help her, and I would direct the person around the web for information. I would direct them to local resources that they might have for assistive technology, and then I would assure them that I'm there to help educate them so they can get that like up to get started and push people in the right direction. As I said, that used to be the case with computers. With the iPad and the quickfix mentality, I don't see that as much. I'm not getting that call as often. I'm more getting calls about product and unfortunately many times I'm treated as a vendor rather than a resource, so I did tell people I'm not Amazon.com. This is a small company and I'm dedicated to making your child successful, making your adult successful, and you should feel that I am your friend and you could at some advice for me rather than being afraid I'm going to push something on you. So these days, even over the phone or email, convincing professionals and parents that I'm on their side. That's probably my number one phone call that I'm involved with.
WADE WINGLER: That makes sense. I also see a lot of what I call the commoditization of assistive technology. It's like buying a Blu-ray player or something. You basically plug it in and it works, is the expectation. As you and I know, and I think most of our audience knows, there is more to it than that most of the time.
RJ COOPER: I totally agree. I think it might be that our product line and the vendor category has solidified over the years so that there are specific products rather than 10 years ago even or 15 years ago coming up with a product. Now is the case of selecting one of the existing products.
WADE WINGLER: Good point. Our industry has grown up a little bit. RJ, as you think over the past 30+ years of doing assistive technology, brag for me a little bit. What is your proudest accomplishment? And her regrets over your career such far?
RJ COOPER: Both of course. At 63, I've got plenty of both. One of the proudest ones was easily the Cooper car. Every once in a while I will hear some story about how it helped someone or change lives or made an impression on somebody. In 1991, I walked in at that time the greatest cause and effect device in the world. That is when you hit a switch, something big happens in your world so you realize you are making a change on the environment and you can become more cognizant of your surroundings and maybe even progress further than that. So I made some simple electronics for a commercially available vehicle that I got from Toys "R" Us. Then over the next couple of years I fine-tuned that so it could actually be an alternative for young children to practice driving skills and sort of be there wheelchair at those young ages. It was very successful. In the course of nine years, we produced 843 Cooper car that went around the world. For the field of assistive technology, that's actually quite a good number. It had a good run. Finally the factory in Taiwan that was building the little toy which made it financially feasible for parents and other areas, that factory burned down along with what they called the tool or mold for the plastic body. That was the end of the Cooper car. But we had a lovely time with it. That's probably my greatest thrill when I think of the smiles, the instant smiles that that put on kids faces. The one regret is growing old. That's easily the one regret. There's no getting around it unfortunately. As I go to different conferences, as a go to different road trips, as they speak with people, people do have short memories and they move on. They get new influxes of personnel coming from colleges, and that everyone knows me as well as what I would call my heyday years, which would be the late 80s and through the 90s which were very big for me. I was a big fish in a small pond. Now I'm more of a smaller fish in a big pond. People sometimes know my name, but didn't realize that I feel I had a great impact on our field.
WADE WINGLER: I would agree that you have. We are getting a little short on time, but I want to ask you. Thirty seconds or less — we have a new assistive technology specialist who has just started here; her name is Becca — 30 seconds, what advice would you have Rebecca with Brenda to the industry starting now?
RJ COOPER: Number one would be some type of academic accreditation. That means either a Masters in assistive technology from George Mason University, in a place that offers one, or some type of accreditation from California State University of Northridge, RESNA, a large organization that orders some AT certification. Certification has become more important over the years so that it does matter what your academic background is. That's the number one thing I would try to convince somebody that's getting into the field to accomplish. Get some letters out to your name.
WADE WINGLER: Good advice. RJ, if people want to reach out to you, if they want to talk to you about a road trip, if you just want to walk down memory lane with you like I've had the chance to do today, what kind of contact information would you recommend?
RJ COOPER: Might 800 is 1-800-RJ-COOPER. I enter that phone by myself. I'm still a small mom-and-pop shop with only four people full-time. RJ Cooper.com is my website. RJ@RJCooper.com is my personal email.
WADE WINGLER: RJ Cooper is a legend in the field of assistive technology, one of my early influences, and has been a delightful guest today. Thank you so much for being with us.
RJ COOPER: You're welcome. It was a pleasure. Thank you.
WADE WINGLER: Do you have a question about assistive technology? Do you have a suggestion for someone we should interview on Assistive Technology Update? Call our listener line at 317-721-7124, shoot us a note on Twitter @INDATAProject, or check us out on Facebook. Looking for a transcript or show notes from today's show? Head on over to www.EasterSealstech.com. Assistive Technology Update is a proud member of the Accessibility Channel. Find more shows like this plus much more over at AccessibilityChannel.com. That was your Assistance Technology Update. I'm Wade Wingler with the INDATA Project at Easter Seals Crossroads in Indiana.